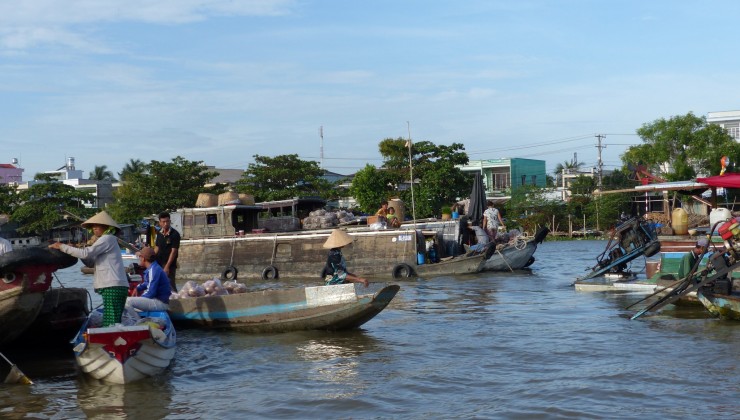 Our guest house owner at Mai guesthouse recommended TNK travel for a 2 day mekong delta trip, so we went there and booked the trip at 1.500.000 Dong (67 USD) for all of us including one night at a hotel (1 star;-)).
The tour included:
Visit to a local honey producer where we got to taste Vietnamese tea with honey (half and half) and lime, very sweet but nice. We were also offered to buy some honey and Royal Jelly, which is apparently the cure for any imaginable disease;-). As we drank tea and had fruit we were entertained by elderly local people playing their original instruments and singing – it didn't sound too good but Vitus liked it:-)

Sailing on the river in a small rowing boat to go and see a small coconut candy producer. We bought some of the caramels but had to spend 10 minutes to open each one as the paper stuck to the edible rice paper around the caramel itself – good if you are on a diet, though.

Sailing on the Mekong river in a big boat along with the group.

Lunch at a restaurant on Turtle Island (basic but OK lunch, didn't see any of the island though).

Half an hour bus ride to a temple to see three very large Buddhas; the standing Buddha symbolising the present, the laying Buddha symbolising the past, and the happy sitting Buddha symbolising the future.

1,5 hour bus ride to our hotel at the centre of the Mekong delta and free time in the city – we ate at the local night market which was very nice and authentic, only a little bit too authentic as we saw the rats running around..but it seems there are many rats in Vietnam.

Early up the next morning to see the floating market. There aren't many floating markets left in Vietnam (highways are making transport easier and young people are moving to the cities like Saigon), and we had thought there would be more boats selling their goods. It is a wholesale market where you have to buy at least 10 of everything, so we didn't buy anything. The vendors put one of whatever they sell at the top of a pole in the front of the boat so it's easy to spot what they sell.

Visit to a small noodle producer to see how they make different kinds of noodle.

Stop at a small village by the river. Here we were able to rent bikes and go around the village. This turned our to be a great experience for us and we drove around for 1,5 hours with the boys on the back of the bike. After the bike ride Jesper and Noah tried som local delicacies – grilled frog and snake. Line and Vitus just had some of the delicious local fruit.

4,5 hour bus ride back to Saigon.
The whole Mekong delta trip had a nice relaxed pace and we really enjoyed the experience. Only the bus ride back to Saigon felt very long and our guide didn't come along, so we didn't feel very well informed on the way back and there was only one 5 minute break. But other than that we were very happy about the trip. Jesper and Vitus had a long nap on the bus and Line and Noah listened to music, chatted, and practised English (Noah spoke only English for at least one hour!).
Comments