After 4 fantastic weeks in our small campervan we returned it in Sydney and checked in to a hotel about 1 hour outside of Sydney since Sydney city centre is extremely expensive (at least when the travel budget has to last another 3 months). It wasn't a problem getting to Sydney at all, we just bought Opal cards for the three of us, Vitus was free. Opal cards can be used in busses, trains, and the Sydney ferries and travelling around the Sydney area can cost you a maximum of 15 Aus. Dollars per day per adult and 7,5 per child. The public transport system works very smoothly, we especially liked the ferries in Sydney harbor.
On our first day in Sydney we arrived there around 10.30 and walked straight (except for a few wrong turns, Here maps' fault of course;-)) to the iconic Sydney Opera House. It was just as magnificent as we had imagined it to be. We walked all the way around it and then sat down in the outskirts of the botanical garden just besides it and let the boys play under the large trees there. They needed somewhere to run free (and we needed a break) since we have to hold their hands constantly when walking in places with many people or traffic.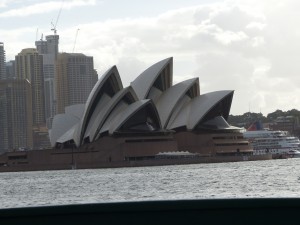 After the opera house we took one of the ferries around the harbor and got off impulsively at one of the stops where we spotted a great playground just beside the wharf.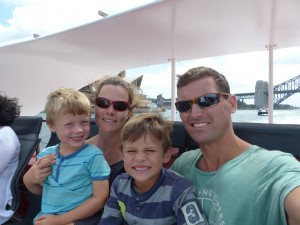 The boys had great fun there for an hour or so – and dared mom and dad to climb the spider web too (again, Line is no fan of heights, but the power of group pressure is strong:-)).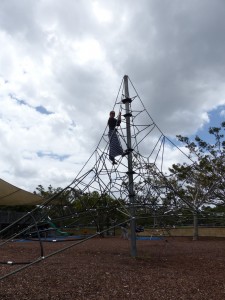 Having played enough we took the ferry back to go to Watson's bay by another ferry. Watson's bay is a place that we got recommended by a very nice couple that we met in Jervis bay.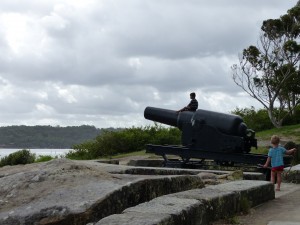 We wanted to go for a swim there and then take a walk to a nice lookout with great views of the Sydney Harbor Bridge, the opera house and the skyline. We did go for a swim, but on the way, while the boys were playing on a big canon, Jesper just wanted to check the ferry timetable… and found out that the last ferry was departing 5 minutes later! We would not be able to make that, so instead of walking to the lookout we decided to get our exercise by walking to Rose Bay and take a ferry back from there. It is a 5 km walk, which we made in 1 hour – it was really hot and steep, but we still held a good pace and Noah thought it was great fun. Jesper carried Vitus on his shoulders most of the way, so we all got our day's exercise.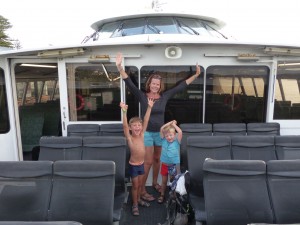 We made the ferry just in time, happy but tired, and found a bus to take us to an Indian restaurant that we had found on Tripadviser (we love Tripadviser!). It had really great reviews and we were not disappointed. The restaurant is called North Indian Cuisine and is located on Oxford Street. You order your food at the counter and there are many delicious dishes to choose from, ready to be served. There are so many customers ordering take out that there is a very high turnover, so the food is always freshly made. We ordered one large serving of rice and butter chicken for the kids, and they ate like they hadn't eaten in days;-) Jesper and Line each ordered a plate with a combination of 3 different dishes (one medium and one large) and the servings were huge. One medium and one small would have been plenty;-). We were stuffed but happy afterwards and the dinner cost us only 43 Aus. Dollars inclusive 2 Kingfisher ale. We actually liked this restaurant so much that we went back the next day, just because it was so easy and so good – with 2 hungry and tired children you learn to appreciate not having to wait for the food at a restaurant.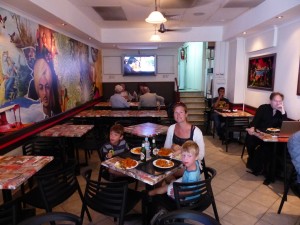 On our second day in Sydney we took a walk through Hyde Park, which wasn't that interesting, and then through the botanical garden, which was quite nice, and ended up at a small headland with very nice views to the Sydney Opera House and the Sydney Harbor Bridge.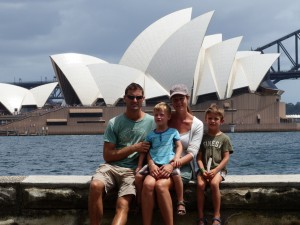 After that we took the ferry to Manly where we spent the afternoon at Manly beach. The boys had a great time playing in the sand with sticks, a cardboard cup, and a plastic bag that they filled with sand;-) Much better actually than all those times that we have dragged along shovels, buckets, watering cans and water guns.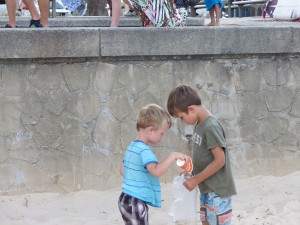 Jesper rented a surfboard for one hour and had a good time but was totally beat up afterwards since it was his first time on a surfboard (he does kite surfing, though, and used to windsurf many years ago).
We had a great time in Sydney and find it an extremely pleasant and beautiful city to visit. We will definitely be back sometime.
Comments