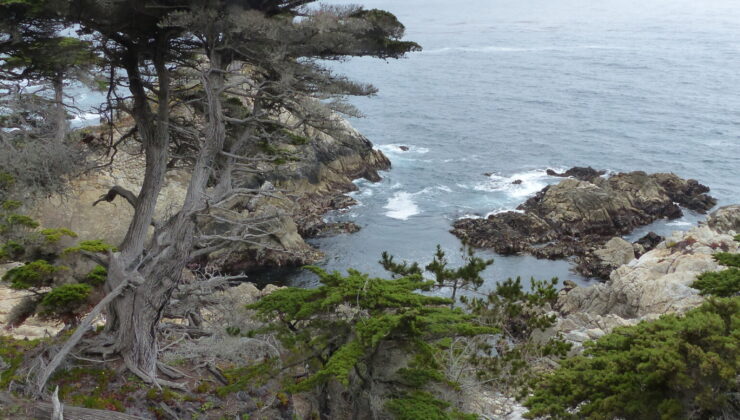 We started our 2022 round the world trip with a 5 day stopover in San Francisco. After a good night's sleep and surprisingly little jetlag we woke up early, had breakfast and headed out.
Monterey – Sea Otters, Sea Lions, seals and the famous 17 mile drive
Inspired by the latest Netflix documentary on national parks (narrated by Mr. Obama himself) we decided to visit Monterey – about an hour and a half south of SF. Moss Landing was supposed to be the best place to spot Sea Otters so we made our first stop there. The harbor is not the most charming place, but the sea otters are so cute you quickly forget the setting. We had planned to eat lunch at Phil's Fish Market & Eatery (really charming place right on the sea side in Moss Landing) but there was a 30 min. line just to get in so we grabbed a SubWay sandwich on our way to Fishermans Warf instead.
Monterey Fisherman's Warf
We continued on towards Fisherman's Ward. We did not really know what to expect but it was on the list of "Must sees" in Monterey according to various google searches. If you like really touristy stuff and old buildings turned into gift shops, overpriced snack stalls or restaurants this is just the place. It was not our thing however, but fortunately a number of seals and Sea Otters were playing right next to the Warf.
17 mile drive
Heading 10 minutes south of Monterey we started the "17 mile drive" – a stretch of coastal road with beautiful views. You pay a 11 dollar fee to enter and there are several signposted stops along the route. Expect to see Sea Otters playing in the surf, Sea Lions and Seals resting on the rocks, beautiful old Monterey Cypress trees and waves crashing on the rocky shoreline.
All in all a great first day on our 3.5 month trip
Comments