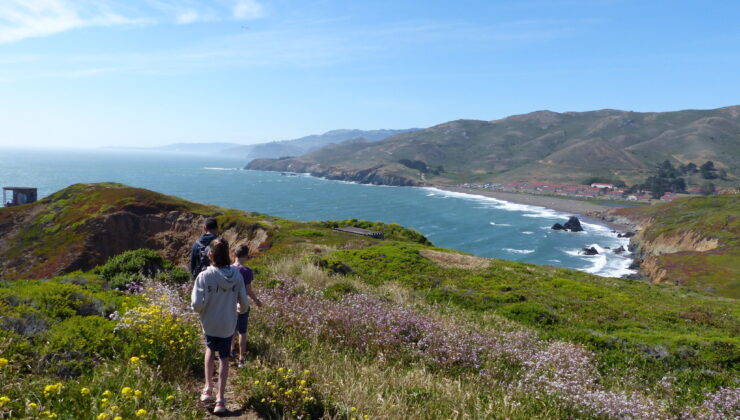 We spent a total of 5 days in the area around San Francisco. After our trip to Monterey Marine National Park (see post below) on the first day we spent the following days visiting Alcatraz, Redwood Regional Park, Muir Woods, Marin Headlands and The Golden Gate Bridge
Alcatraz
On day two we had tickets for the 10 am tour to Alcatraz. Boats leave from Pier 33 and Public parking is available nearby at "80 San Francisco" with plenty of space. Had we arrived before 9 we could have benefited from the in by 9am out before 6pm 19 dollar offer, but we were 10 minutes late and thus had to pay the full 27 dollars.
Fortunately, we had been told that tours to Alcatraz needed to be booked in advance so our tickets were booked back in January. Not all people knew this and thus had to turn back or wait in the "standby" line. The boat-ride was quick and despite a gale blowing the boat remained very calm.
On Alcatraz we did the standard audio tour inside the cell blocks and had a chance to take in the beautiful views over the bay towards Golden Gate as well as the gardens that used to be tended by prisoners. It was quite fascinating to listen to the stories of day-to-day life at the prison, the famous criminals as well as ingenuous escape attempts. Definitely worth a visit. After Alcatraz we walked to pier 38 to watch the famous Sea Lion hangout
Reinhardt Redwood Regional Park
On our third day it was time to see Redwoods. Being the tallest trees on earth they are truly impressive (even taller than their Sequoia cousins but not nearly as wide). Unfortunately most of the old trees near San Francisco were logged more than 100 years ago and only few remain in the Muir Woods area (see below) and a single one in Reinhardt Redwood Regional Park. In Reinhardt Redwood Regional Park there are multiple hikes to choose from and we opted for the "Tres Sendas to Redwood Peak and West Ridge Loop Moon Gate Loop" as it seemed the right combination of length, challenge and great views. Though only about 5 km. it does have quite a lot of elevation so be prepared "earn your views". We ate lunch at Redwood Peak.
Muir Woods, Marin Headlands and Golden Gate Bridge
Next day we headed to Muir Woods. While you can buy tickets (Adults 15 dollars, children free) at the gate parking needs to be reserved online in advance. There is no cell coverage and without a QR code you will be asked to turn back. While we had Redwood Regional park to ourselves Muir Woods is much more of a tourist attraction. It is not crowded but the biggest trees are all next to a nice wide, level track and definitely feels more like a stroll than a hike. On the way back we took at smaller track that took us above the forest floor with some alternative views.
From Muir Woods we went to see the Point Bonita Lighthouse. We knew the Lighthouse was closed but did not know it included the last 400 meters of trail as well. Never the less the part that was open offered some great views at the coastline, bridge and seals below. We also did a small loop trail to look at Bird Island.
Arriving at Golden Gate we parked at Langdon Court Parking to walk over the bridge. Unfortunately, Noah was not feeling so well at this point so Vitus and Jesper ended up doing it alone. Great views from the bridge but also deafening noise from all the cars driving right beside you.
Next day we headed to the Airport to catch our flight to Tahiti we we will be spending the next 6.5 weeks in a tropical paradise.
Comments