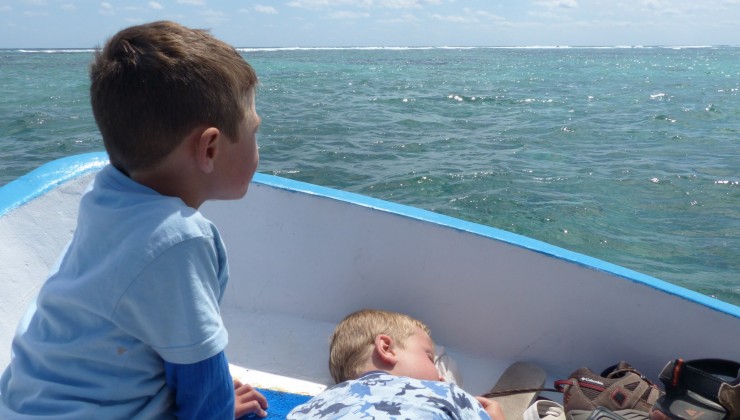 On our third day in Puerto Morelos the good weather returned and we decided to go snorkeling. Since the reef in Puerto Morelos is about 500-700 meters from the coast and you are only allowed to go there with a guide and wearing life jackets, you have to book a tour. We weren't happy about the life jackets, but it really serves a good cause as it is in order to protect the coral from being stepped on (as we have seen people do in all the other snorkeling destinations on this journey). Asking around we got prices ranging from 40USD to 80 USD for the 4 of us and naturally opted for the cheaper solution since they all go to the same places for the same amount of time.
It was a 2 hour trip with 2 stops of 45 minutes in the water. We were not aware that we would have to follow the guide all the time in the water as we are used to snorkeling on our own. Besides ruining the nature experience a bit for us, it also meant that the kids had to stay in the water much longer than they normally do. And of course after 20-25 minutes they were freezing and weren't enjoying the snorkeling anymore, so Jesper was allowed to swim back to the boat with the boys.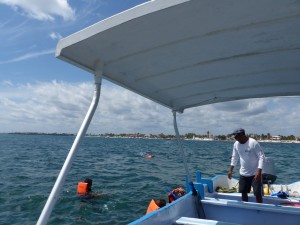 The reef was really beautiful and packed with soft coral, though not so colorful as i.e. Helicopter Island in the Philippines it was indeed very well-preserved and with lots of fish. The current was very strong, however, and it took a lot of energy to just follow the guide, so we didn't have time to enjoy the reef 100 percent.
At the second stop only Jesper went into the water as the kids had just gotten into their clothes and were still trying to get warm.
So Line and the boys ate pears and biscuits aboard while Jesper snorkelled in a spot with less fish but more coral.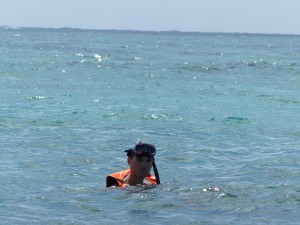 All in all an OK experience, but it once again showed us (which we should have known) that a group tour is not ideal with kids, as we need to do things at our own pace.
We had dinner at El Sabor de Mexico. A local place just a few hundred meters from the pier/harbour, excellent food and service…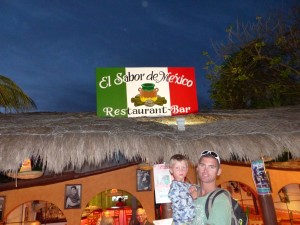 Comments