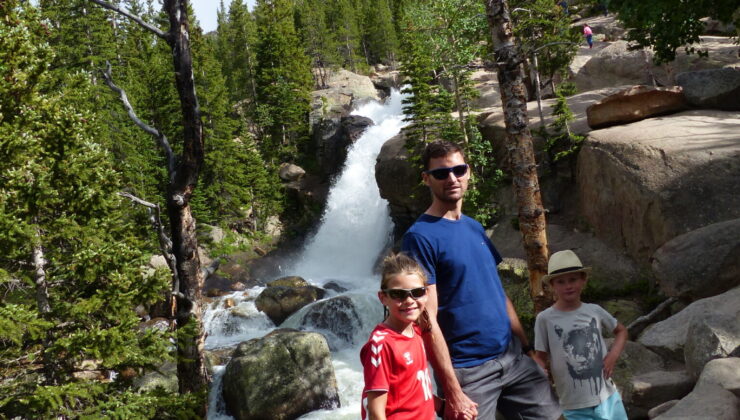 Arriving late the day before we spent our first day shopping the last items for the first part of our camping trip in Rocky Mountains and Yellowstone. Having been forcefully upgraded to a HUGE Nissan Amada we did not have to worry about space. Not the best in terms of milage, but Hertz left us no choice as they needed it to go to Las Vegas where we will drop it off. We also bought a birthday present for Noah who would be celebrating his 9th birthday the day after.
After the mandatory trip to Walmart that as ended up taking WAY TO LONG (as usual) we spent the rest of the day in a small waterpark near the motel – a great way to end the day.
On Noah's birthday we started with presents and a birthday song. Noah's (our little reading nerd) biggest wish was a Kindle Paperwhite. Having bought that for him the day before we were off to a good start.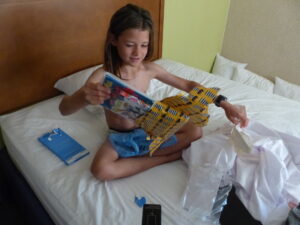 Being his birthday Noah had decided that he wanted us to go straight to Rocky Mountains so we could do our first hike that day and the only stop on the way was to buy a whole box of his favourite ice cream "Rocky Road". Unfortunately it only came in a 1.6 liter size so we had to give up after eating around 2/3 of it.
After setting up our tent at the KOA Campground in Esters Park we headed straight for the Glacier Gorge Trailhead in the National park to do the Alberta Falls hike.
The boys had lots of fun climbing on all the big rocks next to the trail and must have walked at least twice the distance. The view at the top of the track was great and a box of fresh strawberries did not make it any worse 🙂
Back at the Campground Noah had chosen grilled steaks and sausages for dinner and before tugging the boys in he noted that it had definitely been the best birthday ever.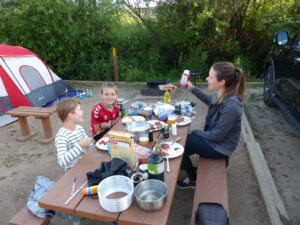 Comments