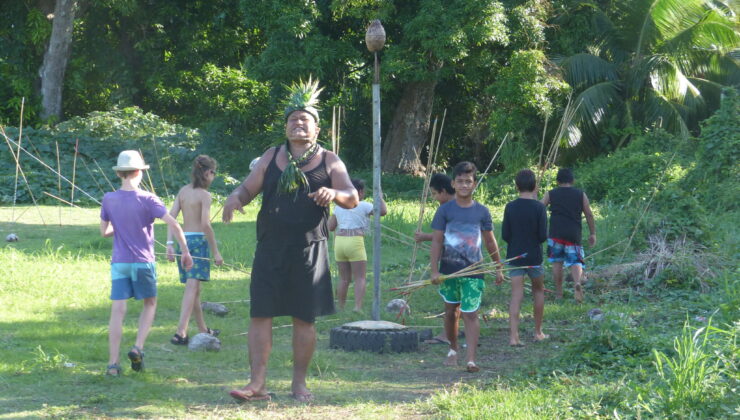 That is the saying on the islands in French Polynesia. We found this to be true and not true during our 4 days in Bora Bora. On one hand you cannot help feeling that all the luxury resorts are totally disconnected from the local culture and spirit of French Polynesia but on the other hand (to our surprise) we had some of our most authentic experiences on the island. As usual Noah has created a video with our Bora Bora experiences.
Bora Bora Bungalove
Nope, that was not a spelling mistake but the actual name of the place we stayed. A small place with just two bungalows and as close to "over water" as we would get (the terrace was over water). The reef close by was not spectacular but we did have baby Sting Rays and Eagle Rays swimming around right beneath us. We had mixed feelings about the place. On one hand it was spectacular to eat our homecooked dinner while watching the sunset from the over water terrace, on the other it was a bit far from everything and going to the supermarket required 5 km. on bicycle.
34 km. bicycle ride around the island
On our first day in Bora Bora we grabbed 4 questionable bicycles and rode around the Island. The weather was a bit unstable and we had to seek shelter from the rain a couple of times. What surprised us the most however was the authentic feel of the main Island of Bora Bora. Very few resorts, lots of small local villages and in general a far cry from the overwater bungalow maniac on the motus around Bora Bora.
We had cheap but great lunch at a small shack, we went swimming on a beautiful beach and we were invited to participate in the local version of spear throwing in one of the small villages we stopped by. We did the tour on a Sunday which turned out to be a good choice as there was much less traffic, but even with children we would not hesitate to do it on a weekday.
Kayak tour to the reef with the best visibility so far
The Danish family we met on Huahine was also on Bora Bora and stayed on the other end of the Island at the Royal Bora Bora resort. From there we went on a joint kayak trip to a small reef with incredibly clear water. It was however also a popular island tour stop so there were quite a few other people there and the fish were so used to snorkelers that they barely moved when you swam next to them.
We went around the Motu where another Sofitel hotel had been abandoned and found our own small beach and another nice reef where two big Eagle Rays came right by (see Noah's video above).
Local dance rehearsal for the big festival
Each year the local villages compete in dancing, canoeing and other Polynesian sports during a 1-month long festival. We were lucky enough to watch them practice. Their routine was close to 40 minutes and it was impressive to see how the about 100 dancers kept the pace up the entire time.
Comments