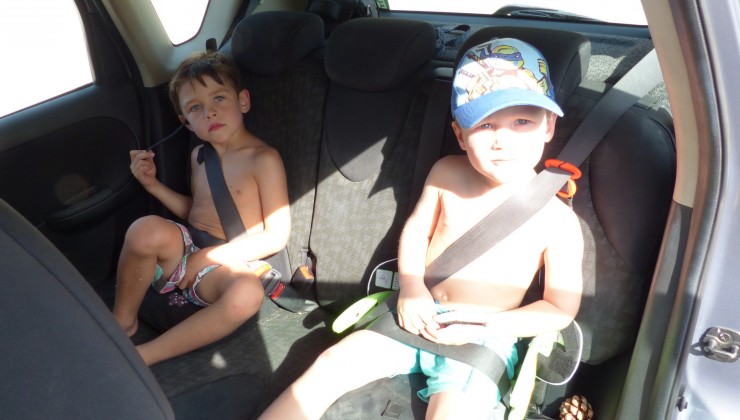 Traveling in countries like Thailand, Vietnam and Phillipines you cannot expect the safety standards from home and if you did, you would only be able to walk without compromising them.
Sometimes you will be riding a moped taxi with a side-carriage and other times you will be sitting on a bench in the back of a Songthaew: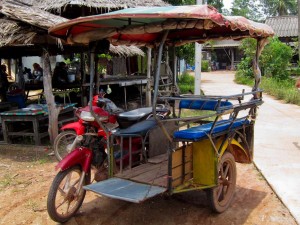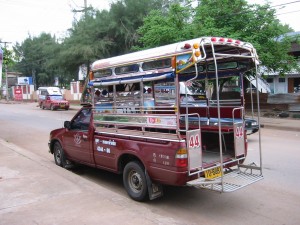 Traveling with children that is something you need to accept but that does not mean you should not keep the children as safe as possible when you can. From home we bought a BubbleBum booster seat for Noah and a BoostApak  for Vitus so that whenever we are in a taxi og able to hijack the front passenger seat on a Songtheaw (almost 100 % success rate so far) they can be buckled up.
While the BoostApak has been great the BubbleBum is better than nothing but far from ideal. Noah kept falling off it and constantly complained about the lack of comfort. Instead we found a standard plastic boosterseat in Lidl for only 13 Euros (Cyprus, Larnaca) which we are now carrying around. Both are used extensively since the kids are both much more comfortable using those in both taxies, busses and planes. Not only because they get a much better and higher sitting position enabling them to be correctly strapped in and can see out the window, but also because their knees are able to bend which is quite important for longer distances (A standard car/plane seat is much too wide for children so their legs are kept straight when in an upright position). Picture of Vitus comfortably on his BoostApak while Noah tries to sit on the BubbleBum: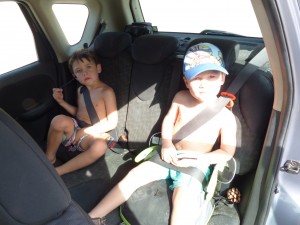 Based on the fact that the standard plastic booster seat is quite light and easily fits on top of our duffel bag and the limited success with the BubbleBum, we would highly recommend that and the BoostApak (Fits a 3-5 year old but would not use it for children much bigger than that).
Comments