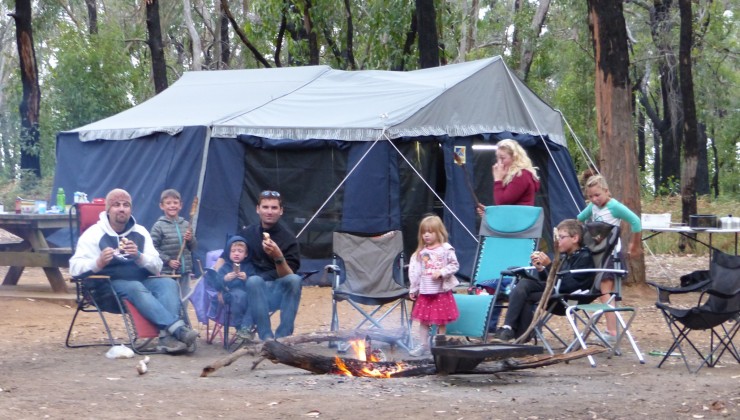 After a lunch stop in Nelson with a great view and playground we continued on to Portland. We really had not done much research and did not think we would stay there more than a night before continuing to Great Ocean Road.
It was a last minute call whether to stay at the free Sawmill Picnic Area Campground 15 minutes drive past Portland or continue another 30 minutes on Princess Highway to stay at a small Caravan park that had great reviews.
We decided to check Sawmill out and though very basic with just a long-drop toilet and no water it looked very nice.
We parked right next to another family and within 5 minutes the kids were playing with each other. Even more importantly (if you ask Noah and Vitus) there was not a Total Fire Ban and that meant we could have a campfire (first time since leaving Denmark).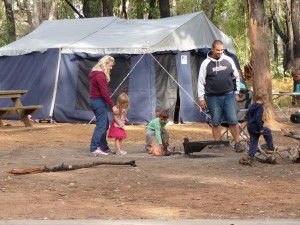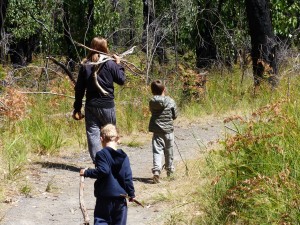 The other family was from Australia but like us had taken time out to travel. They were just 11 days in but had set aside a whole year to travel Australia. Mark, Mandy and their 3 children Logan (11), Charlize (9) and Bella (4) were incredibly friendly and we ended up staying there for 3 days, making bread on a stick ("snobrød" in Danish) and marshmallows over the campfire in the evening and talking until late.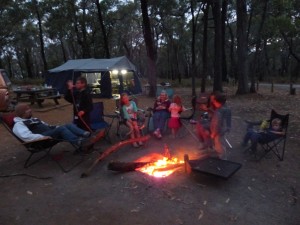 They too were doing a travel-blog to document their trip and keep friends and family informed – SelkeAdventures.com. A truly wonderful time and something both Noah and Vitus will remember for a long time.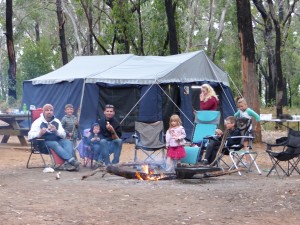 As an extra bonus we saw two Koalas on the way to and from the camp – pretty high up in the trees but close enough to see them clearly and fortunately our camera has a zoom-lense.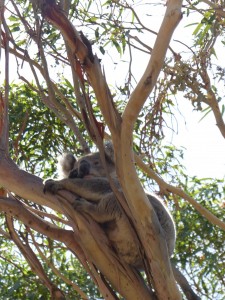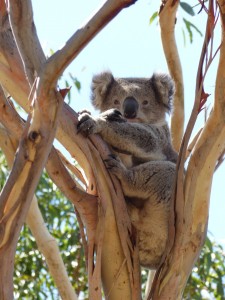 Besides playing at the camp we went on a few daytrips and found the Portland area much more exiting that we would have thought. The highlight was a daytrip to Cape Bridgewater, visiting the seal colony, the blowholes and the prettified forest.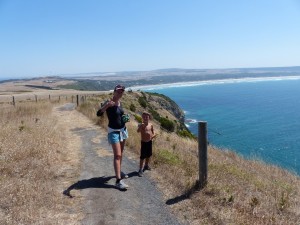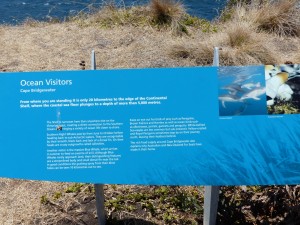 If you ever get the chance to get to Cape Bridgewater don't miss out on the hike to the seal colony. Thought is states steep climb at the start it could easily be done by us in 3 hours and that included and extra 600 meter walk to the farthest point of the colony and a 30 minutes stop to look at the seals. Though a good hike with some steep places we suspect it is marked "Steep Climb" to get people to do the boat tour instead 🙂 The hike however offers fantastic views underway and birds and kangaroos are plentiful. Definitely one of the best hikes we have done so far.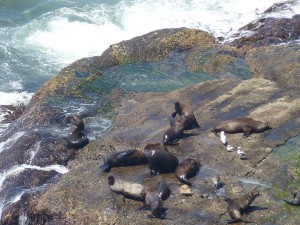 Seals having fun in the sea and/or fishing: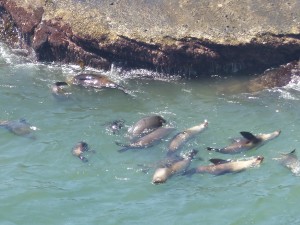 Great views all along the hike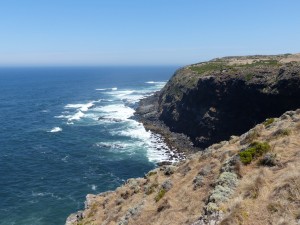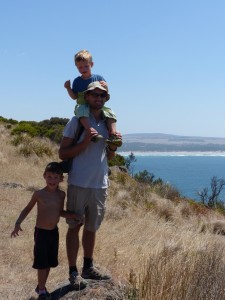 The largest kangaroo we have seen so far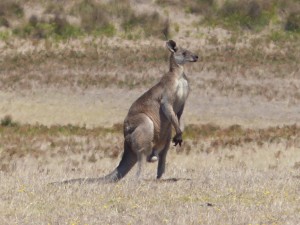 The blowholes are equally impressive with great waves smaching against the limestone rocks sending spray far into the air and much more accessible being only 300 meters from the parking lot.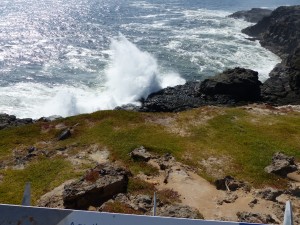 The petrified forest was actually not a petrified forest at all but rock formations shaped by water making its way through the soft limestone. It did look very much like trees though but unfortunately we did not get to enjoy it for long since we were surrounded by stinging flies and had to run out of there. If you look carefully you can see the fear and desperation in our eyes: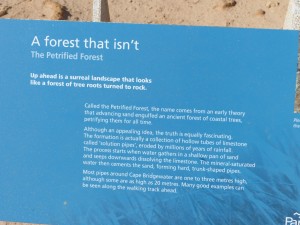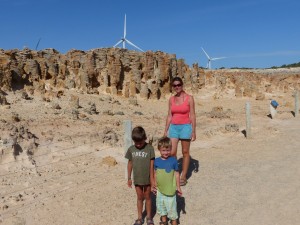 The last stop was a visit to the beach and the first chance to try out our recently purchased body-board.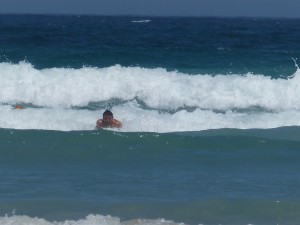 A one-nighter turned into a 3 day stop at Portland, but that is exactly what a road-trip is about and everybody had a great time there.
Comments