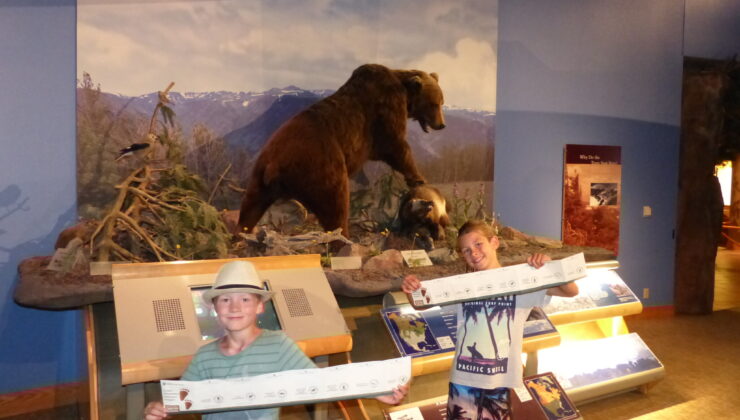 Next stop on our trip was Cody – the town named after "Buffalo Bill" Cody, to experience a real wild west ton, go to the rodeo and visit the museum. Cody is a long way from Rocky Mountains, around 7 hours' drive. But as there is not much to see on the way, and to save time, we chose to go there in one day. The kids thought that was fine "a really cosy day, Noah" said, as they were able to play ipad in the car since the road was very straight. It is truly amazing how much free space there is in USA – it's really huge! Praire as far as the eye could see.
We made a short stop about an hour before Cody – in the town of Thermopolis, where there is a lot of thermic activity. There is a public bath house, where you can take a dip in the very hot, natuarally heated water for free (if you can live with the sulfur smell;-) after a long drive, this was a welcome activity for all of us.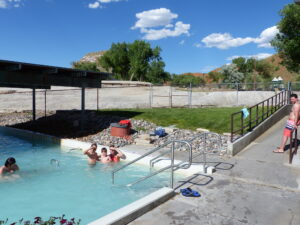 After a short walk around the volcanic area, we drove to what we had been recommended as the best burger restaurant in town, The one-eyed Buffalo and had the best burger we have ever had, with buffalo meat. We arrived in Cody just in time to set up the tent in the last of daylight:-)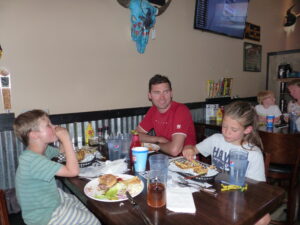 In Cody we spent our day visiting the huge Buffalo Bill center of the West museum in town, which is really 5 museums in one – the Buffalo Bill museum, a natural history museum, the plains Indians museum, western art museum and a gun museum. A very interesting place, even though we didn't see it all (we skipped the art and gun museum).
The rest of the day we enjoyed the pool at our KOA campground and got ready for our rodeo trip in the evening. This was a fun experience, although in our opinion not as impressive as the rodeo we visited in Australia 2 years ago in the Atherton Tablelands.
Comments