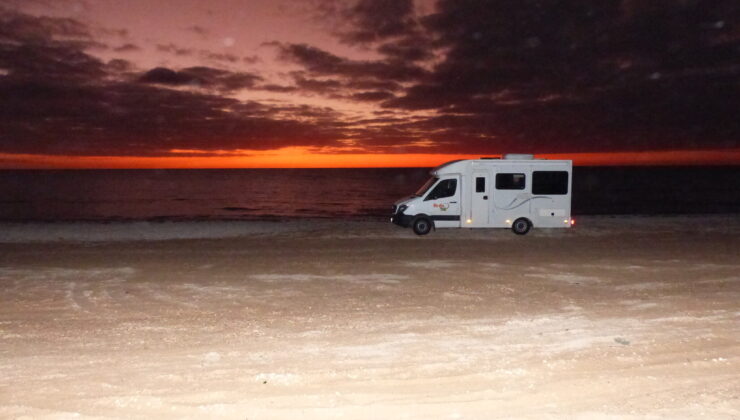 From Quobba we headed further North to Coral Bay. Famous for its massive coral coverage just off the beach as well as Mantas and Whale sharks. Arriving to Coral Bay is an experience on its own. We had been driving for several hours on deserted highways and with just 2 kilometers to go we still saw nothing but empty outback. In about 200 meters the scenery changes from emptiness to a busy holiday town with pretty much every square meter covered by campervans, trailers, and people. We also quickly gave up the thought of free-camping as there were only about 500 meters of road and nowhere to "hide". Both caravan parks were fully booked but we got an overflow site with nice facilities at Bayview and ended up staying for 3 days.
(dead) Coral Bay
On our first day in Coral Bay a gale was blowing along with heavy rain clouds, so we played a lot of cards and treated ourselves to a nice dinner at the Bayview restaurant.
Next day we were off to experience the famous coral reef. You can snorkel right off the beach at Bill's Bay but the best way to experience the reef is to walk south along the coast to Paradise Beach and then drift snorkel the way back to Bill's Bay.
Heading out we got to the first stretch of coral which all looked grey and covered with brownish algae. Heading further out it was the same and nothing changed as we drifted towards Bill's Bay. We were quick to blame climate change but back at the camper we googled the issue and found that pretty much all Coral in the bay had "self-destructed" in a spawning event gone wrong about 3 months earlier. All coral spawns at the same time and with such a dense Coral cover a massive amount of organic material is released. Normally not a problem as most of it drifts with the current out to sea but in this case a series of storms had kept it all inside the bay where it had all started to rot. As the oxygen level declined the fish died too and added to the oxygen starvation which ultimately killed all the coral for 4 km. along Coral Bay. Really sad and it will take 5-20 years before we know how much of it will return. On the positive side the damage was limited to Coral Bay and did not affect the rest of the Ningaloo reef.
First days in Exmouth
It was a 1.5-hour drive from Coral Bay to Exmouth. Despite the warnings of fines and rangers patrolling the area we decided to free-camp on Pebble beach – about 10 minutes' drive south of Exmouth. A wonderful place to stay the night and nothing beats waking up 20 meters from the water and starting the day with a run and swim.
The ranger predictably showed up at 6.45 but at that point we had converted the camper to day-use, and she was extremely polite.
The day after we went bodyboarding at Wobiri beach and found some calmer waters at Mauritius Beach to go for a swim later. Turned out to be a nude beach so we got to work on that full body tan – no pictures 🙂
We went back to Wobiri to body board 2 days later but realised that you need to check the surf forecast as the waves were much too small at that point.
As was the case in Coral Bay all caravan parks were fully booked but the Shire of Exmouth had arranged for overflow camping. We ended up staying there for 3 days as it was a good starting point for our day tours and there were both a skate park and pump track right next door.
Exmouth Whale shark tour
Whale shark tours are one of the big attractions at Exmouth but due to it being very late in the season (runs until July) we booked an Eco tour with the target of snorkeling with either Humpback Whales or Whale Sharks depending on what would present itself. As half the guest had been rebooked from a whale shark tour that had been cancelled due to bad weather it was however clear from the beginning that Whale sharks would be the primary target. The tour was 890 AUD with an extra fee of 50 AUD per person for a successful swim with either a Whale Shark or Humpback Whale.
Though the target was to swim with a Whale Shark the tour along the reef brought us up-close with dozens of Humpback Whales, Humpback dolphins and Bottlenose Dolphins.
One very patient Whale Shark was found by the spotter planes at the reef that day and it allowed a total of 9 boats to swim with it for a total of 3.5 hours without diving. Had it not looked so devoid of intelligence you might have suspected it had been bribed by the tour agencies. We had the chance to swim with it twice for a total of about 5 minutes and despite the touristy feel it was still a great experience to see the world largest fish underwater.
Hikes and great snorkeling at Cape Range National Park
After having ticked off whale shark snorkeling from our bucket list we went to explore the Cape Range National Park. Having just visited amazing Kalbarri we decided to skip Yardi Gorge as it looked much the same and did the Mandu Mandu hike instead. A beautiful and short hike of just about 3 km. After the hike we went to the famous Turquoise Beach. The tide was a bit too low for snorkeling and we could hardly find a parking spot with so many other tourists there, so we went for a quick swim and headed for our next destination.
At the Cape Range National Park visitors center they had recommended we tried snorkeling at Lake-side Beach for a chance to see the big "Bummies" (brain coral) and larger marine life. From the beach entrance you need to walk around 500 meter south down the beach and then drift back. You need to swim about 200 meters out before the coral starts and once there, we immediately started to see large shoals of big fish, huge brain coral formations and giant fish hiding amongst the coral. A truly amazing experience and much different from the experiences in Fiji and French Polynesia. Line even found a sea turtle so she could finally check that off the list.
We ended the day watching the sunset from the viewpoint at the lighthouse. Noah rode his bike 5 times up the hill and worked up a sweat.
On our way out of Exmouth on our last day we visited Charles Knife Canyon. We originally planned to do the 6 km. hike but the last 5 km of gravel road proved too much of a challenge for our campervan, so we made it a lunch stop instead. Noah got out of the camper at the bottom at got the chance to ride the 5 km uphill to the lookout – at 10-15% gradient it made for a good workout and one step closer to getting back in shape for the rest of the MTB season at home.
Our final stop in Exmouth was the Learmouth Jetty where Line and Jesper went for a run along the beach. When they got back Noah and Vitus had seen both an Olive Sea Snake and a Dragon fish from the jetty. Only the Dragon fish was still there as the video below shows but while in the water Noah and Jesper also got the chance to see what looked like a small nurse shark caught by one of the people fishing. It was released immediately but swam away too fast for us to catch it on tape.
Comments