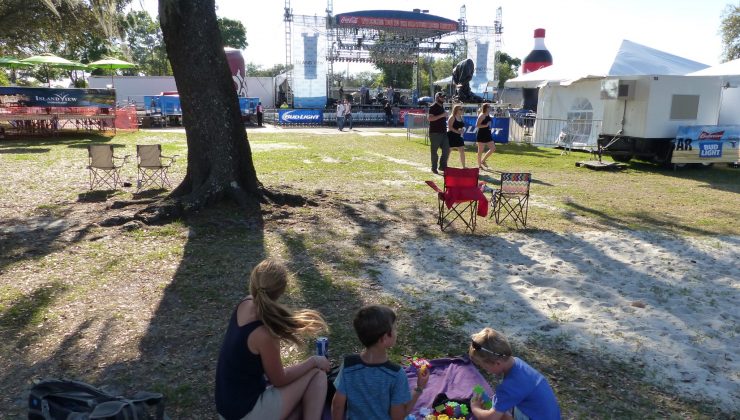 Biloxi
We find that events in the local communities are a great way to get a taste of the local culture. Therefore we planned to visit the Biloxi music and crawfish (krebs) festival. We found a small campground, Parker's landing, just 15 min outside Biloxi, and next to a beautiful river (and a very noisy highway, unfortunately).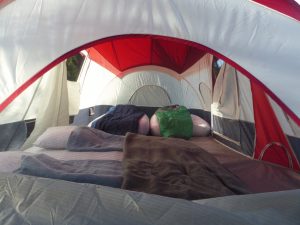 This is what our new tent (a.k.a. the Palace) looks like before the kids invade it…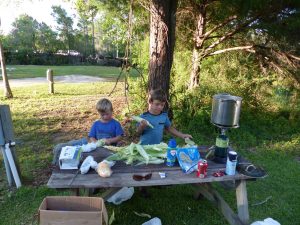 Our boys are good at peeling corn to grill for dinner…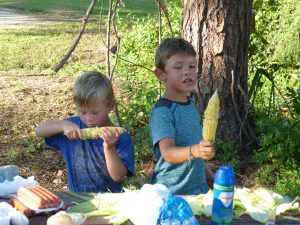 But sometimes there is nothing left to grill afterwards:-)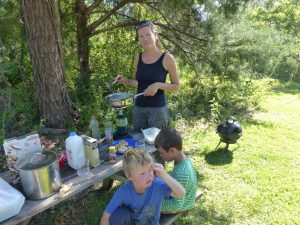 We had pancakes for breakfast 3 days in a row!
Action on the river
The owner of the campground asked us if we would like to go for a ride on the river on one of his jet ski. We thought that could be a really fun experience, so Jesper sat in front with the rest of the family behind him on one Jet Ski, and the owner rode in front of us on his own. For some of us, parts of the ride were a bit too wild, especially in the turns, but the thing is, that if Jesper went too slow in the turns, the Jet Ski got very unstable and hard to control. Our fastest speed was 43 mph. (roughly 70 kph.) and while that definitely felt fast the owner told us that one of his friends has one that can reach 130 mph (210 km/h.) – he had tried it but never dared to go beyond 70 mph.
The river was really beautiful and we would have never seen it, if we had not taken that trip. It was fun, too, and the boys (all 3 of them) especially enjoyed it. On the way back, we got pulled over by the police on the river, but they only spoke with the owner a bit and then let us go again. A lot of people go very fast on Jet Skis on the river – that was why they were patrolling there.
Because we were likely to get wet we only brought the GoPro camera for the ride. Here are a few clips (unfortunately not at our fastest speed since Line was plenty busy hanging on for dear life).
Biloxi Music and Crawfish Festival
We had high expectations for this festival, especially since our very successful visit at the southern raceway (link). We must admit, we were a bit disappointed. The music was really nice, very good actually. But there were hardly any people at all, to the artists' big disappointment as well, which they commented on several times like – "uh, this will definitely be the last water I drink today!" And they talked about other venues where there was a big crowd.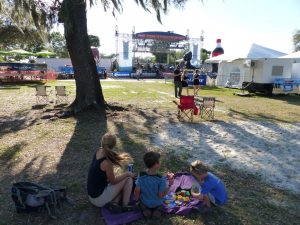 But we sat down on the lawn, gave the kids some toys (their favourite beach- and picnic toys, the "plus-plus building bricks") and Line and Jesper shared a large Bud Light and enjoyed the sunshine.
The festival had a fair there with different thrill rides, all to big for our boys, though, or designed only to make you throw up – but the boys had a soft-ice and were happy. As always, Vitus enjoyed the music and danced around:-).
There was a crawfish race for kids, in which Vitus and Line participated – Noah and Jesper had gone for a walk around the festival. They were to pick a crawfish from a basket and place it in a circle along with a lot of other "race-crawfish". The crawfish to crawl out from the circle first would be the winner. Our crawfish did not win, but still it was a fun experience for Vitus. Just as the race had finished, Noah and Jesper returned and got to see the crawfish too. They were impressed that Line had not been afraid to handle the crawfish even though she is not a big fan of claws:-).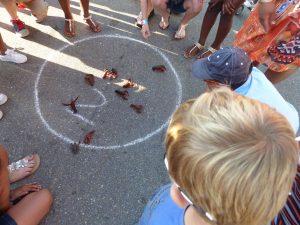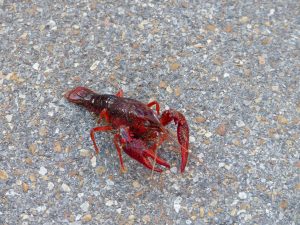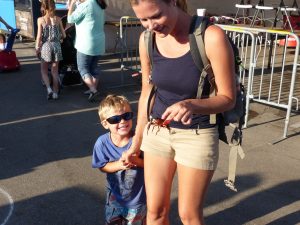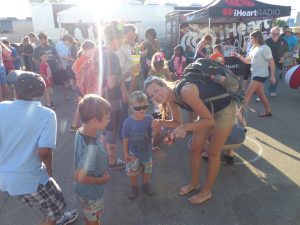 We went home to cook dinner at the campsite. We would have liked to stay and have dinner at the festival if the atmosphere had been great, but it was a bit sad to see such a large set almost empty. It is hard not to feel bad for brilliant musicians standing in front of 7 people and only another 50 sitting at tables 100 meters away – especially when the whole thing looks like something designed for at least a couple of thousands. They did their best, however, and we did enjoy a few hours there.
The festival stretched two weekends and talking to some locals the first weekend had been much more packed – too bad, that would have been great to experience;-)
Comments