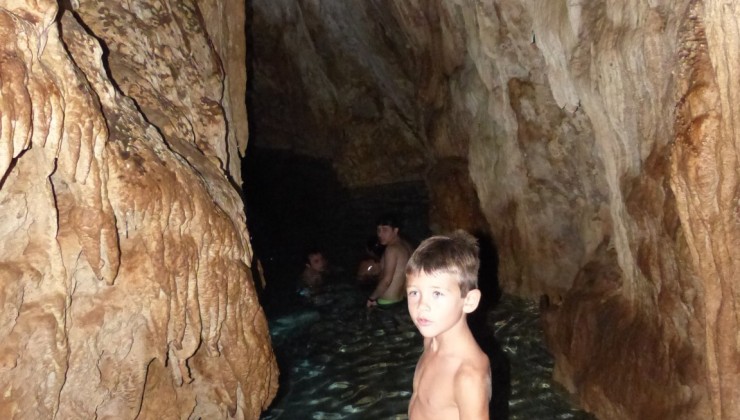 After reading lots of great reviews of the Cuzama Cenotes we were really looking forward to this trip. And they did not disappoint!
Getting there is easy from Merida if you have a rental car. Just make your way to Cuzama and take a right once you reach the town square (where there is also a sign stating "Cenotes"). If it is time for lunch you can make a stop here as the small shop next to the square offers very cheap and good Tacos. We paid 56 pesos for enough to feed all of us including drinks and following our principle of paying at least 100 pesos (36 DKK) for a tasty lunch we ended up tipping around 65 percent J We even bought some plastic cars for their kids at the shop next door – it looked like it had been a while since they had new toys to play with and we got it all back in huge smiles.
About 3 km. down the road from the town square there is a huge parking lot where your tour starts.
If you don't have a car dozens of agencies offer trips from Merida. Tours in Mexico being quite expensive and rental cars very cheap (we paid around 13 USD per day including insurance and everything) we saved a lot of money driving ourselves. On top of that it is much more convenient.
Half the experience at the Cuzama Cenotes is actually getting to them. Instead of the usual short walk you ride on miniature railway tracks in a small carriage driven by a horse for several kilometers.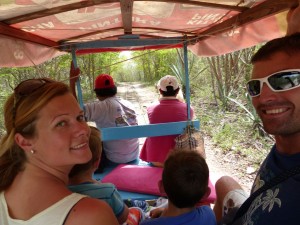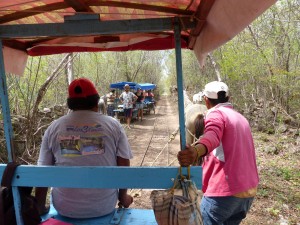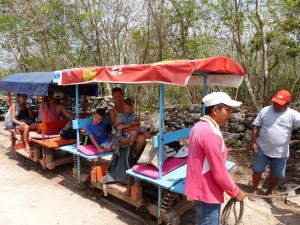 It is a lot of fun and on the short stretch where tracks are missing you get into the Mexican version of a tuk-tuk which is surprisingly comfortable though driving at pretty high speeds.
The first Cenote is accessed by a long set of iron stairs. It is really beautiful with crystal clear water and wonderful scenery around. You can jump from a few places and Noah kept doing this over and over again. It is quite deep at 17-20 meters and unfortunately Jesper saw a plastic bucket at the bottom that he thought he should "clean up". Usually a 17-20 meter free-dive is not a problem but his new mask stuck so tightly around his nose that he could not equalize the pressure. 2 meters from the bottom he had to give up and returned with busted veins around and inside his eyes – UPS.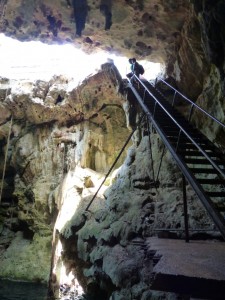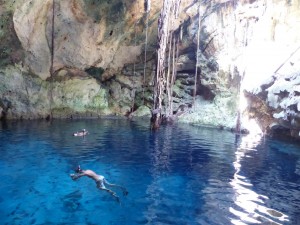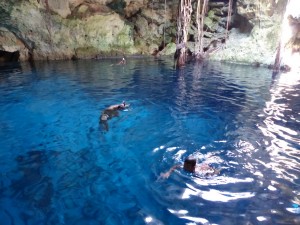 Second cenote requires a climb down a 17 meter vertical latter to reach it. It is also incredibly beautiful and climbing down the latter is half the rush. Only Jesper and Noah did it since the latter was too much for Line and Vitus. Once there you can jump from a 2,5 meter platform and Jesper could barely get Noah out of there (having to climb a 17 meter latter up again probably did not encourage him either).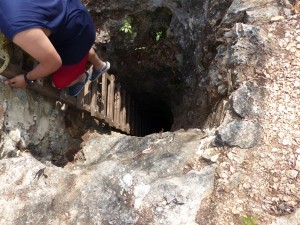 The third cenote is very different and you enter via a small whole in the ground leading to a small iron latter. It is not at all difficult and once underground you make your way through a beautiful cave before entering the small cenote at the bottom. It is narrow and only about 15 meters long but makes for a nice short swim in the beautiful surroundings.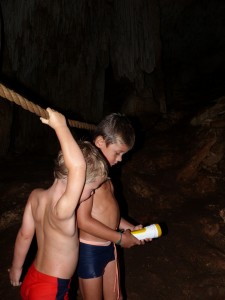 When we got back to the parking lot 3 boys looking around 6-8 years old had a nice business going selling popcorn. At only 5 pesos (less than 2 DKK) per bag we bought two not expecting much. They were, however, perfectly crisp with just the right amount of salt so after finishing them we bought 2 more bags for the road 🙂
Comments