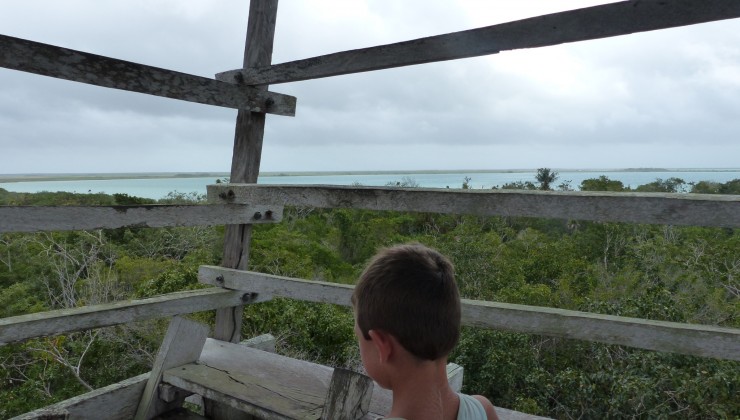 Inspired by this excellent blog post we wanted to do a half-day trip to the Muyil Maya Ruins and Sian Ka'an. Here you can explore beautiful Maya Ruins and take a boat to view the lagoons, birds and crocodiles and not the least float down a river for about ½ an hour. As easy as it is to get to Muyil from Tulum (just head straight south on the highway for 25 km) as easy it is to miss. All you need to do is loose concentration for 200 meters and you are through.
That being said there is a big "Muyil" sign over the road pointing to a gravel parking lot on the left – yes that is it and we actually drove past it expecting a paved road or similar. If you want to see the ruins you need to stop here, pay the 50 pesos fee and go for a walk among the beautiful ruins (nobody was there when we went so we got it for free).
When we came by later in the day somebody was there so guess we were just lucky. To experience Sian Ka'an however, you need to go on a boat which is not that easy to find on your own. Package tours to take you there are plentiful but it is always more fun and cheaper to do it on your own.
There are two ways to get there and we only found the one.
Either you find the secret track at the back of the ruins to the board-walk. The board-walk ends at the lagoon where the boats are. We never found this and neither did the two other couples we met searching for the same thing. Had the staff been there it would probably have been easier to get directions
The other way is to drive (or walk) by the Muyil Ruins parking lot for about 50-100 meters and take a left just before the big green bus-stop. Head down the gravel road for about 500 – 800 meters and it ends right where the boats are. This is a gravel road and it is not very well maintained so drive slowly and be prepared to navigate some pretty big holes (we did it in a compact car so don't worry). From here you can also take the board-walk back to the ruins. This way is free as you don't need to enter the ruins.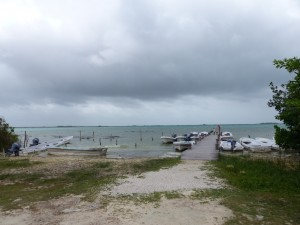 Since we could not find the board-walk from the Ruins trail we had lunch and found the gravel road afterwards after asking some locals (the restaurant across from the Ruins and 20 meters to the left serves decent food).
Unfortunately the weather has not been perfect in Mexico so far and again we were faced with less than ideal conditions. When we got to the small pier we could see that the wind was blowing very hard. The boat captains ensured us that it was perfect weather to go but you could tell that they did not even believe it themselves 🙂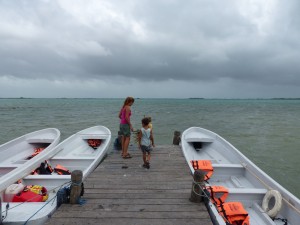 A couple of group tours arrived while we were there and you could see on the faces of the people that had they had the option to reschedule they would have. Faced with a rough boat ride and the possibility of two freezing kids stuck in a river for half an hour we opted out and found the boardwalk instead.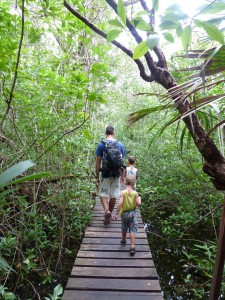 Though we did not go, we did find that true to what we had read, the price was fixed for adults at 600 pesos or 30 USD – nonnegotiable. Children are, however, not part of this fixed-price scheme and we got prices ranging from 200 pesos for the both of them to 300 pesos each.
The board-walk turned out to be a fun 45 minutes spent. The board-walk itself takes you through beautiful mangrove like forest – littered with small water holes (miniature Cenotes) were fish are plentiful.
Right in the middle there is a very tall and very old wooden tower you can climb. DON'T do this if you are afraid of heights and DO NOT look too carefully at the state it is in on the way up – especially not the rusty nails and the places where the wood is half eaten by some sort of insect (at least not if you want to go to the top).
Noah and Jesper did it but not without shaking legs and a good dose of adrenalin. Once up you are rewarded with beautiful view over the Mangrove forest and the lagoon.
Comments