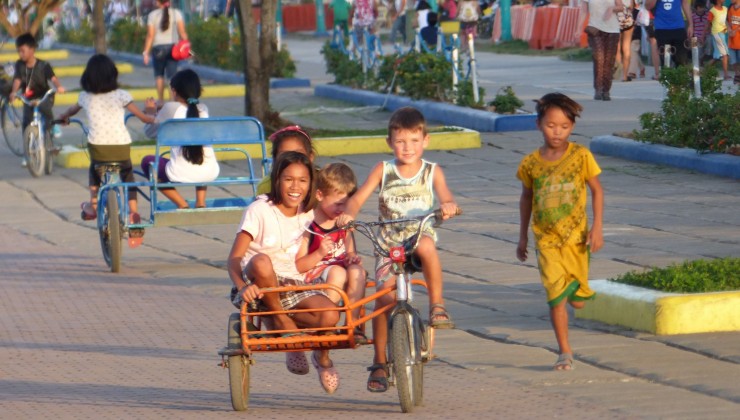 It might to many seem a bit too much to stay a whole week in Puerto Princesa city. But since we are travelling with two children and spending Christmas there, it was perfect for us.
We stayed at Subli Guest Cabins which was wonderful – so much so that it deserved a post on its own.
Honda Bay, snorkeling and swimming
In El Nido we found out that we like being independent when going snorkeling. Therefore we simply took the 30 minutes' tri-cycle drive to Honda Bay and chartered a boat there to take us to 2 different locations. We did this twice during our stay in Puerto Princesa. It is very cheap to do this, the price for renting a boat including a crew of 2 men is 1300 Pesos for the whole day (around 190 DKK) plus the entrance fees for the islands in Honda Bay (around 50-100 Pesos per person). Probably what a Danish boat would charge for a 15 min. trip inside a habour.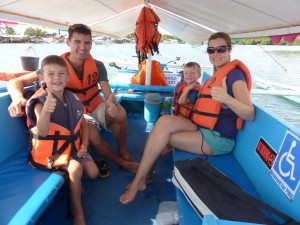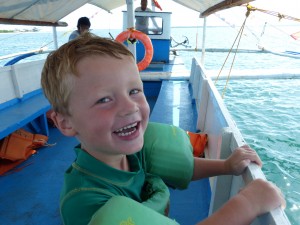 On our first trip to Honda Bay we went to Starfish Island and Pandan Island. The waters around Starfish Island are full of – Starfish – and the sand is all white and powdery. There is a decent reef there but the visibility when we visited was not the best. A ship full (or 2) of tourists in lifejackets were pulled by the coral on a string, stepping on them as they went by. If one thing can make us angry, it is people who stand on the coral, since that kills them and destroys the sensitive reefs. We simply cannot keep our mouths shut and tell people over and over that this is snorkeling/diving rule no. 1.
Starfish Island was however the place where Noah suddenly started to free-dive for real. Previously he had dived only 0,5 meters for 2-3 seconds, but now suddenly he went down 2-3 meters and Jesper timed his longest dive at 9 seconds (2 days later he was up to 14) – quite good for a 5 year old and most importantly – he loves it. Videos will follow as soon as we have an internet connection that allows it (UPDATED FEB 14 with video – no video of his longest dive though put pay attention to how he is actually starting to have the patience to relax and slow his breathing before going down – included in one of the clips).
Pandan island is really beautiful and has a very nice coral reef. In the area just behind the beach you can buy lunch (choose between grilled chicken, pork, fish or seafood with rice – very simple but great) and buy cold drinks. We spent most of our time on Pandan island and just loved it.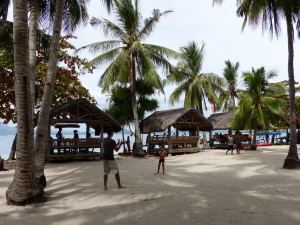 The second time in Honda Bay we first visited a raft with a giant turtle on top, from which you can snorkel. The reef was nice and Jesper especially enjoyed it (broke his free-diving record on this trip and is now at 2 min. and 2 seconds). Line and the kids are more into snorkeling from the beach but still found it a nice place, and Line tried to free dive for the first time ever (only a few seconds, but she did it;-)). After the raft we went back to Pandan Island because we liked it so much, and we stayed there for 4 hours.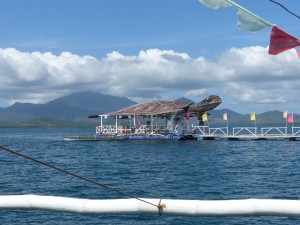 Other things to do in Puerto Princesa with kids include
Bakers Hill
Bakers hill started out as a bakery, but is now a small park open to the public. It has a big playground, which is the reason why we went there. The kids haven't seen many playgrounds since we got to Asia 2 months ago and they enjoyed playing there for a couple of hours and exploring the park. The park itself is a funny mix of cartoon figures (Donald Duck, Shrek and his family), pirates and dinosaurs and flowers. Normally a restaurant is open, but when we were there it was closed due to a private party. There is a bakery shop where we bought some water, ice cream and buns.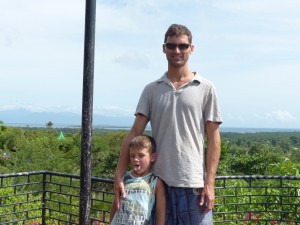 There is also a couple of swinging benches – but be careful – No public display of emotion is allowed 🙂 Don't know if we broke that rule.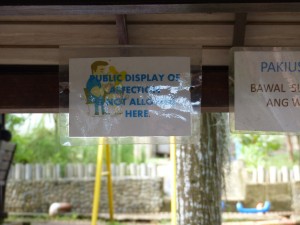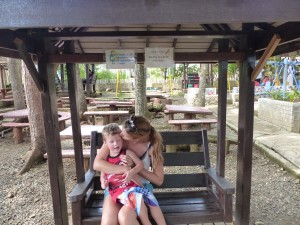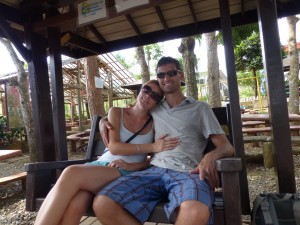 Christmas is big in the Phillippines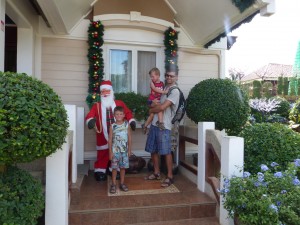 Even Disney characters are present. Vitus was a little afraid of them though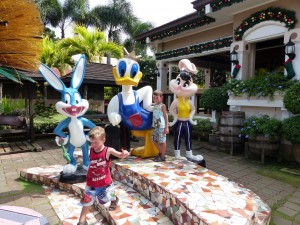 Baywalk park
The Baywalk park is a long paved park that runs along the harbor of Puerto princesa city. It is a nice place for a walk, run, or you cant rent bicycles there.
Since we could not find a bike for Vitus without support wheels we rented one with side-carriage. Soon after they were playing with the local kids there riding 4 on the bi-cycle. Unfortunately it got a bit to wild and after crashing for the second time and destroying a wheel we had to stop it and ask that only Noah and Vitus ride the bike.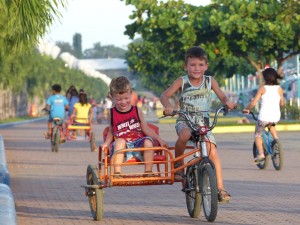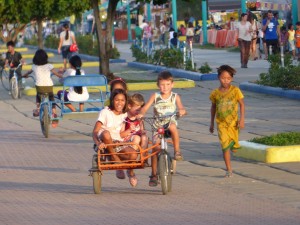 Also there are many small restaurants there that offer grilled fish and meat, and small stands selling food or souvenirs. You can also buy a meal to share which is then served on a big palm leaf in front of you. Funny experience but the actual food sounded better on the menu (both in terms of taste and amount)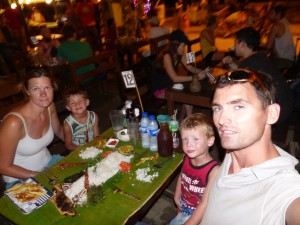 At the Baywalk park for Christmas they had a huge Christmas tree made out of shredded plastic bottles in different colours, full of lights. It was the largest Christmas tree in the Philippines, we were told. A horde of children were begging/singing Christmas carols there (there are a lot of poor people in the Philippines, but when the children start to sing at your dinner table for the 7th time, it gets a bit too much) which is apparently a Philippine tradition since we also experienced it in El Nido.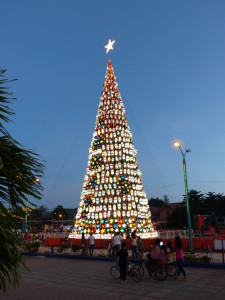 Pristine beach
When we just wanted to go to the beach for a couple of hours to play and swim, we took a tricycle to pristine beach 20 minutes from the city. The beach is situated in a mangrove area and the way down from the main road is VERY bumpy. But the beach and the water is OK, especially at high tide, and there is a small kiosk selling drinks and snacks. It is also possible to rent a cabana there to enjoy the view and get out of the sun.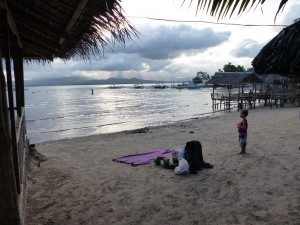 Puerto Princesa underground river
Jesper and Noah went here alone as Line didn't feel like taking the 1,5 hour busride each way on winding mountain roads with Vitus. Read more about that trip and 7,5 hours wait time here
Comments