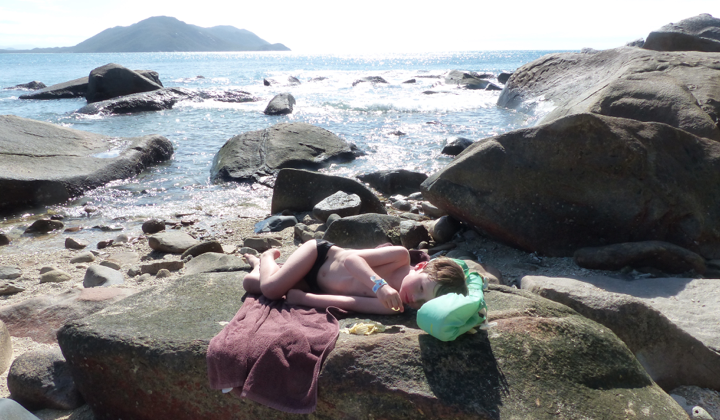 The day after snorkeling at Great Barrier Reef we went to Fitzroy Island to relax on the beach, snorkel and explore. Naively we thought we could just show up at the pier and buy a ticket, but unfortunately the 9 am departure was totally full and we just barely managed to get the last seats with another company for 9.30.
It was a quick 50 minute ride out there and since we barely left the bay nobody got seasick despite strong winds. Fitzroy was just a stop on the way to Great Barrier Reef and to be honest we did not envy all the people that continued with the boat – it would be a VERY rough ride and already the crew was starting to line up with bags for those not feeling too well.
Normally Nudey Beach (only place in Queensland where you can get away with Skinny Dipping – though most keep their clothes on) is the best snorkeling spot on Fitzroy but due to strong winds from the wrong direction the waves were too big and visibility poor. Instead we stayed in welcome bay where the ferries doc and went to the northern part – away from the resort and most of the tourists.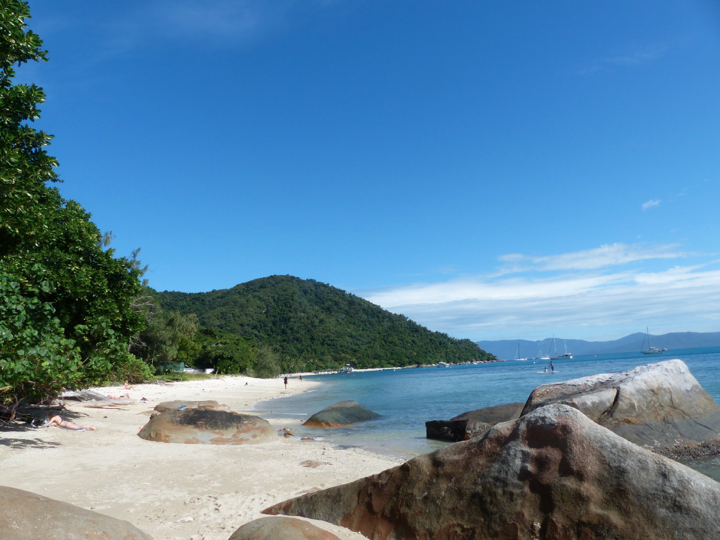 We quickly found a nice and sheltered spot and could not wait to grab our snorkeling gear since there is a nice reef just next to the beach.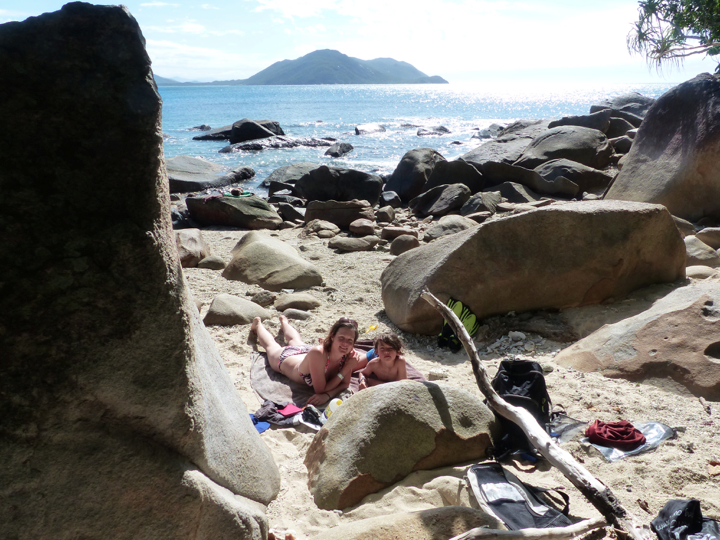 The view from the Beach is excellent: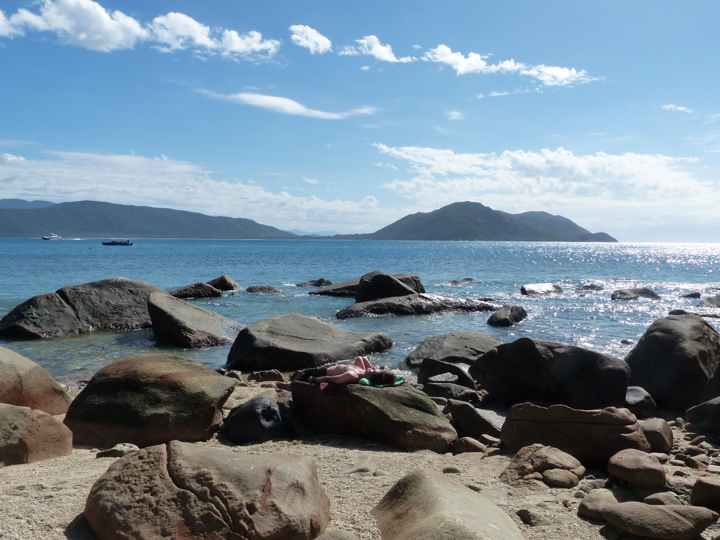 A bit of warning to future visitors – unless you are a very confident in the water DO NOT snorkel in Welcome Bay at low tide. Swimming out we suddenly found ourselves surrounded by coral in only about 30 cm. of water. You can do it and Jesper made it to the "outer reef" section without damaging himself or the coral, but in some places he had less than 5 cm. between himself and the reef underneath.
The reef around Fitzroy is OK but nothing like the Great Barrier Reef. We did see a couple of turtles and once high tide started to kick in the reef was much more accessible. Visibility was not the best when we went but all in all a good experience and a Nice way to spend the day. At 202-240 AUD (depending on which company you use) return for a family it is however not exactly cheap to get there.
We considered hiking to the top of the island but it was simply too hot. Instead we ended up just playing on the rocks, snorkeling and relaxing on the beach.
Climbing/Relaxing on the rocks: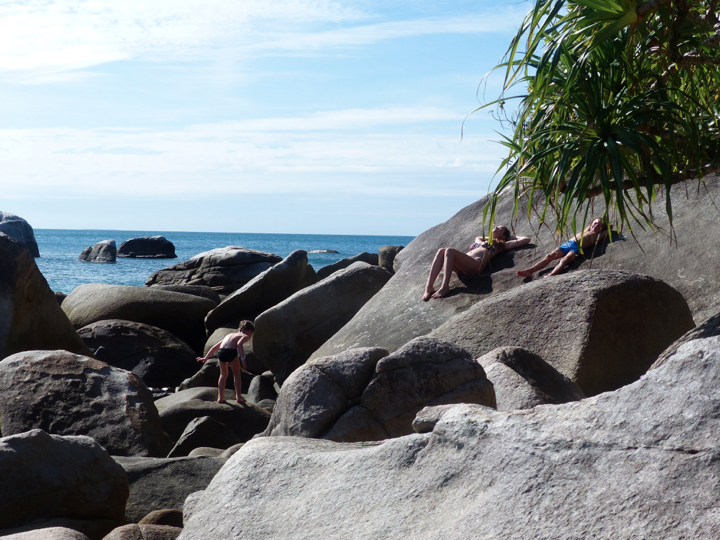 Time for an afternoon nap….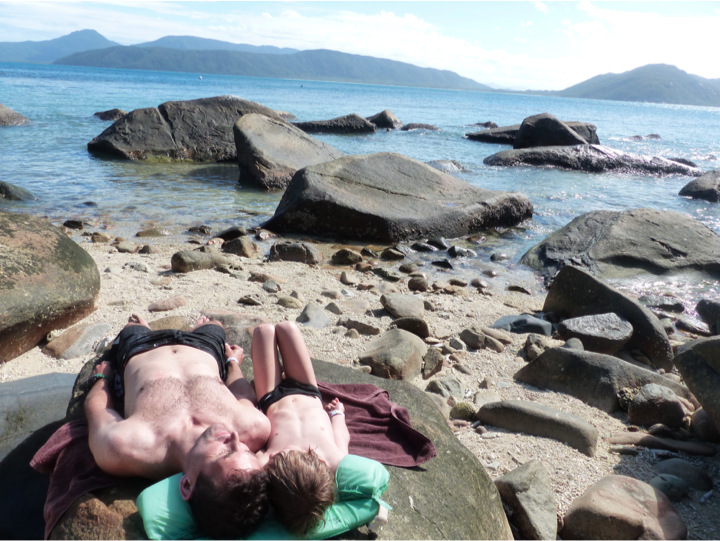 One nap is not always enough when you are 4 and have been snorkeling all morning: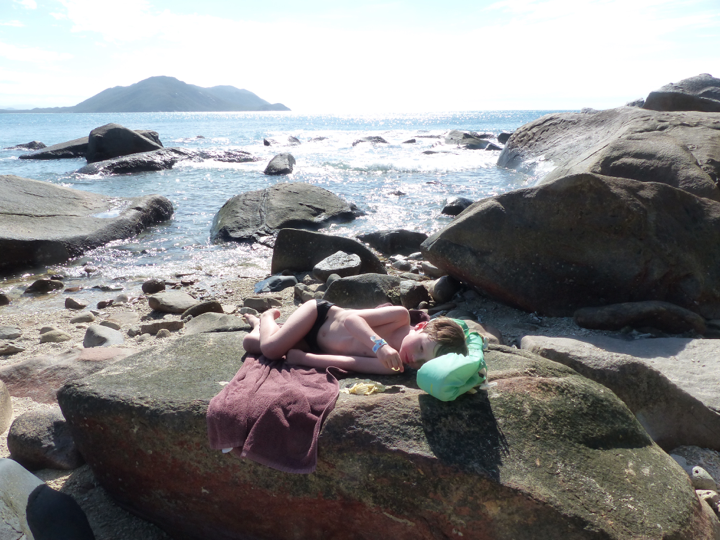 When we got back we had dinner at Muddy's Playground – a perfect spot where you can BBQ while the kids play on the enormous playground and splashpark.
On our last whole day in Queensland we went to see Cars 3 in the Cinema.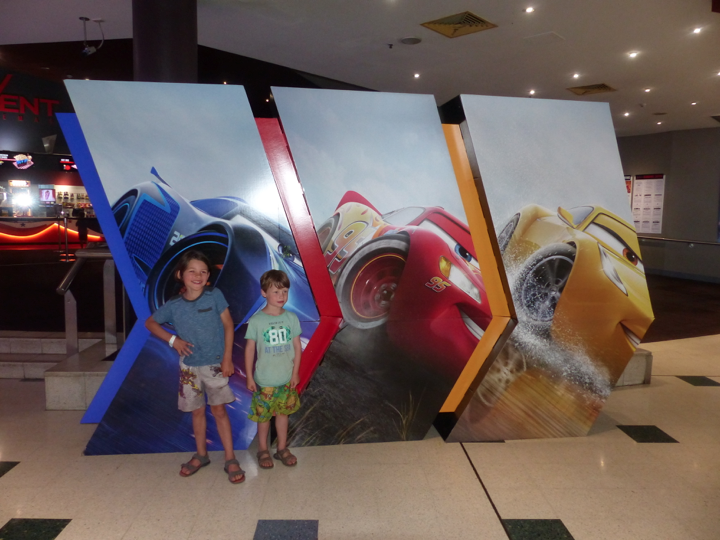 Cool that the boys both get enough English to follow the general plot and they loved the movie. From an adult's perspective Cars 3 has too many loose ends, weird plots and things that just don't make any sense but the kids loved it and quickly rated it "the best movie ever" – and we almost had the cinema to ourselves.
After that we drove to the Coconut Holiday caravan park to finish our Australian vacation with a bit of pool time and excellent amenities. We just barely managed to get a spot though the sign said "All full". After dinner it was time for one last round of ice-cream – naturally with almonds, marshmallows,  peanuts and banana – delicious 🙂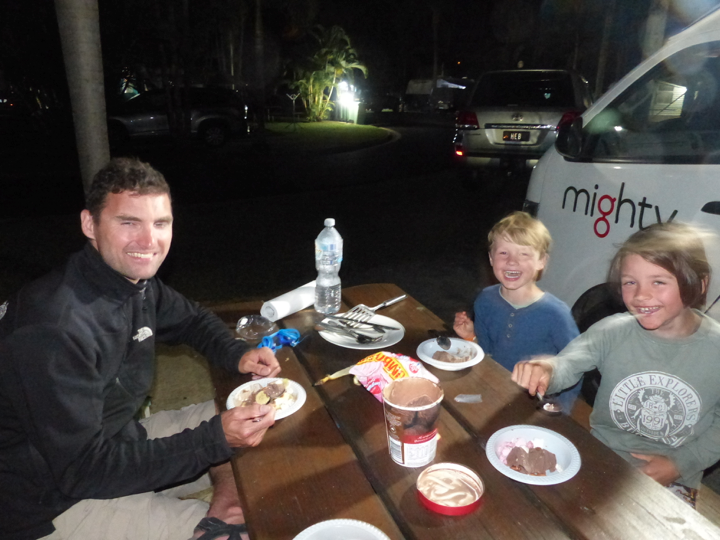 On our final day in Australia there was a free pancake breakfast at Coconut Holiday. Having read the Curious George (Peter Pedal) story about the "Pancake Breakfast" about a hundred times it was fun to try and the boys kept using phrases from the story all morning.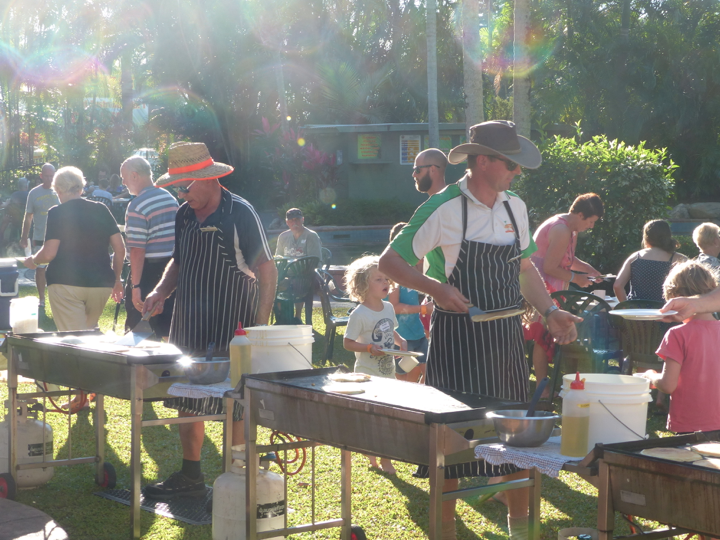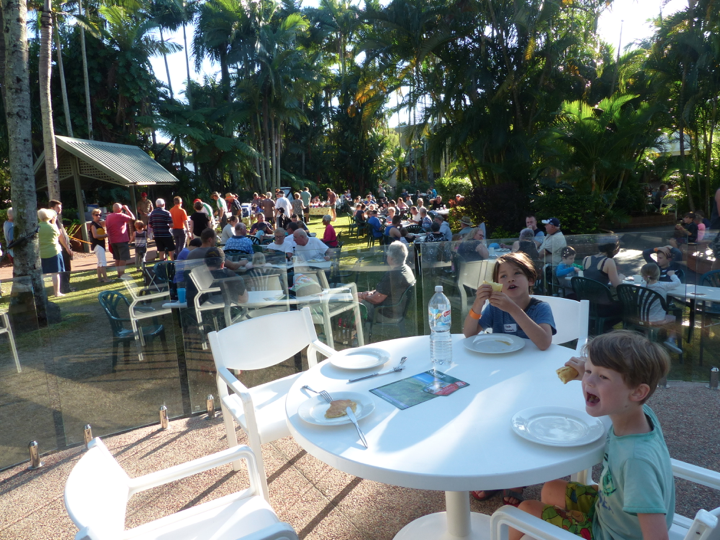 After that it was time to pack, have lunch (at Muddy's Playground of course) and return the campervan.
And what do you do when you need to empty the fridge – try a ryebread sandwich with:
Mayonaise
Humus
Tuna
Fried Egg
Crisps
Tomato
Cucumber
and Salad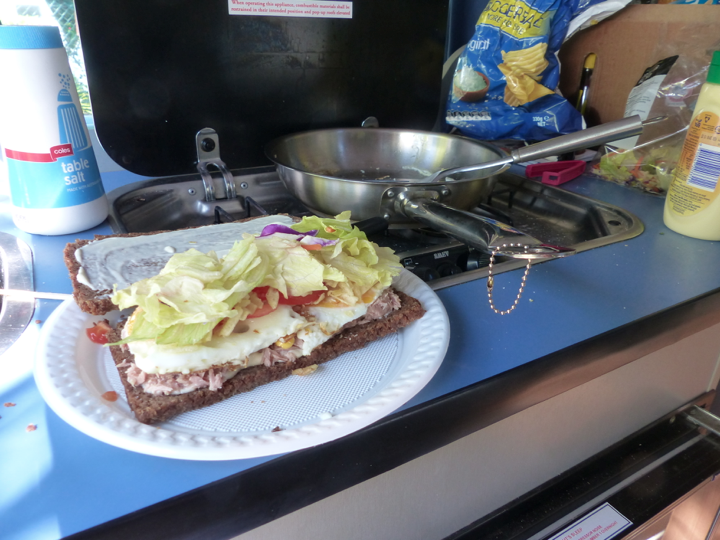 Great Queensland adventure – Goodbye Australia, Hello Bali!
Comments