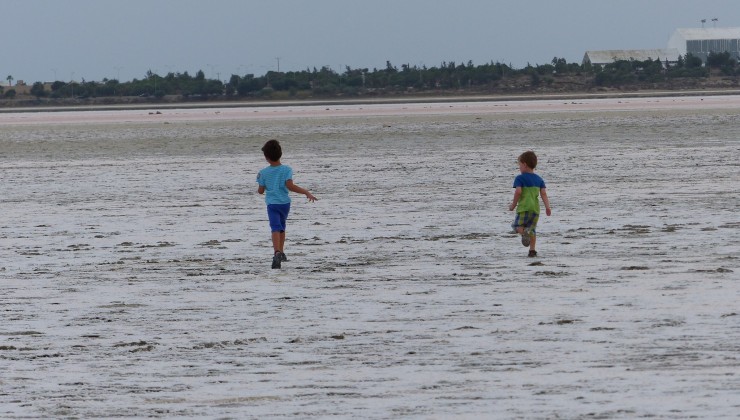 Today (Thursday Oct. 22.) was moving day so we packed together our stuff and moved out of the apartment in Paphos.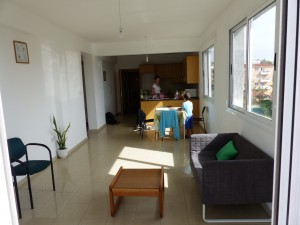 Next stop is a new one in Larnaca (also found through airbnb). We were all pretty tired after a night where constant lightning and thunder had kept us half awake for 4-5 hours – not exactly the "chance of light rain" announced in the weather forecast. It is a 1,5 hour drive from Paphos to Larnaca and Vitus was sleeping before we even got on the highway. Unfortunately we did not take a picture of him, but he found a position to sleep in that looked incredibly uncomfortable – bent to the side and leaning so far forward that his head was almost touching the door-handle. Probably not the safest position either so hard instructions were given by the co-driver to drive carefully!
The apartment in Larnaca is great with a large living room, 2 bedrooms and a giant balcony.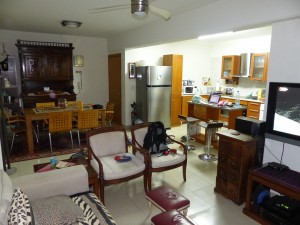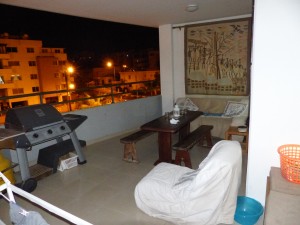 After getting the keys, the instructions and moving our stuff from the car we drove about 1 kilometer down to the trail next to the salt lakes.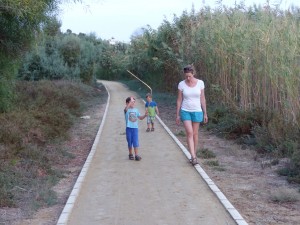 Very little water is left at this time of year and most of the lakes are dry leaving a thin crust of salt exposed. Pretty – but not the hard-packed thick salt crust you see elsewhere. Walking on it it is a combination of mud and salt and we almost managed to cross the lake before it got to a point where we were sinking in deeper than Lines expensive sandals would allow. A really great thing (which non-parents probably will not appreciate to its full extend) is the fact that the ground is flat and there is nowhere to hide or get lost. We let the boys loose with the only instruction to run as far and fast as they wanted – a win-win situation 🙂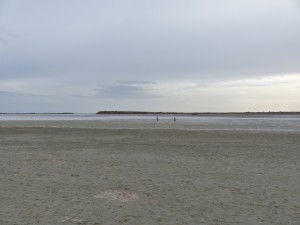 When the waters return in December the lakes will be packed with thousands of flamingos but unfortunately we did not see any. The boys did however find some extremely large paw-tracks in the mud and though it was probably just a giant dog it quickly turned into a tale of loose Lions, Tigers or Mountain Lions 🙂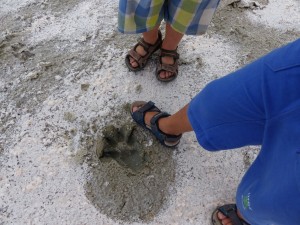 We decided to go out for dinner and eat somewhere nice. We settled on Indian food and again tripadvisor did not fail us. We had a really fantastic dinner at Balti House which is highly recommended if you visit Larnaca. We were a bit nervous when we arrived since nobody else was there but during the 1,5 hours we spent eating the place became packed with people and not a single table was free. Food and service was great and only problem was that though we only ordered 3 dishes for the four of us, we ate more than we should and were totally stuffed by the time we left. At 48 Euro including Papadums, drinks and two types of Naan it was also surprisingly cheap.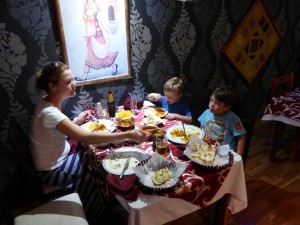 Thunder, rain and lightning has returned this everning and unfortunately the forecast for the coming week has taken a serious turn for the worse. Plans of snorkeling and visiting waterparks might have to be adapted but we will see what mother nature brings – if they can change it one way in half a day they might change the forecast back again. Tomorrow seems to be the last day of really hot weather in Cyprus (30 degrees) but unfortunately with a thick cover of clouds.
Comments