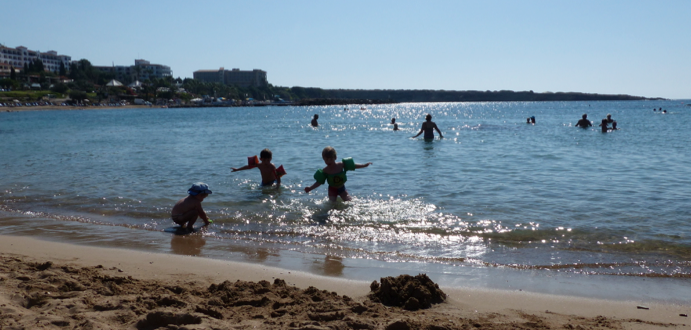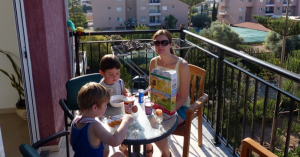 What a change. From 8 degrees and windy/rainy Copenhagen to sunny 30 degrees in Paphos Cyprus. After sleeping late, the first thing on the agenda was to get some breakfast. The possibility alone to enjoy it outside on the terrace made it a great start of the day.
Next thing was to find a good beach to relax and fix HERE Maps for directions how to get there. Now that HERE Maps is finally working we are already huge fans of this free service from Nokia with the possibility to download maps while on wifi and use them offline when driving – exactly as a standard GPS. Garmin and TomTom must really be crying themselves to sleep 🙂
We ended up spending the morning and part of the afternoon on Correlia Beach 10km. north of Paphos. As usual Vitus spent most of the time in the water while Noah and Line found the 26 degrees water temperature too cold to enjoy for more than a few minutes at the time.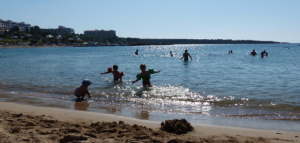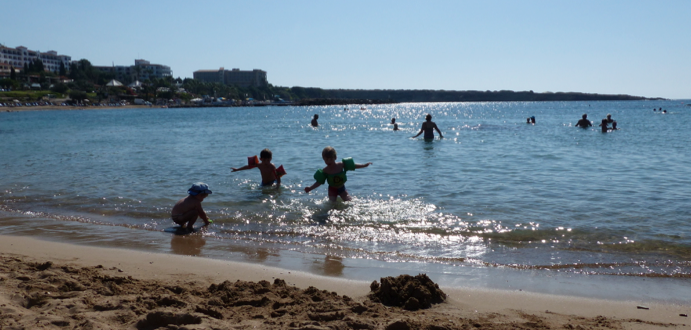 We also managed a short walk to the harbour nearby climbing on rocks and scaring mom by standing on the concrete pillars by the harbour entrance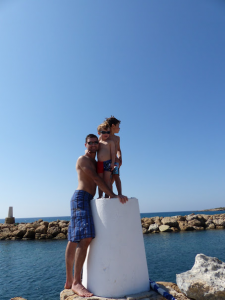 After lunch (another round of Kebabs), shopping for dinner and some relaxing time drawing, writing blogs and watching IPad, late afternoon was spent walking to and around the Archeological park in Paphos. A great place for children with lots of grottos to discover, view points and underground tunnels.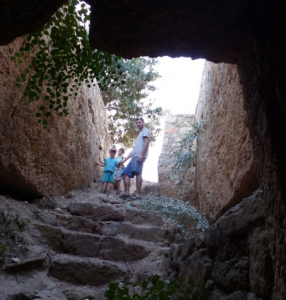 Walking around in the Paphos area it is however hard not to notice the many run-down, half-finished and empty buildings. It really seems like a city that is slowly declining with lots of empty storefronts. A great city with lots of things to offer in terms of climate and tourist attractions but seeming to somehow have lost the ability to attract enough business, locals and tourists in anything but the very center of the city.
Anyway we are sure the next week will be great here in Paphos. Unfortunately Line caught a cold while in Copenhagen which just seems to be getting worse. If she is doing alright tomorrow we will head for one of the waterparks in the area but otherwise it could just be a relaxing time at the beach. After that we plan to go on a jeep safari in the Toro Mountains and find out what else the area has to offer (should be plenty to see).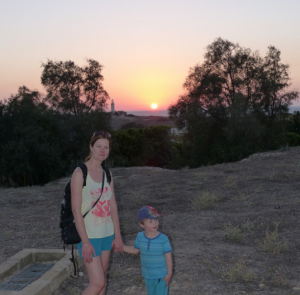 Comments