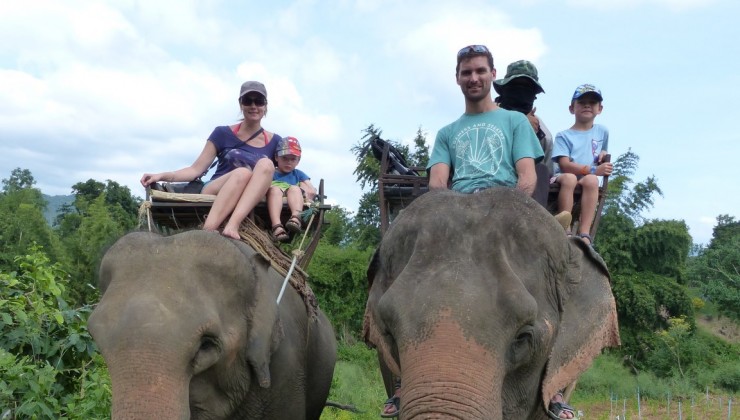 Monday (Nov. 2.) we went on a full day tour with Toi's Tours – one of the standardised tours you can buy at any touristy place in Thailand. Ours included a visit to the Erawan Falls, Elephant Trekking, Bamboo "rafting", Kra Sae Cave, Death Railway and walking over the River Kwai Bridge.
Overall a good experience but also aspects we could have lived without. First we were again reminded how much more sensitive you become to crazy minivan drivers when you are traveling with children. Ours were in an an extra fast mood overtaking several other minivans from other tour agencies before we asked him to lower the speed and drive just a tiny bit more carefully. Minivans do have really bad accident statistics in Thailand so we tried to convince ourselves that we were not being overly nervous and overprotective. Anyway he slowed down considerably after we commented on it though not without a certain "you should see how fast I can really drive" look in his eyes 🙂
Erawan Falls were really great. 7 falls in total where you can choose to cover as many as you can in the 2,5 hours we had available – you start at number 1 and go uphill from there. We got to number 4 at which point Line had to turn back with Vitus because he needed to visit the toilet (of course we had asked him 20 times if he needed to go before we went – oh the joy of having kids). Jesper and Noah stayed at number 4 where rocks formed natural slides. You can easily spend a whole day walking, swimming and playing so we plan to go back for a 2. visit to cover it all. You should, however, keep in mind that the entry fee is 300 THB for adults and 200 for kids.
A special feature of the falls is that lots and lots of small and large fish are swimming in the small lakes at the falls – and they bite! Nothing that hurts but it is like swimming in a giant fish spa and you regularly find youself hitting a fish when swimming around – they get very close. Noah and Jesper found this a feature while Line and Vitus never really took to being the actual fish-food and swimming in the water.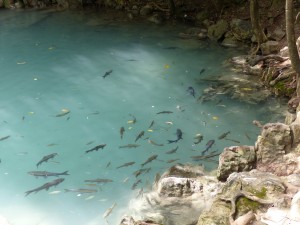 And beautiful butterflies were all around:
After lunch (stardard fried rice with chicken/pork) and a 45 minute drive we arrived at the elephant camp. Most elephants in Thailand are former employees of the logging industry but since that is now reduced and the remaining part replaced by machines they are now out of a job. In that context it is considered ok to do these tours since it keeps them from starving or being dragged into cities like Bangkok to do tricks on a street corner. They work a few hours a day carrying tourists and are otherwise left in large expanses where they can walk around freely. We have done elephant riding a couple of times so we knew what to expect, but it was a first time for Vitus, and Noah could not remember the first time he went 3 years ago. An extra bonus this time was that Jesper got to play Mahout for 20 minutes after Noah had refused the privilige. Taking Vitus' young age into account they avoided the really steep places.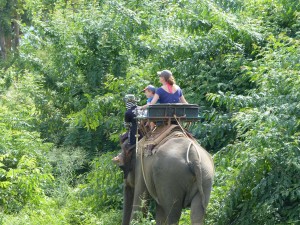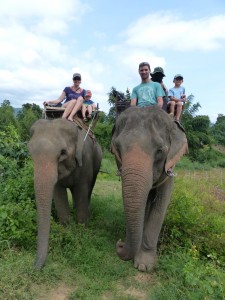 While elephant riding was a nice experience Bamboo Rafting was close to ridiculous. Joined with a group from China we floated down a river for 10 min. and spent another 15 minutes being dragged against the stream by a big longtail boat – fully enjoying the heavy exhaust from the v8 engine.
Next stop was the Kra Sae Cave and the 30 min ride with the Death Railway – named after the many people that died building it in record time. Unfortunately we were behind schedule and since the train was not going to wait, we had around 4 min. in the Cave and barely got to see the opening. It was fun riding the train (we also did it as part of a 1 day trip from Bangkok back in 2008) and it is quite amazing that such an old train is still in working order – though we are not sure it would pass western safety inspections 🙂 Children love trains but still it is amazing to see how someone as loud and energetic as Vitus will fall totally silent when being transported. He barely said a word the entire ride and just stood at the window and took in the scenery.
Last stop was the River Kwai Bridge – which besides being made famous by the movie is -well – essentially just a rebuild version of the original one where tourists get to walk when trains are not passing. The area is packed with souvenir shops and as far as the children goes I am sure that the most memorable thing was a cold coconut they could drink with a straw.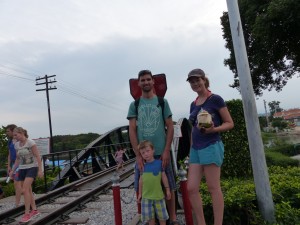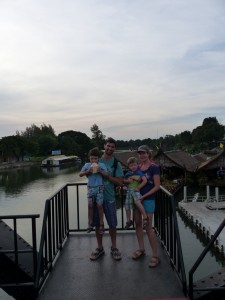 But still a good day with some minor glitches. When we got back we moved to another guesthouse (T&T guesthouse ) 200 meters down the road. Only 1/3 the price and though the beds are very much rock hard thai style, it is working out fine and the atmosphere is friendlier than it was at Phon Phen. We will have to do without the bleach-pool but we want to get tanned anyway 🙂
For dinner we ate at a really local place where we had seen many Thais go and that was both incredibly cheap and fantastic service and food. The owner had a boy at Noahs exact age (also born July 2010) and though Noah tried his best to communicate with him in English, he knew very little so they had to make do with using hand gestures.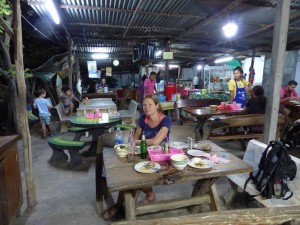 Comments