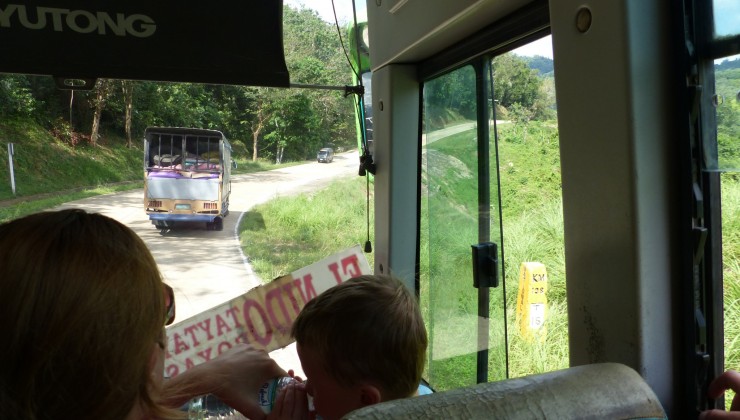 If you have not already guessed it by the title this post is not about the great scenery on the road to El Nido. Only continue if you want to learn how local transportation sometimes turn out (but don't be scared off local transportation in general, we have done that with great success in both Thailand, Vietnam and the Philippines)
After 1,5 days of stopover in Puerto Princesa we were going on the bus from Puerto Princesa to El Nido on the 12th of December. We had our hotel call and book the day before so we were sure to get the front seats (Noah get motion sickness) in the RORO AC bus at 6am. When we arrived at the bus station – the AC bus had been changed for a worn down non-AC bus with the explanation that the AC bus had been chartered to go to regional games in the south. Why not tell us that the day before when we booked? Well – nothing we could do about that at 5.40am….
Then a +8hour drive from hell started. After 10 min. drive we passed a truck that had crashed – nothing big as it was just on its side with a cracked front windshield and some big dents, but at a closer look the driver had obviously not been wearing a seatbelt, lots of blood was covering the road and his feet was visible from under a blanket. Fortunately the kids did not see that part.
Then we stopped and waited 20 min. along the way for a single person to board (a non AC bus gets very hot when it is not moving), then another 30 min. at another side-road trying to get a full cargo of banana into the bus. When they did not fit in the trunk they were stacked in the middle-isle so nobody could get in and out. Every-time somebody needed to get off it took 5 min. instead of 30 seconds because it was impossible for people to move in the bus. Not thinking that it could get any worse and we could be any more late the drivers decided that instead of the 15 min. stop they announced, we stopped for almost 40 min. – apparently for no good reason.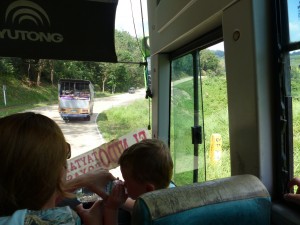 At our second stop the same thing happened again – only this time we were all asked to board the bus after 20 min. but then suddenly we were not going anywhere since another 20 min. were spent adding more cargo in and on top of the bus. 20 min. (no AC, bus packed with people, no air very, very, very hot).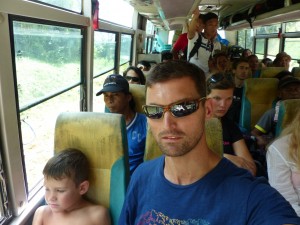 Being almost two hours late at this point we spent another 20 min. from TayTay to El Nido loading even more bananas so that they were now stacked on top of each other in the middle isle and you had to climb to get out. Had we known that we were boarding a banana-truck for 8 hours with children we probably would have opted out.
When we finally arrived 2+ hours late we were all exhausted. The children did however do very, very, very well considering the circumstances and it is hard to imagine how we would have fared had they started to fight, complain or act up. Thank you boys!
On our way back we naturally selected Cherry-bus which arrived on schedule without any problems what so ever. And best of all it was an AC bus and not a banana cargo truck.
Comments