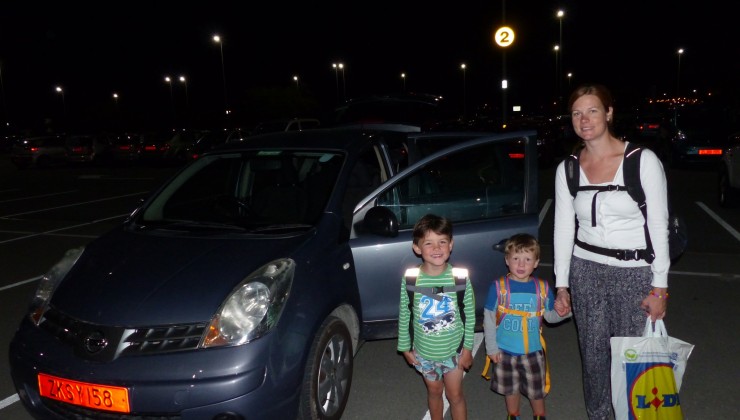 Thursday Oct. 29. meant goodbye to a good start on our round-the-world trip in Cyprus and getting on the plane to Bangkok. Our worst flight in terms of flight-times leaving Larnaca 21.45 (we thought it was 20.40 as per our original flight plan, so we were in REALLY good time) with a 3,5 hour stopover in Amman Jordan (where this post is written) and landing in Bangkok 15.25 the next day. Going to be hard but fortunately the rest of the trip will be better. Line and the boys sleeping on some Sofas in a restaurant in Amman Airport: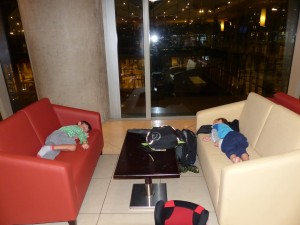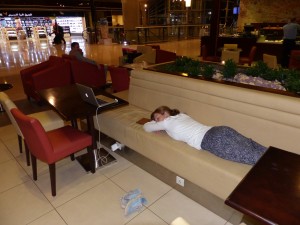 But saying goodbye to Cyprus also ment saying goodbye to our rented Nissan Note. Sold to us as "similar to a Ford Focus" this is truly a car we will miss.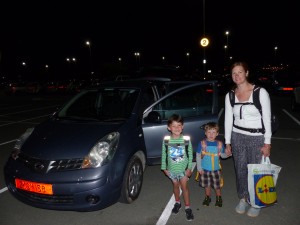 From the first moment you cannot help but being impressed by the design – what a wonder and had someone not told os it was a Nissan we could easily have mistaken it for a Bugatti. When entering you cannot help to speculate how they made such a perfect fit of the doors, requiring only a really hard slam for them to close tightly and the plastic feel that seems to transend almost every aspect of this enjoyable car. The fact that the shelf in the trunk was broken and you manually had to lift it when you wanted something in the trunk just added to the general feeling of quality-built-in – all the way through. Toyota must really feel them breathing down their neck in the fight for product and proces quality.
But it does not stop there by any means. Had we had time, a whole section of this blog should rightly have been reserved for describing the fantastic driving abilities. The power of the engine and the way Nissan makes it feel like a true sports-car – almost tipping over at even slow turns, is a celebration to sports car fans and we could not help but wonder why you do not see this type of car on a racing track more often.
Only thing rivaling these unforeseen bonus features is the fantastic fuel economy which sometimes must have reached 15 km per liter when going absolutely straight at exactly 80 km. per hour. A true accomplishment in 2015 where other brands have to settle for as little as 25 km per liter for cars of the same size. How Nissan works these wonders is beyond us. Just the thought that we could accidentally have ended up with the Ford Focus originally listed on our booking is enough to wake us up in the middle of the night.
That being said, Nissan was not the only fantastic driving experience in Cyprus. As a foreigner you should be aware that you simply cannot take simple things like street names for granted. Researching attractions, restaurants etc. you will find that many streets are simply not recorded, and those that are, are spelled in one way on tripadvisor, a second using google maps, a third way visiting the website and a fourth way when trying to enter the name in HERE Maps. Arguably due to the fact that all streets are really named using the Greek alphabet and therefore just a translation. Really frustrating at times, but in the end we found most of the things we were looking for with a bit and sometimes a lot of patience 🙂
Comments