Tuesday (Nov. 3.) we went to Sugar Done beach after speaking to an English guy living in Kanchanaburi with his Thai wife and their 4 year old kid. The kids really missed playing in the sand, so it was a great chance to get som beach-feel though staying far indland next to a river. We were the only westeners there but Noah and Vitus quickly got into playing with the local kids and we had a great day at the beach. A slide and some structures to play on is placed in the water and Noah quickly got to jumping in from higher up than "mum" liked. It made for good pictures though, and we even tried mounting the camera on his head while jumping.
Suddenly we looked up and an Eagle was flying just a few hundred meters out over the river. Something we do not see that often back in DK.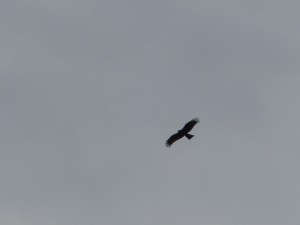 Noah and Vitus wanted to send a message to their friends at daycare so we tried using the GoPro camera for that. Worked great except that we forgot to open the waterproof housing so the mic. did not pick up that well.
For dinner we ended up trying a local concept where a grill is placed on your table with a depression to cook noodles and various cabbage and salad. Great fun and a very authentic feel to it.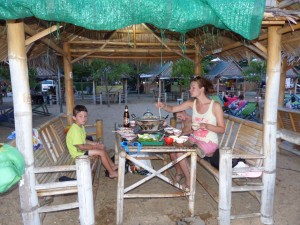 As usual a gorgeous sun-set appeared and it was hard to enjoy the setting, food and scenery enough 🙂
Usually we are approached by people offering taxi rides on every corner, but when we needed one to get home nobody was in sight. So we started walking, and it took almost 15 min. before we finally heard the familiar "taxi, where you go" behind us. The guy was obviously going somewhere but from his smile and surprised look he clearly could not imagine his good luck picking up a ride in the middle of no-where far from the touristy places. It got even better for him as he managed to pick up a couple going the same way we were. It was a bit cramped being 6 people in a moped side carriage, but we are sure we saved his night 🙂
Though we were ready for a very authentic food experience it turns out our stomachs were not. Next day Vitus and Jesper has spent most of the day in bed with a bad stomach. Vitus threw up several times in the night while Jesper is simply out of appetite and has eaten nothing except for a few bananas and water. A second trip to the waterfall is postponed
Comments