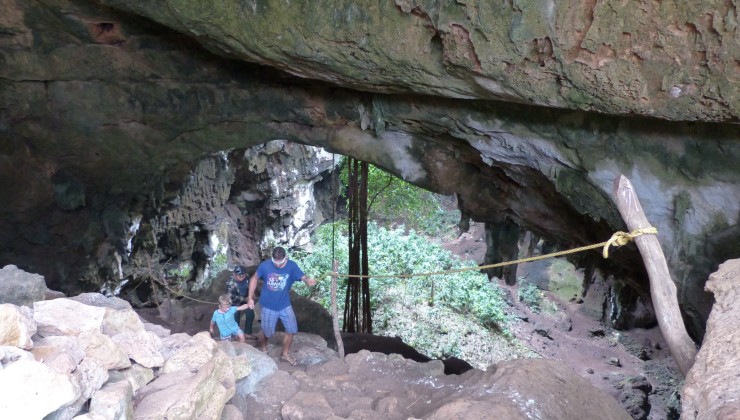 Reading about Grutas de Calcehtok and the adrenalin and muddy experience people had had there we really did not know if it was suitable for small children. We knew that they also offered a 1 hour family tour in the caves but failed to find any reviews of it. We knew that we would not be able to do neither the adventure (2-3 hour tour) or the extreme (4-8 hour tour) so hoped the family tour would be for us.
Fortunately it was just perfect and we had a great hour visiting the caves. Though our guide only spoke Spanish and Mayan we think we got the main concept and though we got a bit muddy shoes it was perfect for small children. We did not get very far into the caves but enough so that we were in total darkness and saw plenty of beautiful stalactites and rock formations. If we come back when the boys are older we definitely want to do the longer tours (at least if Line can be convinced )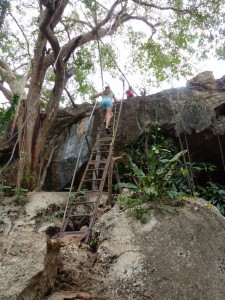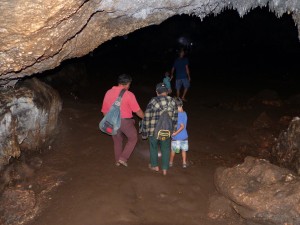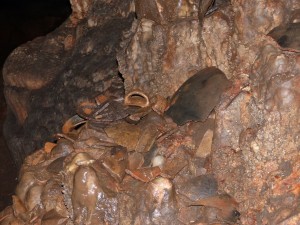 After the cave we went to the second most famous ruin site on the Yucatan – Uxmal. Before entering we needed to get some lunch. We had planned to stop on the way but unfortunately we did not pass any small towns. In Uxmal there was 1 option to choose from which naturally was quite expensive. They did however have the boys' favorite dish "buffet" for 186 pesos and half price for children. From a quality standpoint it was OK but not outstanding in any way – both Noah and Vitus found it to be absolutely fantastic and ate like grown men.
As it is the case in Chichen Itza, Uxmal is quite expensive at 213 pesos per person. Children under 12 are free. You cannot climb the biggest pyramid but most of the other ruins are still open – making it a great place to explore and perfect for children. While 35+ degrees Celsius had been the norm in the Merida area, we were lucky to visit Uxmal when there was a sudden drop in temperature and cloudy weather. We could actually walk around without getting drenched in sweat.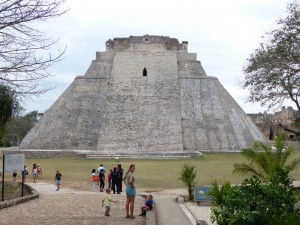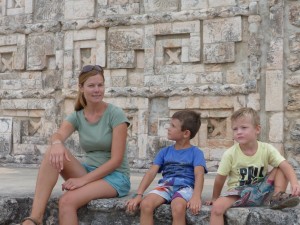 We really enjoyed Uxmal. It was a great combination of impressive ruins, interesting history and you only needed to walk about 2 km. to see the most interesting parts (if you want to see everything it is about a 4 km. walk). We had lots of fun investigating the many ruins and climbing to the top for spectacular views. Of course the weather made it even better but even on a hot day it would still have been a great experience. Though as impressive as Chichen Itza there were no crowds (we arrived at 2pm) and not a single stall selling Maya artifacts made of plaster J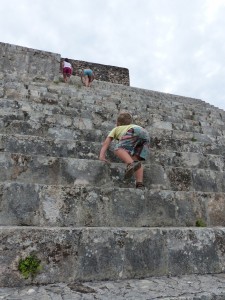 We had planned to visit the Chocolate Museum which is right next door to the Uxmal ruins but by the time we had finished exploring it was 5pm and we opted to drive home instead after a long day climbing pyramids and exploring caves deep underground.
Comments