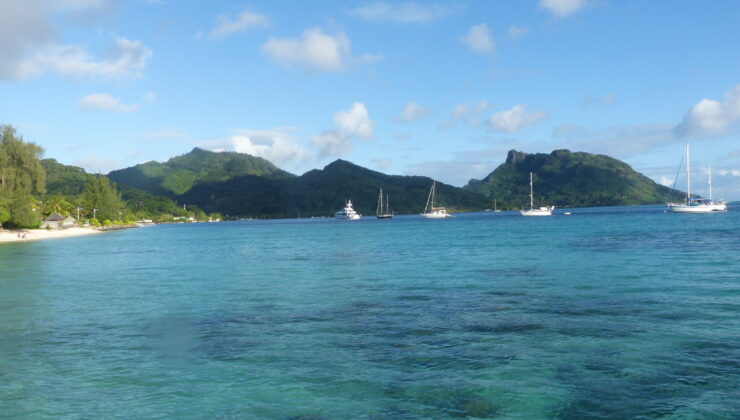 After 4 days on Raiatea, Huahine was our next stop. The flight was less than 20 minutes airtime, and it took only 5 minutes by taxi to reach the house we had rented.  We really did not know quite what to expect of Huahine and had little recollection about the decision to stay there for a full week. Even after our visit it was hard to explain why we absolutely loved the island – more on that later.
First great surprise – a big, relatively cheap and well stocked supermarket in Fare
After visiting Maupiti and Raiatea where supermarkets were either non-existing or small, expensive and not well stocked, it was quite a surprise to find ourselves in a big supermarket in Fare – a short walk from our house. It may sound like a trivial thing but being able to buy pretty much anything you would expect from a supermarket in Denmark on a small island in the Pacific Ocean, and at lower prices than in Tahiti, was a real joy.
Fara Kahai
Another great surprise was the house we had rented. Two bedrooms with AC, well equipped kitchen, BBQ, one of the island's best beaches just 2 minutes away on foot, beautiful sunsets and great snorkeling all made for a very stay. Our host Bernard spoke English very well and was beyond helpful.
Island snorkeling tour
Following Bernard's recommendation we went on an island tour with "Dream tours". The tour included a visit to the coral garden, a pearl farm, drift snorkeling and lunch at a Motu. The pearl farm was a bit too touristy and rushed, and since we had already visited a farm on Raiatea it was not a highlight. Our guide Meherio, however, did a wonderful job, drift snorkeling was beautiful, and at lunch the national dish "Poisson Cru" was prepared right in front of us. After lunch we snorkeled right next to the beach and saw 7 eagle rays before we had to get back on the boat and head home.
Eagle Rays and a beautiful "secret" reefs right next to "Fare"
Beautiful eagle rays and coral reefs were also found right off the beach from Fare. The reef was about 2-300 meters off the beach – slightly to the right. We saw several eagle rays and black tip reef sharks feeding just 100 meters straight to the right, and if we continued another 500 meters (against the current) further up along the coast, another reef could be found with a surprising variety of coral and fish. 600 meters against the current was quite a struggle so instead we tried walking up along the beach and drifting back which was a very nice alternative.
1-day roadtrip around the island
We rented a for 1-day roadtrip around the island. As with Tahiti Huahine consists of a bigger island, Huahine Nui (big), and Huahine Iti (small). First stop was a very small museum displaying various artifacts from the island (almost all signs were only in French so we did not understand most of it – who could ever imagine non-French speaking people visiting?). Next stop was the old fish traps (made of stone). Fish traps are still in use though modern ones are made of net attached to poles instead of stones. Each family is allowed to setup one fish trap without any need to ask for permission.
After that we continued to the abandoned Sofitel Hotel. The Sofitel chain must have found it really difficult to get a viable business as similar examples were found in both Moorea and Bora Bora.
After a stop by the sacred blue eyed eels and a couple of viewpoints we had lunch on a small wooden platform overlooking the bay and found a small beach to go for a swim. Noah and Vitus spent 45 minutes building a dam that could stand up to the pounding of the waves and finally succeeded. Le Mahana Hotel had been recommended as one of the best snorkeling spots on Huahine so we made a final stop there – the reef was, however, in a pretty poor state and a collection of anemone with clown fish turned out to be the biggest attraction. It seems the popular reefs close to shore simply cannot stand up to the heavy human activity and it was sad to see another once beautiful reef turned into a more or less dead reef. After a full day on the road we were treated to another beautiful sunset in French Polynesia
Meeting another Danish family
At the supermarket in Huahine we met another Danish family with two kids (Savannah 11 and William 8). We ended up spending several days together on both Huahine and later on Bora Bora and Rangiroa (by pure coincidence we had almost similar travel plans). Noah and Savannah have a shared love of music so the proud parents were even treated to a private concert (see video below).
Why we absolutely loved Huahine
We found Huahine to be our favorite island so far. It is not that there are any particular attractions but we just really liked the vibe, the reefs, the people, the ease of getting around, the big supermarket, the scenic drive and just how easy everything was. Btw. did you notice the picture at the very top of this post and can you see what it looks like? It is not just another pretty landscape…
Comments