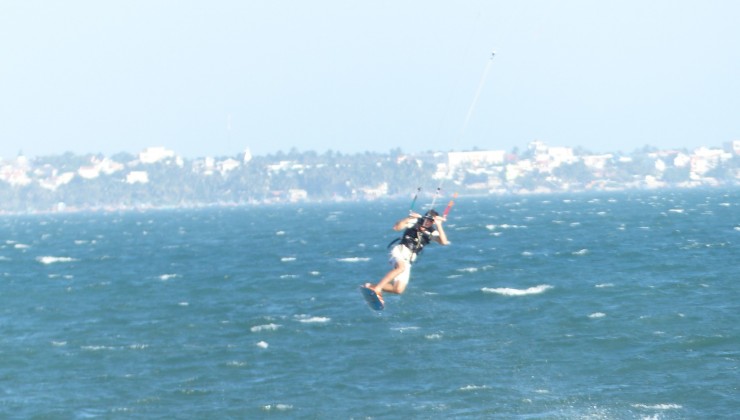 Really missing enough time back home in Denmark to go kite-surfing, Mui Ne was a very welcome chance for Jesper to get some time on the water. After asking around, bargaining a bit, and not daring to take a chance with the places using the local Axis brand kites. Jesper made an agreement with Mr. Lee's Kite-surfing School to rent a North board and Ocean Rodeo kites for 3 x 2 hours. At 95 USD total including them setting up everything and just needing to show up – that seemed like a very reasonable deal for everybody.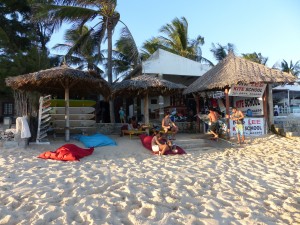 It was however not a perfect start to Jesper's Mui Ne kite-surfing adventure. After about 15 min. of the first session the harness broke in a landing sending Jesper splashing and kicking 20 meters downwind of the board. Fortunately the extra safety strap was still there so the kite was still attached but body dragging 20 meters upwind in huge waves with a broken harness ended up taking almost 10 minutes and it was a surprise that any water was left after the amounts Jesper swallowed. Jesper did made it back and after a very big "I'm sorry" from mister Lee, 20 minutes break to recover from a lightly pressured rib and a getting a new harness Jesper was ready to try again.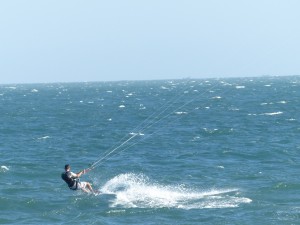 It was Jesper's first time using a "Bow" kite and being use to C-Shapes or Hybrid's he did start out missing pretty much every jump and landing. Must have been a lot of fun to watch from the beach but fortunately the funniest part of circus "Learning to ride Bow" was over after about 20-30 minutes and Jesper started to get the hang of it.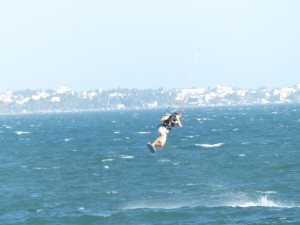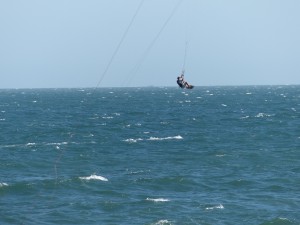 Lots of good things can be said about Kite-Surfing at Mui Ne:
It is dirt cheap – 95 USD for 3 x 2 hours is really cheap compared to other places.
The service is really great. All you need to do is just show up and everything is ready for you in 5 minutes. As long as you can get your lazy ass down to the beach there is no excuse.
It is always windy. Last year they had 5 month in a row where you could go kite-surfing every single day. With a 7 and 9m2 kite you are pretty much able to go out whenever you want.
The air and water temperature is perfect. You are never cold just wearing board-shorts and all you need is a spray-top to protect from the sun.
You really get to brush up on your technique since it is really challenging (more on that in the next section)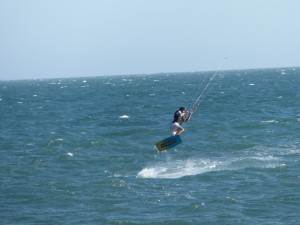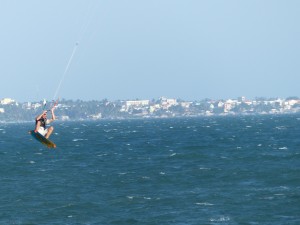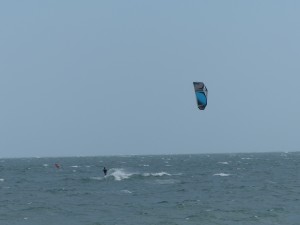 If you consider going there just to kite-surf you do however need to be aware of the downsides as well:
It is not a good place to learn. It gets deep very quickly and the waves are BIG right from the first meter in the water. Small children cannot go swimming at all – not even wearing life a jacket.
It is very choppy further out and close to the beach the waves are not far apart– not the nice big clean waves you get in other places where lots of flat water can be found between the waves. So don't go there to wave surf either.
The beach is barely wide enough to launch so you really need to be careful. When you land your kite you do it 25-30 meters from the beach while body dragging and then swim the rest of the way once somebody has grabbed your kite.
That being said Jesper had some great days on the water and just getting out was a fantastic and not expected bonus. It was also a chance to take the GoPro camera kite-surfing:
The last session ended up taking only 70 minutes as Jesper was so beat up that his feet and stomach muscles were starting to cramp-up. Poor fellow 🙂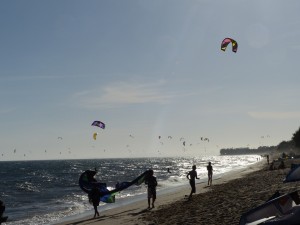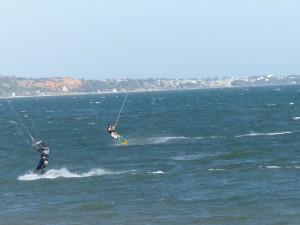 Comments