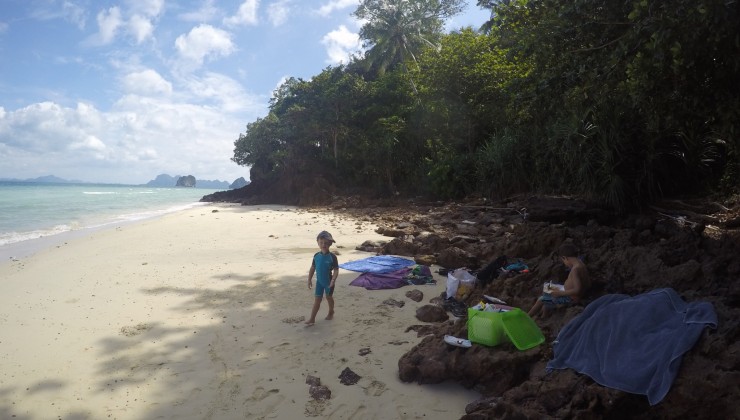 After our 4 Islands snorkeling trip we booked transfer to Koh Ngai Island (by the same tour operator, Rainbow travel Because he is really friendly, service minded and speaks pretty good English). Basically we arranged to go with the joint tour and have them drop us of on Koh Ngai on the way out and pick us up again on the way back. It was a little cheaper than the full tour but not much (1500 vs. 1700 THB for the four of us including lunch and drinks)
Again we went slower than the other boats, but fortunately we were getting off on the first Island this time – so it did not matter too much to us.
When we got to Koh Ngai we were dropped of on the first small beach by the reef. About 50 meters of sand and we were the only people in the area. We were ecstatic to have such a beautiful place to ourselves. The beach was surrounded by cliffs and jungle and coconut palms – really idyllic. Of course Jesper managed to hurt himself twice on coral and coconuts but nothing unusual there…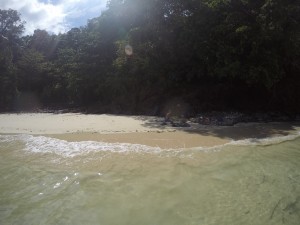 So there we were, on our own on a desolated beach with nothing but sand and jungle – real Robinson Crusoe style and with only the most basic necessities to make it through the day:
Lunch pack – enough to feed 5 adults with three different kinds of food and a giant portion of rice.
1 pack of digestives
1 big pack of Oreo's
2 bags of candy
5 liters of water
2 mixed juices
2 bags of chips
Big 500 gram box of danish cookies.
We went snorkeling as soon as we had found a place for our things. The reef stretches from near the beach and far out in the water, so there were many places to explore. Noah and Line were snorkeling together and saw lots of fish. Vitus wasn't really in the mood for snorkeling – when he was not complaining about water in his snorkel he was complaining about something being in his nose.
After snorkeling for about 45 minutes, Line and Noah went ashore to take a walk along the beach. With such a limited amount of food it quickly became clear that we would need to find something should we last it through the next 5 hours alone on the beach. Fortunately we found some coconuts and with a bit of manual labor Jesper managed to free them from their "wrap" and soon we were drinking coconut water. Not exactly ice cold but having found it ourselves and being on a small isolated beach more than made up for that fact.
Even though the weather forecast promised a light-breeze the wind quickly started picking up. Unfortunately on-shore and within 20 minutes the waves were too big for comfortable snorkeling and the visibility down to a meter or two. A shame since we really wanted to go out a few more times, but instead we enjoyed time at the beach and the surroundings.  We even started building a shelter since the boys thought we should be prepared should the boat forget to pick us up on the way back.
Despite the fact that we did not do as much snorkeling as we would have liked it was a great day out and a memorable experience.
Comments