On the morning of our departure our host had ordered a Taxi for us to go from Vinales to Havana airport. Since Taxis in Cuba differ a lot and can be anywhere from 60 to 2 years old we had been very clear that we wanted a new Taxi and roomy taxi with seat belts for the 2,5 hour drive.
Arriving 10 minutes late a 30 year old Lada showed up. In good condition but really, really small and no seat belts at all.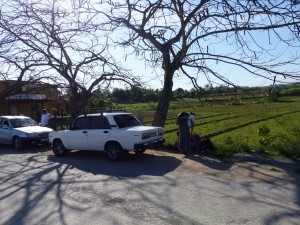 We almost got in but then made a quick decision to find another one – safety and comfort first. Already 20 minutes late this was not exactly an easy decision and much to the disapproval of our host and the taxi driver Jesper ran into town. He quickly found a really nice taxi driver, with a relatively new car and 20 minutes later we were on our way – now 40 minutes late. Fortunately very few cars in Cuba spells almost guaranteed light traffic and 2 hours and 20 minutes later we were at the airport with almost 2 hours to departure (so we thought).
Looking at the screen in the airport our flight was nowhere to be seen, but looking more closely the flight number on our tickets were scheduled to depart in less than an hour. We quickly rushed to the check-in counter but they were empty. Looking desperately around for another Cubana Airways counter (and barely avoiding panicking) we found one and the guy there agreed to check us in for Cancun.
And then, as by magic a side of Cuba we did not experience in our two weeks there appeared: 5 min. after our bags were checked and less than 15 minutes after arriving at the airport we were through security, had exchanged our last CuC (Cuban convertible Pesos) to USD and were sitting at the gate with close to 45 minutes to departure. Crazy 🙂 In Havana just one of those tasks could easily have taken 1 hour to complete and required a staff of 4 people.
Comments