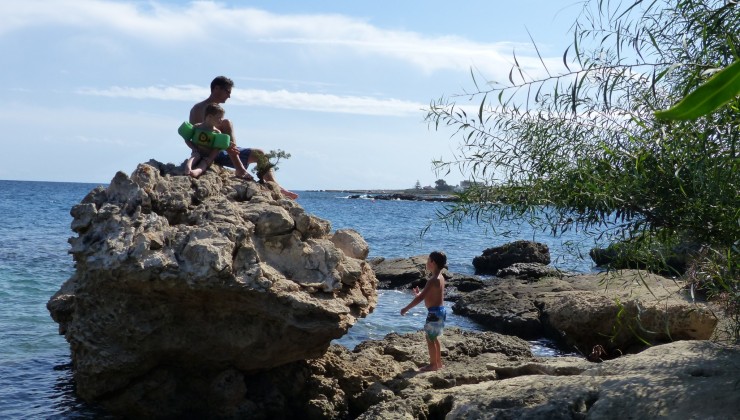 After a couple of days with failing weather and lots of wrong turns we wanted to leave nothing to chance when the weather seemed to turn for the better on Monday Oct. 26. We checked the weather forecast and possible places for snorkeling and ended up settling on Konnos "beach" near Protaras. Light offshore wind, lots of sun and a rocky environment perfect for snorkeling should make for a good day out.
Closing in on the beach we could not believe what we saw – strong onshore wind looking both very cold and with big waves – not perfect! Finally we did however catch a streak of luck. Taking a wrong turn – again – we ended up at a small cove protected from the wind, with relatively still water. Trying to look like residents we walked down through a hotel yard and found a small place that even had a few chairs and a table. Hidden away among high rocks and even with a sandy bottom right next to the stairs leading to the water.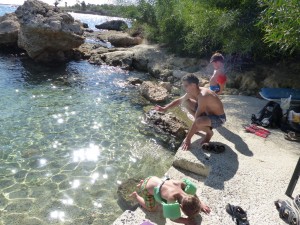 Also some trash thrown around but you get used to that on anything but the most popular and touristy beaches. Finally some good luck. The day was spent snorkeling and relaxing, climbing on rocks and just enjoying the good weather.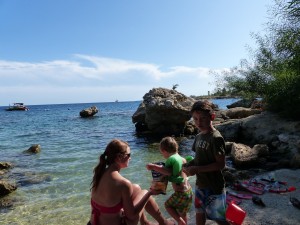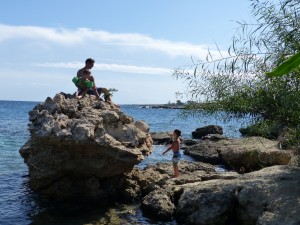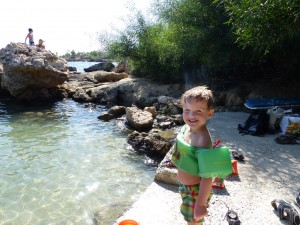 We even made another try at using our GoPro camera. Not Oscar material yet, but fun to experiment with.
While Noah can now swim without floaters as long as he is wearing a snorkel he managed to do his first real swim without gear. On his back and only about 5 meters but first time swimming for real without assistance!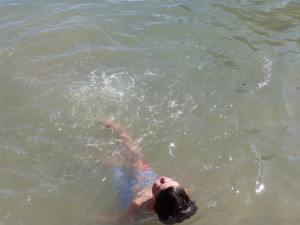 Just when we thought that the day could not get any better "The Black Pearl" came by which made for great tales about visiting pirates and what we should do if they made landfall right where we were camped 🙂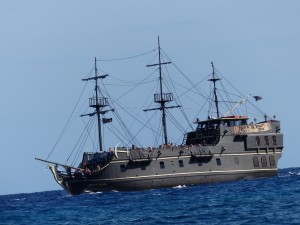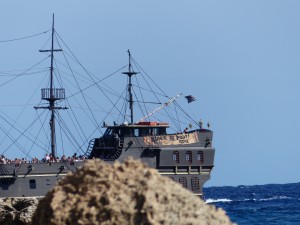 When the clouds came at the end of the day we went for a walk and found a fascinating landscape of limstone cliffs that almost looked like a miniature version of the Grand Canyon.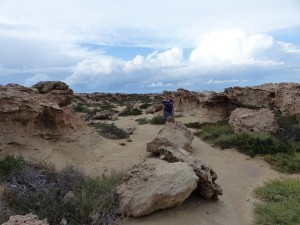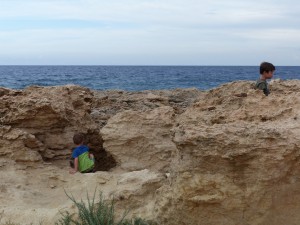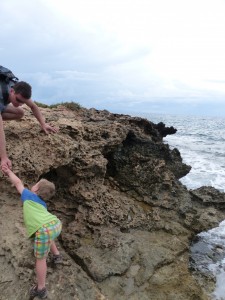 Only one bad thing happened at the end of the day. Not wanting to get his feet wet at the end of the day Noah reached down to wash his hands and lost his grip. Resulting in him sliding on his chest on the hard cliff. But it made for a nice bruise.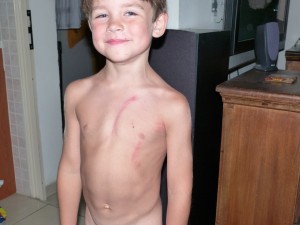 One thing that does not cease to surprise us is the extreme amount of closed hotels. The same was true at this place and we saw a whole line of closed hotels, right on the water with a spectacular view, only a very small sandy beach in between the rocky shoreline, but still incredible that it cannot survive.