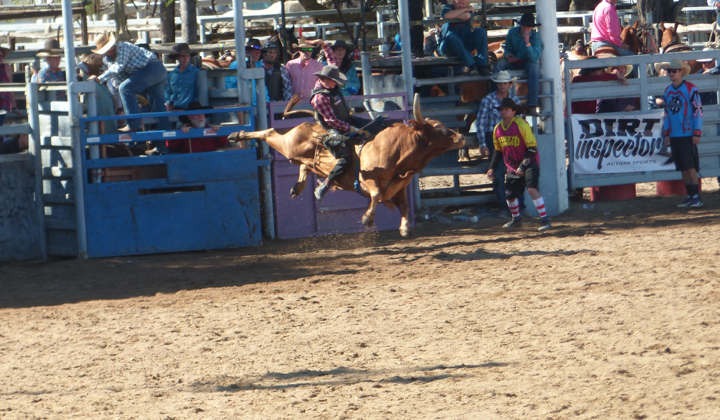 In the Tablelands we came across several posters for the Mareeba Rodeo. Going to local events has given us some of our best travel memories and this time it only took small change of plans to make it fit.
Arriving in Mareeba it was all pretty much as you would expect:
Lots of young and old people with cowboy hats looking very "country like"
A funfair next to the Rodeo stands with lots of overpriced activities
All kinds of fast-food stands
Camping (actually just parking overnight) was included in the entry price (45 dollar per adult – children under 14 free) and we could stay there for the rest of the weekend.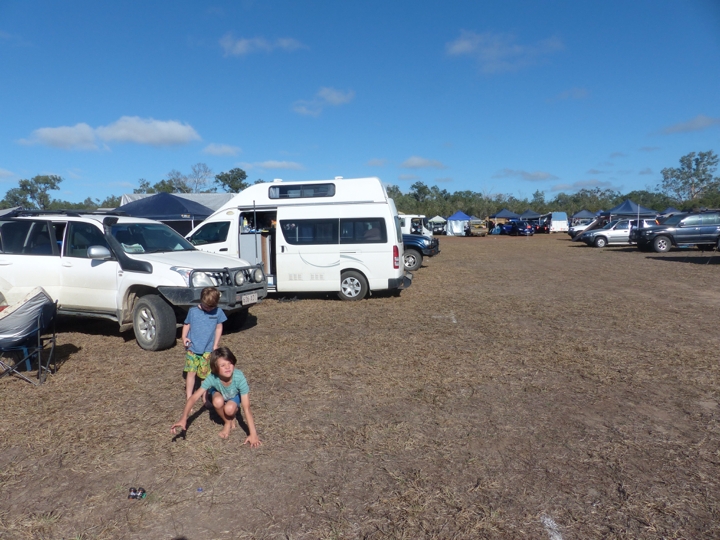 The first competition we saw at the rodeo was tree cutting, which involves a great deal of honor. It has been done for more than a hundred years in the region, and the Herberton museum, which we visited around a week earlier, had a whole building showcasing trophies, medals and pictures of the local tree cutting champions. There were young people as well as old people competing against each other (more than a few of the men were over 70 years old, which was pretty impressive). They sure know how to cut a big tree trunk – it only took some of them 10 seconds or so to cut the trunk and it was hard not to be caught up in the game.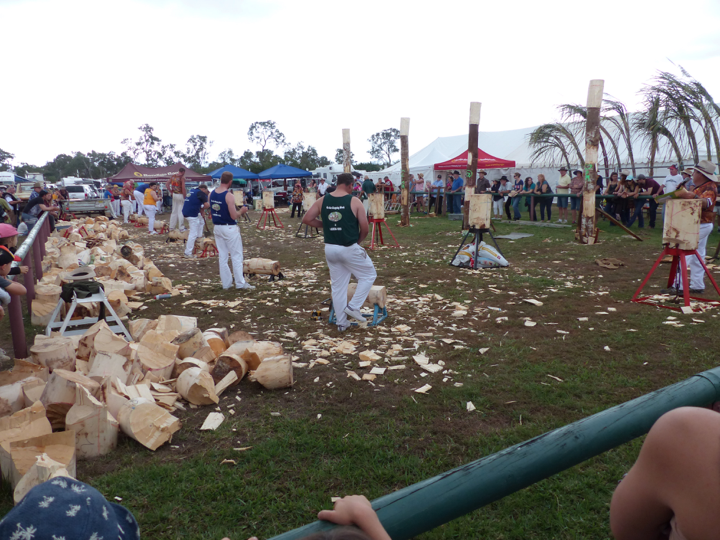 The kids, of course, wanted to try some of the activities in the fun fair, so we gave them both 20 AUD so they could choose which rides they wanted to for themselves.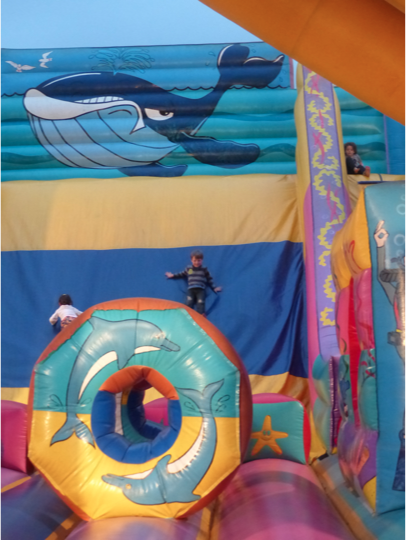 Afterwards, we went to see the actual rodeo, which consisted of both horse- and bull riding. It is the world's most dangerous sport, and it was not hard to see why. The riders had to stay on the horse or bull for at least 8 seconds in order to get points, which were then given according to the cowboys performance and riding style and how wild the horse/bull was.
Staying on a horse was a challenge and made for a great show. But it was clear that most horse-riders had no problem staying on and did their best to make it look good.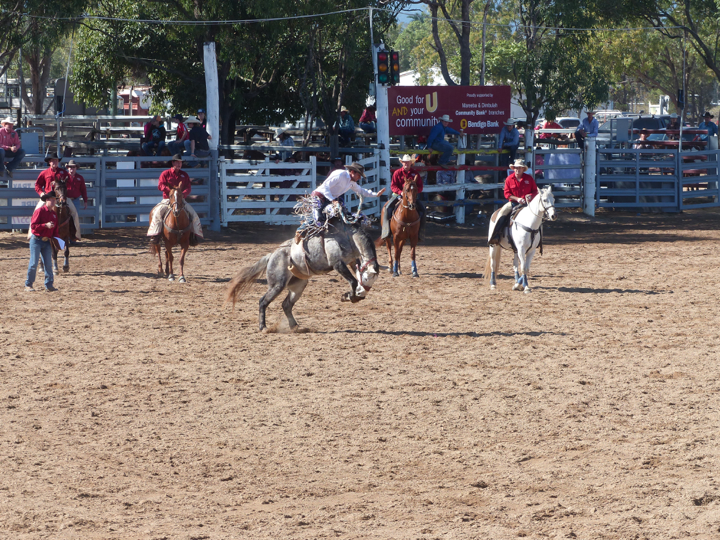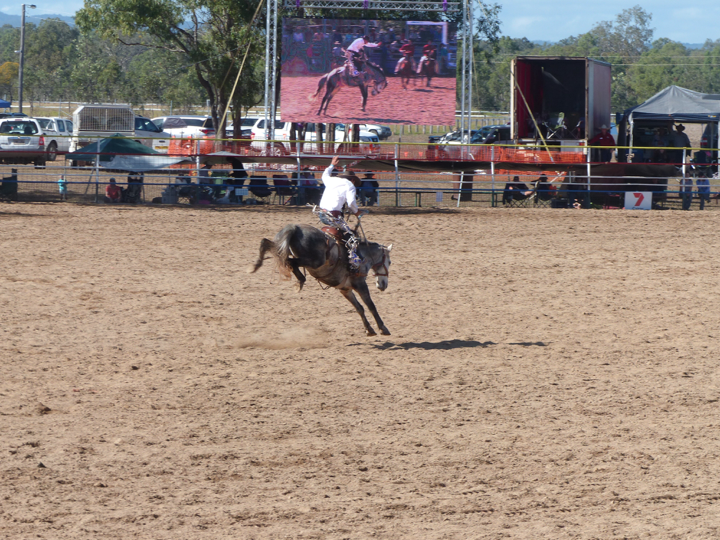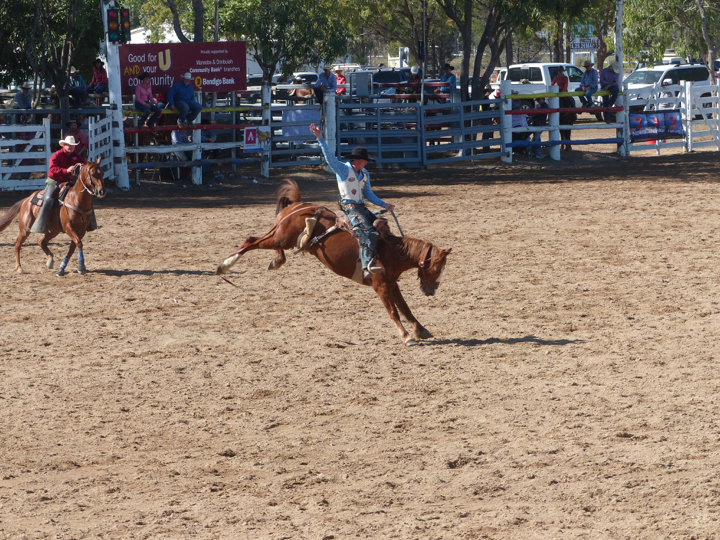 The bulls were another game and only 2 in 10 runs managed to stay on for the full 8 seconds.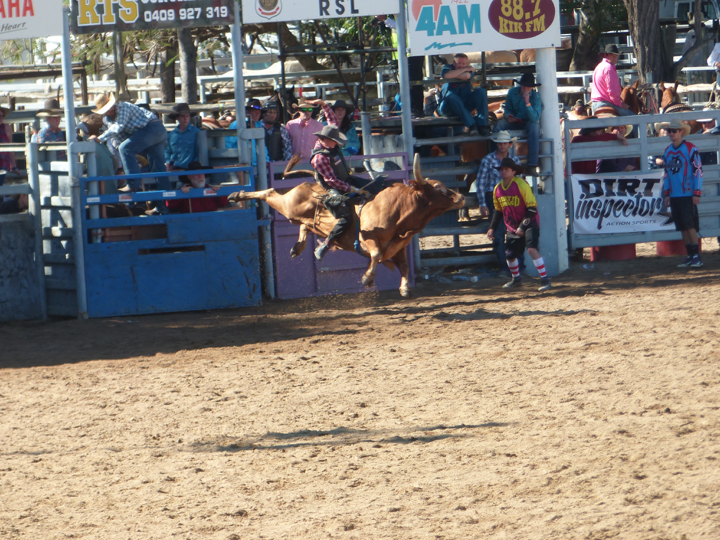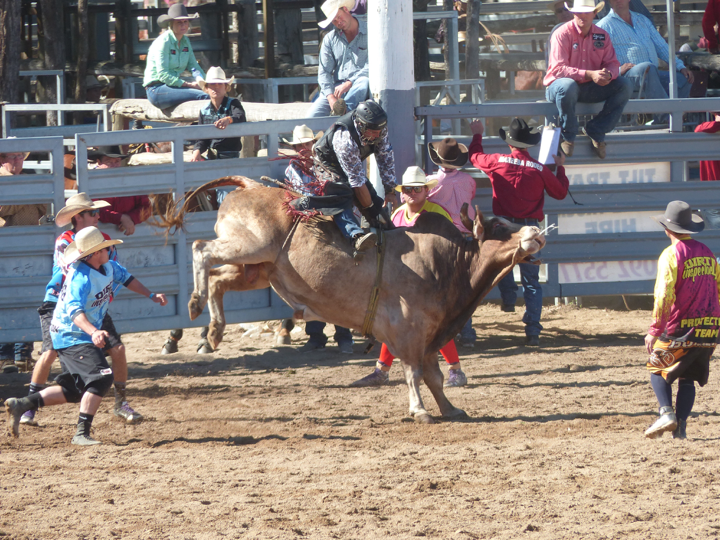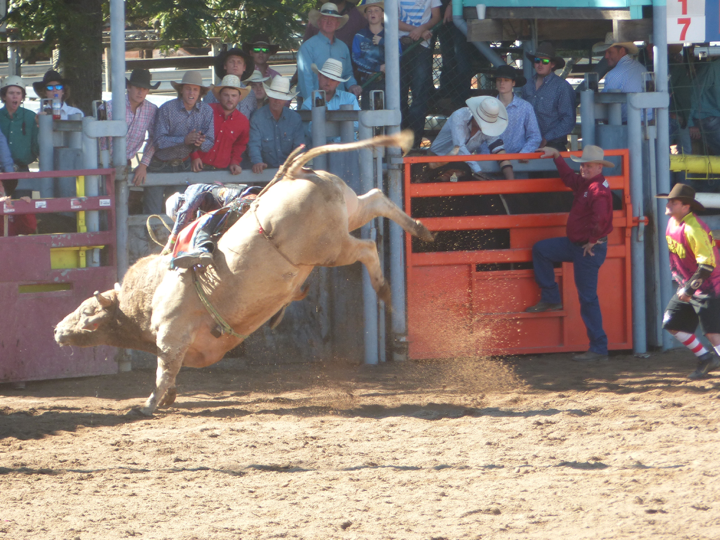 2 times during the night, the cowboys were attacked by the bulls after having fallen of, lay still on the ground and an ambulance had to be called in.
(Yes, the white thing in front of the bull is the rider's helmet/head)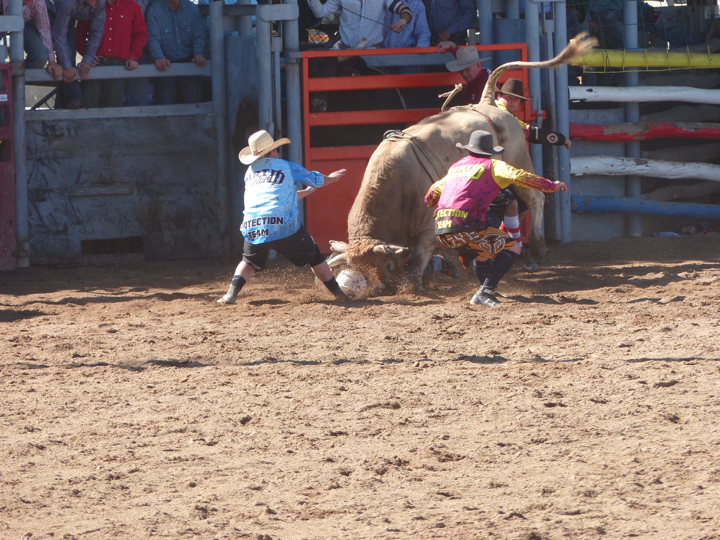 All the rodeo clowns and other helpers, who's job is to get the raging bull away from the cowboy, were very quick to make a circle around the rider, to prevent the cameras from seeing the cowboy. The entire show was broadcasted unto big screens around the rodeo ground, so of course they don't want to show it to the world, if anything serious happened. Luckily, both cowboys got up and were able to walk out on their own after a tense couple of minutes. Pretty hardcore.
Rodeo clowns are a big part of the show, but as with all clowns they think they are considerably funnier than they truly are 🙂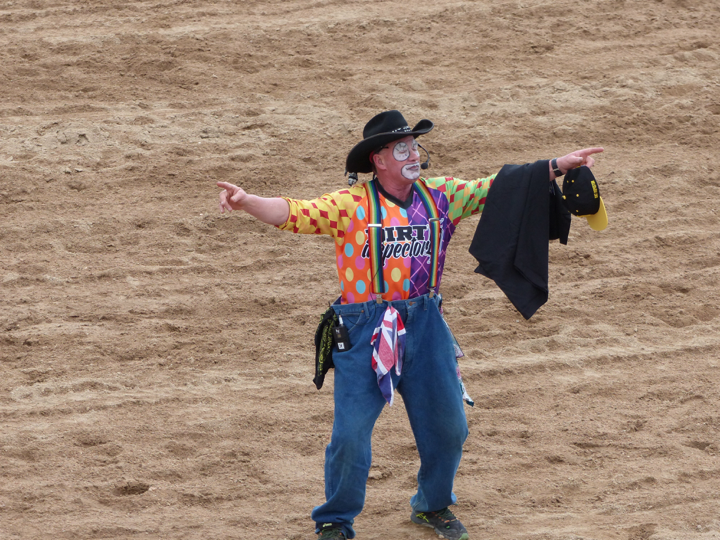 Another cowboy competition was catching a running calf from the back of a horse. The cowboys galloped up to the calf, threw themselves of the horse and landed on the calf's neck and pulled it onto it's back. The calf is not harmed (much) from this, but Vitus sure didn't like it! He stood up on the bench and yelled out repeatedly as loudly as he could " I er dumme! I er duuuuuuumme! (you are stupid/mean, you are stupid!) and "you must be nice to the animals!". That was really sweet and only mildly embarrassing 🙂
We took a break to eat the last part of the 2 liter chocolate ice-cream we bought the day before.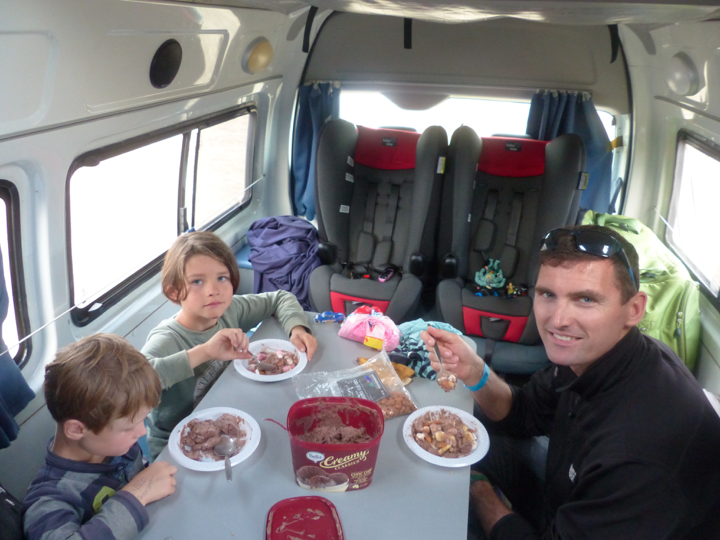 If you haven't tasted chocolate ice-cream with Marshmallows, Almonds, Roasted Peanuts and Banana – try it out! It is soooooooooooo good!!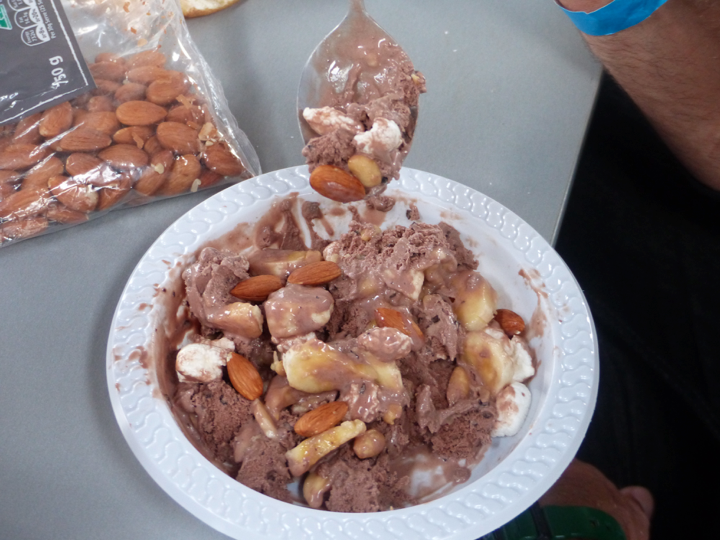 All in all the day made for a less than healthy diet and the boys had hotdogs and potato twisters for dinner.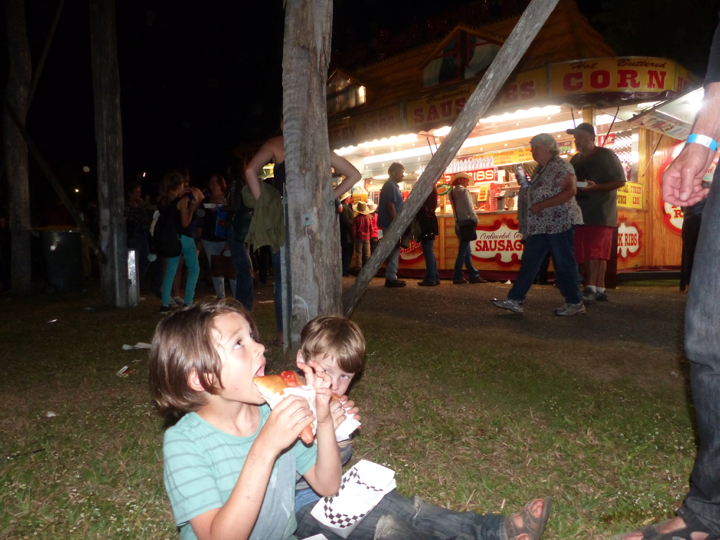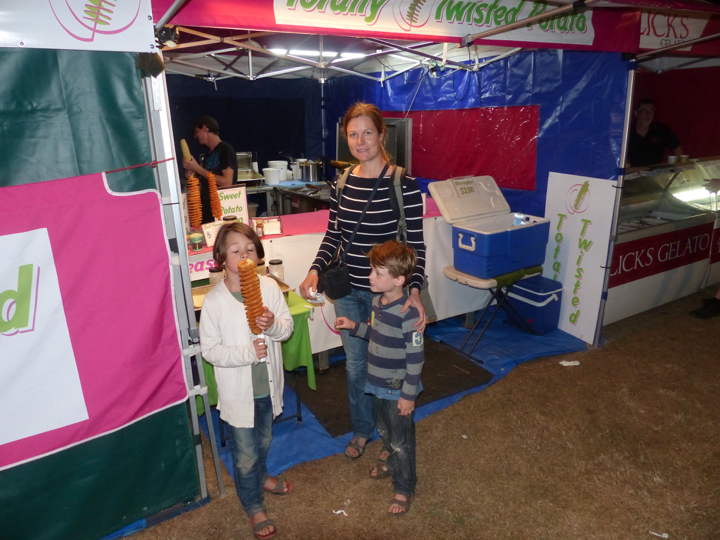 While the adults went for the slightly healthier Lamb-shank and chips (no soda though 🙂 )
The next morning, we went back to the rodeo ground, watched a bit more rodeo and went on a 9D (or so the poster said) video experience together – a wild ride on a rollercoaster simulator with 3D glasses on. We only experienced a bit of 3D (the ride was wild enough, though), but not all the other D's they had made up (wind, bubbles, rain etc.). OK fun, but Line got a bit carsick from the "ride".
Naturally a rodeo also includes a stand where you get to pet farm animals. Noah and Vitus had a blast holding guinea pigs, ducks, chickens and petting miniature horses and goats.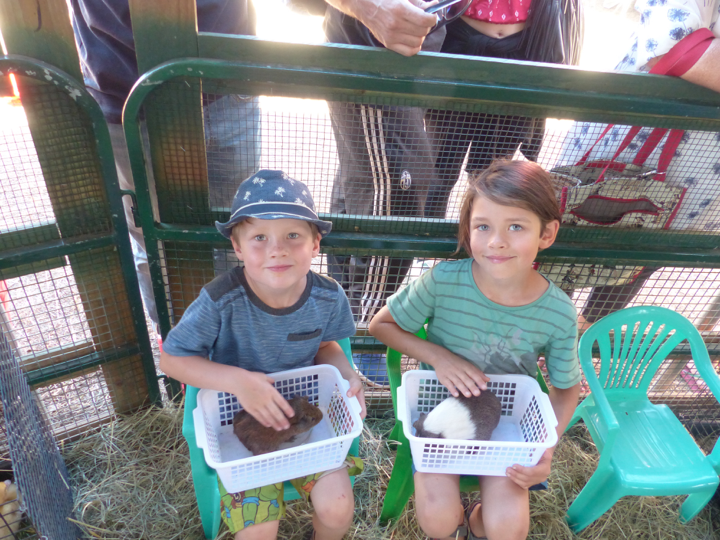 Afterwards, we had had enough of rodeo, and since the weather had gotten really good, we wanted to move on to go swimming somewhere instead.
All in all, the rodeo was a fun, local experience, which was obviously something the locals took a lot of pride an and everyone had put on their best cowboy costumes.
Comments