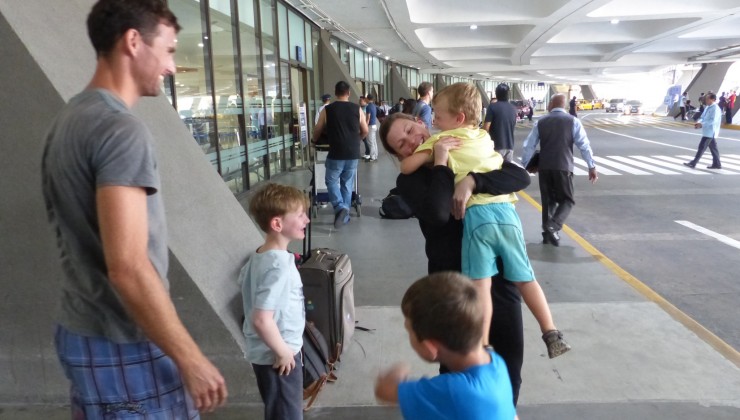 It is an understatement to say that we were all looking forward to Anne and Alexander visiting us in the Philippines. Noah and Vitus had been talking about it for weeks and we could not wait to see them and get a little touch of home.
We had arranged to meet them at Manila airport. We flew back from Puerto Princesa in the morning and arrived about 2,5 hours before them. Unfortunately at a different terminal and as it is the case in many Asian airports they don't allow people that are not flying anywhere near the terminal building. Looking very much like travelers we did manage to get by the first couple of security guards but as expected we could not get in to the actual building. Feeling a bit like outcasts we managed to set ourselves up for the wait just outside and Noah and Vitus enjoyed a good hour and a half of the "Planes" movie.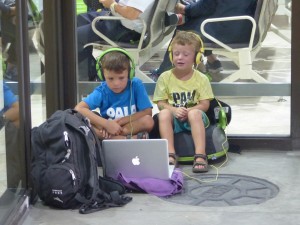 After waiting what seemed like ages Anne and Alexander finally arrived and after lots of hugs and the mandatory "wow you guys are tanned" and "wow you guys look tired and pale" we were ready to get on our way to Puerto Galera.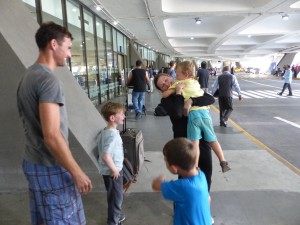 Getting to Puerto Galera in Mindoro is quite easy. Basically you transfer to Batangas port and take a ferry from there. We had booked a private transfer van and of course the driver was no-where to be found. After some help from a friendly airport police officer and a few phonecalls we finally found him and started the two hour drive to Batangas. Originally we had plenty of time but with Anne and Alexander's plane being a bit late and spending 30 extra minutes looking for the driver suddenly we were a bit pressed for time making the 2.30pm ferry.
We arrived at the Batangas pier at 2.20 and a few local porters quickly saw the chance to score a nice tip from 6 tired and in a hurry tourists. Normally we would have refused any kind of help but this time we let them and probably ended up paying almost double the cost for the ferry and terminal fee (think we paid around 2.000 pesos for the four of us). Fortunately there is a limit to how much you can loose in a country where everything is so cheap and most importantly we made it!
At the Muelle Pier in Puerto Galera we were received by the caretaker of the house we were going to stay in and a quick tri-cycle ride later we arrived at Whitehouse – which would be our home for the next 8 days.
Though tired (especially Alexander who had only slept 3 hours in the last 24) the boys had missed each other so much that they got right into playing and we had a hard time convincing them it was time for bed.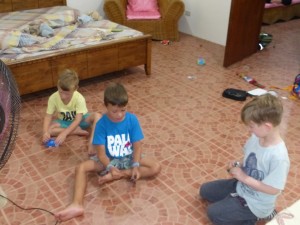 Vitus also found time for relaxing on top of Anne though 🙂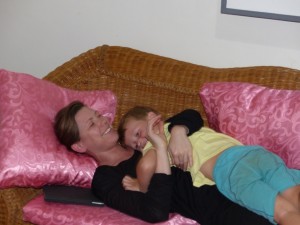 Comments