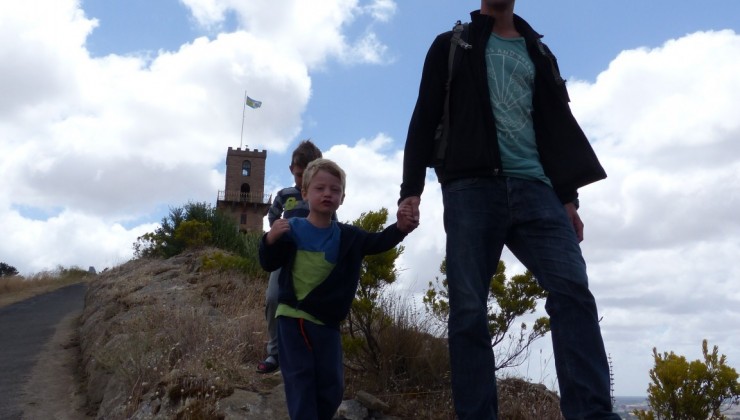 After a couple of hours drive from Coorong we arrived at Mt. Gambier where we stayed at the small but cozy and clean Central Mt. Gambier Caravan Park. The weather was quite bad when we got there with some heavy rain but soon the sky cleared and we went to see the two main attractions: The Umpherston Sinkhole and Blue Lake.
Blue lake is really an old volcano with a crater with 70 meter of ground water at the bottom. Since water is normally considered bluish we were not expecting much but this lake is actually incredibly blue. Only during summer though as it gradually turns more greenish in the fall and then almost by magic regains its blue color in just a few days in November. Blue lake is easily accessible as you can drive right up to the best viewpoints and walk just a few meters to see it from above. Guided tours offer you a look closer to the surface but none we scheduled during our short stay there.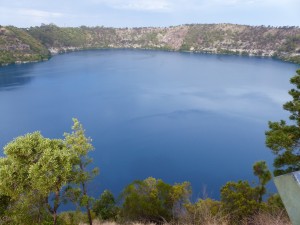 After Blue lake we went to The Umpherston Sinkhole which is – well a sinkhole – but one that were previously owned and made in to a park but Mr. Umpherston for him to enjoy it with friends and family back in the 19th century. After many years of decline it has now been brought back to its original grandeur and is in fact a very nice and tranquil place to visit.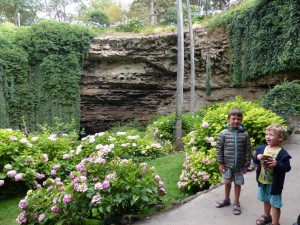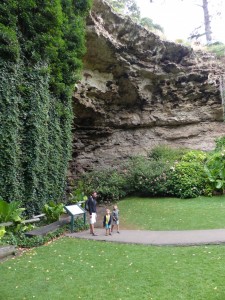 Hundreds of Possums inhabit the small caves and inclines in the walls and though they usually do not come out until dusk we were lucky enough to see one that got up "early" that day.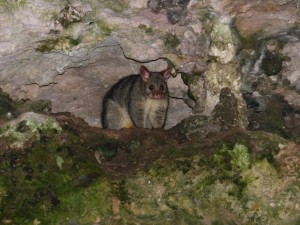 Next day we walked up the steep road to the top of Mt. Gambier (The actual Mountain) and the small Centenary Tower from which you get a 360 degree view over the city, lakes and a nice video explaining how Mt. Gambier got its name and how the ridge, lakes and mountain was created by Volcanic activity.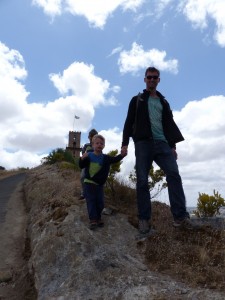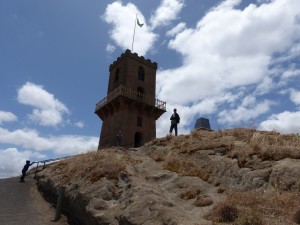 For lunch we had bought a whole grilled chicken in Woolworth (still hot) a long with a few carrots in made for a fantastically delicious, easy (greasy) and cheap lunch. Definitely not the last time we will do that.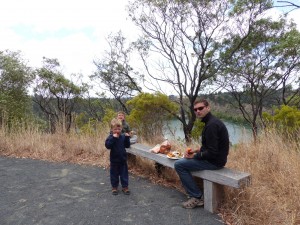 After lunch we drove to the Princess Margaret Rose Cave crossing the state boundary to Victoria. Tours of the cave run on a scheduled basis and being only 3 km. from the state boundary that means you have to turn your watch half an hour forward just before getting there (if you are coming from South Australia of course). Many get this wrong and arrive too late. At the caves a giant clock shows the time of the next tour and "Victoria Time" is written in giant letters underneath. The caves were a nice visit, with some interesting facts about the history and geology of the site.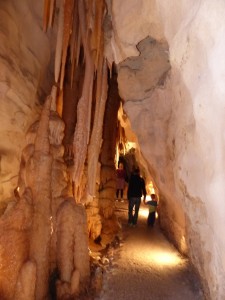 At 42 AUD for a family ticket it is not too expensive but compared to other caves around the world not that impressive either. We had planned to drive to a nearby campground after visiting the caves but decided to stay at the campground situated right next to the caves. Basic, but with ok facilities. The next day we did a 1,5 hour walk (we had planned to do the full 3 hour walk but were attacked by so many mosquitos that we cut it short) next to the beautiful Glenelg River and Noah and Jesper also went for a swim.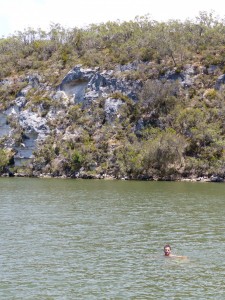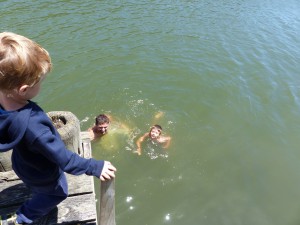 On our way to Portland we made a long lunch stop in Nelson and found a beautiful place next to the river with a great playground. Noah convinced a local boy to play basketball with him.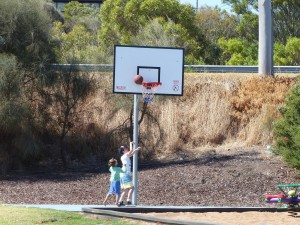 Comments