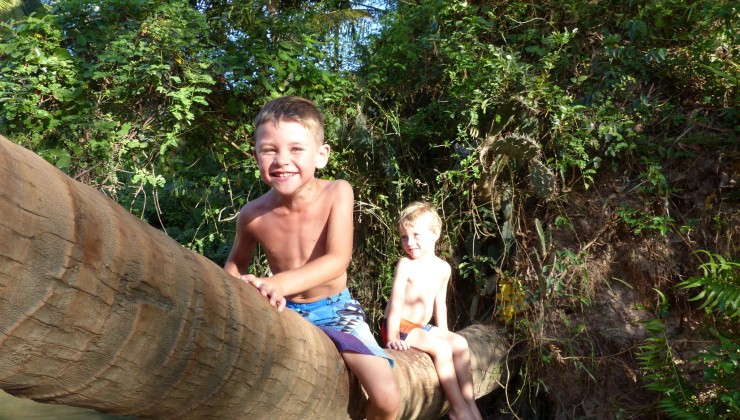 Getting to Mui Ne from Saigon
Actually we planned to fly to Hoi An and spend a week there but since Vitus was banned from flying due to his ear condition we took a 4 hour train ride to Mui Ne instead. The train left at 6.50 in the morning and the total cost was 64 USD. It was quite a bumpy ride and trying to write blogs or emails on the way was close to impossible.
Once in Phan Thiet you have to catch a taxi or local bus to your guesthouse or resort which is another 40 minutes or so depending on where you live. We opted for the local bus at an affordable 35.000 Dong per adult (children ride for free). Even that is a special train-station price since the regular fare from Phan Thiet city is just 16.000 Dong. Taxi drivers at the train-station will of course tell you that the bus is not running or will not leave the next hour, despite the fact that the red bus is parked 50 meters away and leaves within 5-10 minutes. If you like bargaining you can get a taxi instead for around 150.000 Dong, but running on the meter is usually a fair option.
On the way back to Saigon we took the bus at 7 USD per person which was ultimately faster, cheaper and more comfortable (from our guesthouse it ended up taking a total of 6 hours with train vs. 5 hours with bus).
Things we did in Mui Ne
Mui Ne turned out to be more of a resort place than we typically prefer but with some very nice attractions that we really enjoyed. We lived right at the tourist strip next to the big resorts but in a very cheap place called Minh Khoi Guest House (15 USD per night including tax) with huge family rooms and even a kitchenette. To be honest we probably should have done more research on Mui Ne up front and if what you want is pretty child-friendly beaches like you find in Thailand – Mui Ne is NOT the place.
Mui Ne is a very windy place. This makes for great watersport activities like kite- and windsurfing but makes it less ideal for swimming. We did find some beaches closer to the real fishing-village of Mui Ne and in front of the Ocean Vista hotel with calmer water but in general you get big waves and strong winds. For Jesper this was a definite plus as he got the chance to kite 3 times during our stay, but not being used to kiting so much he felt like he had overworked pretty much every muscle in his body at the end of the week.
You can read more about kitesurfing in Mui Ne in this blog post.
Mui Ne town / fishing village
We visited Mui Ne fishing village one day, but it is really just a very crowded main street, a market and by far the most polluted and disgusting beach we have ever seen. Such a shame, it could have been an amazingly beautiful beach with all the fishing boats anchored up there, but we saw locals emptying their trashcans directly into the sea and their sewage water ran straight into the bay as well…
Red Sand dunes of Mui Ne
We also visited the red sand-dunes located just 3 kilometers North of the Mui Ne fishing village. The local busses that run every 10 minutes on the beach-road will take you there in around 25 minutes (from our place) and costs 16.000 dong per adult.
The dunes are really beautiful and you can rent plastic boards to ride them. BUT being a windy place we simply could not enjoy it very much since we all kept getting sand in our eyes and it felt like your feet and ankles were being sand-blasted. Noah and Jesper rode the dunes a few times took pictures of the people taking pictures and then went back down to get out of the wind. The last 2 picture below are what Noah and Jesper looked like after the trip to the sand dunes – they pretty much had sand all over their bodies:-)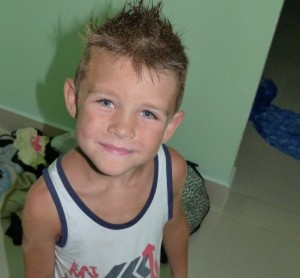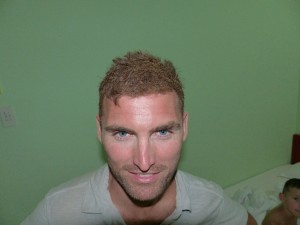 Fairy Streams – our Mui Ne favourite
We went to the Fairy Streams twice and despite the extensive amount of trash you see (especially on the first part) it turned out to be our favourite place in Mui Ne. Here are the reasons we liked it so much:
You can pretty much just let the children run wild. The stream is very shallow in most places and they had a great time just running and splashing in the red water.

Small scale red sand dunes are right next to and on top of the stream but protected from the wind and ideal for playing.

Beautiful rock formations are right next to the stream on the upper part making it look like a miniature version of the Grand Canyon.

We were the only ones that climbed up and walked on top of the stream on the way back so we had it all to our selves along with beautiful views from above, small "corners" to jump from and a beautiful sunset.

If you go in the afternoon it is shaded from the sun and the stream is cool.
A shame that Vietnamese people and possibly tourists are throwing trash all over the place and not taking better care of their natural wonders, but that seems to be part of the culture and definitely not limited to the Fairy Stream and trash is EVERYWHERE (people will simply just throw whatever trash they have in the water, in a ditch, on the road etc. etc.)
On the walk up the dunes next to the stream we met a Danish couple. They had traveled for a year with their 6 children (age 3-16) round the world back in 1996-97. Suddenly our big adventure seemed a bit less adventurous;-) but really nice and cool people and great to meet some Danes again.
Comments