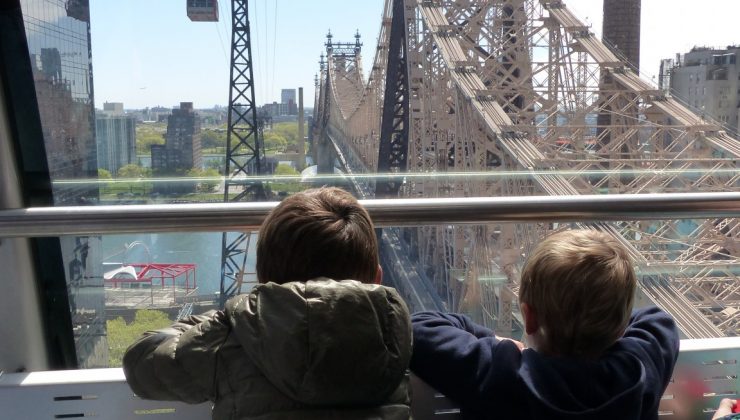 As the final stop on our 6,5 months' journey around the world, we decided to visit New York for 3 days, as we would need to do a stop over there anyway to catch our flight home to Denmark. Non of us have been there before and we were looking forward to see what all the fuss is about.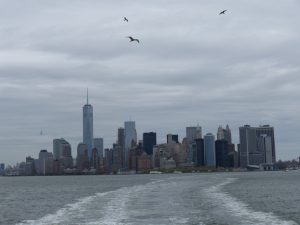 We rented a room in Brooklyn on AirBnB, in a shared apartment. The room was fine, one double bunk bed and a large closet, the rest of the facilities we shared with a couple of other guests. With us being away for most of the day, this was perfectly fine.
We arrived at JFK airport Thursday at 11 AM after getting up at 5 AM in New Orleans to go to the airport. It was too early for breakfast at the hotel, so we thought we would just get something at the airport. Normally, we would have had plenty of time for this, but there was something wrong at the Security section and we just barely made it onto the plane in time. Lots of other passengers did not make their flights – including one right behind us who just could not leave without visiting the gift-shop (so her friend told us).
Anyway, we had a couple of Digestives for the kids and they got a small bag of peanuts and a glass of juice on board – this was their breakfast and they were happy :-). We flew with Delta Airlines, and the first thing the pilots did, as we got on board, was to invite the boys into the cockpit, even though we were some of the last passengers to board. They also gave them both pilot's wings to put on their clothes and let us take pictures in there. They were really happy since they are very interested in planes, and it's the first time on our 20+ flights on this journey around the world that they have been invited/allowed to get in the cockpit.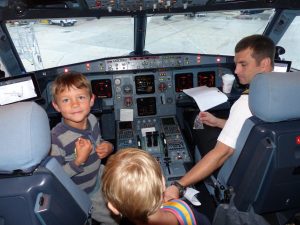 After getting our luggage we got an UBER car to pick us up and drive us to Brooklyn. It was so easy – the driver was friendly and informative and drove very nicely. And since it was our first time using UBER we got a 22 USD discount and the trip cost us only 6 USD – what a great deal. We will definitely use this service again.
Our room was already ready for us, and after putting our things in there we took the train and Metro to Manhattan. The first thing we did was take the ferry to Staten Island, which was a nice and relaxing way to get a first impression of New York City. We saw the Statue of Liberty and the Brooklyn Bridge and spent half an hour at the station in Staten Island looking at two large aquariums full of fish and eating hot brownie with soft ice.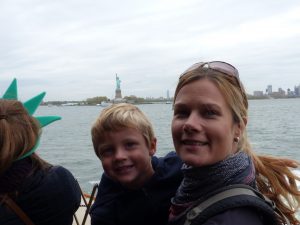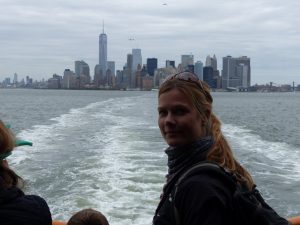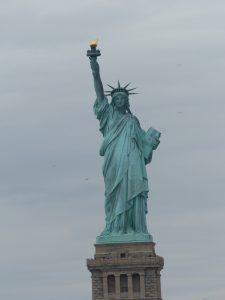 Just what we needed after getting up at 5 to catch the plane from New Orleans. We then took the ferry back to Manhattan and went to see the 9/11 Memorial and the new World Trade Center. The 9/11 Memorial consists of two large water basins each with water cascading down into a seemingly bottomless hole and with the names of all the victims of the terror attack engraved onto the sides. It is a beautiful memorial and it is very moving to see – sad and beautiful at the same time.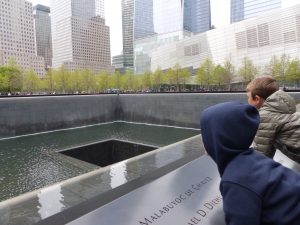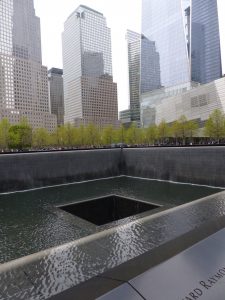 The temperature in New York was around 11 degrees Celsius, which is around 20 degrees lower than what we have been used to the past 6,5 months;-) this felt so cold and we had to wear all the "warm" clothes we had. Vitus was wearing 2 T-shirts, 1 long sleeved shirt, Lines scarf and a hoodie.
After the 9/11 memorial we went back to Brooklyn at had dinner at an Indian restaurant. The kids have learnt to eat many different kinds of food during our journey (and they were really hungry after a long day of walking and travelling) so they ate an enormous amount of butter chicken with Naan bread :-).
After a good night's sleep (especially for those without fire ant bites!) we took it very slowly in the morning and let the kids watch a movie before catching the train to Manhattan again. This time we started by taking the Roosevelt Island tramway (very high up in the air) to, well, Roosevelt Island just across the East River. The kids sat at the large front window and really enjoyed the view. Line has gotten a lot better at dealing with heights and even managed to look out the windows all the way.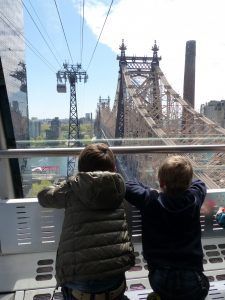 We walked around the Island for a while and the kids ran around and played at a park while the adults enjoyed the views of the city (not entirely as free of conflicts between the kids as it might sound). The cherry trees were blossoming and the sun was shining – a very beautiful sight.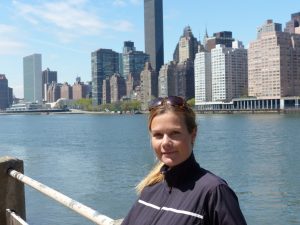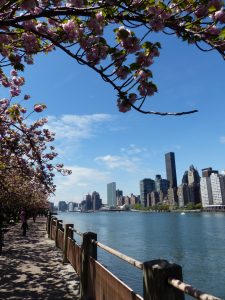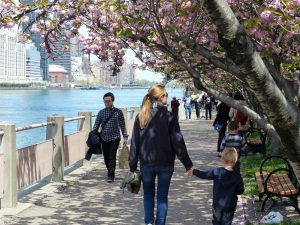 After taking the tramway back, we went to see Central Park. It was full of people since the weather was so nice, and we sat on a lawn while the boys climbed the large rocks there. Central Park is really nice and it must be great for the people of New York to have such a large green oasis in the middle of the city.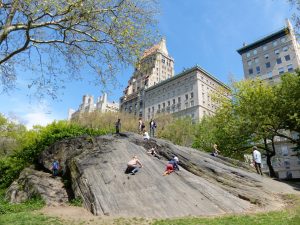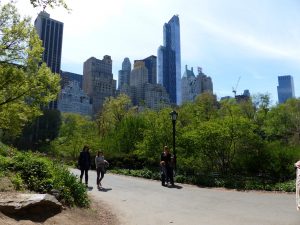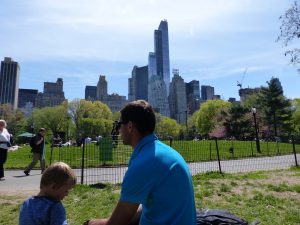 We had hoped to visit both Times Square and Brooklyn Bridge, but after walking from Central park to Times square, we were simply too tired and did not want the kids to get exhausted. So after seeing the chaos at Times Square – lots of people, the iconic billboards, all the hassle, and a 10 minute walk to the Empire State Building we took the subway and train back to Brooklyn.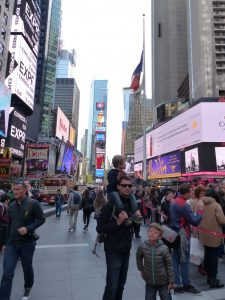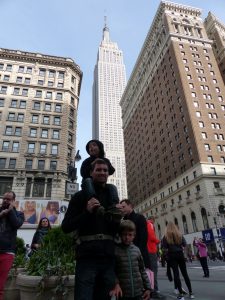 Though tired, our two monkeys seem to think everything is a playground: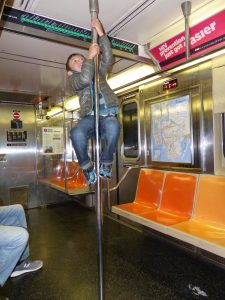 Noah and Vitus got to choose our dinner, and they chose Indian food again, to Jesper's delight, since he looooves Indian food. This time, we picked a different restaurant "Tandori Masala", though, which was even better than the one the day before, and again the kids ate LOTS.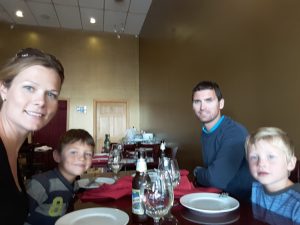 Another advantage of this restaurant compared to the other one was that it served beer 🙂 – Line and Jesper both had a couple of India Pale Ales, called Blue Moon white IPA, which were probably the best IPA's we have ever had.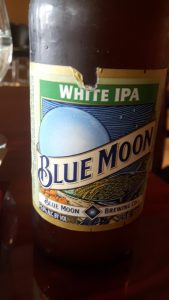 On our final day in New York (and on our round the world trip) it was 11 degrees and pouring rain. Therefore we choose the American Museum of Natural history. Getting in is really quite confusing, there are many entrances and instead of a fixed ticket price they list a "suggested donation of 22 USD per adult and 12.5 per child". You can however choose to pay what you wan't.
Once in, it is confusing (to say the least) to find your way around the museum. There are 5 floors and initially we tried using their new app "Explore" – that was next to impossible. We asked for a map and with that it went a bit easier – but still it is not exactly intuitive as many rooms next to each other are not connected. With quite a bit of trial and error we would our way around.
The favorite stop was arguably the dinosaur exhibition. Large skeletons and lots of interesting information: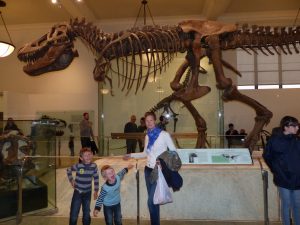 "Under the sea" was a close second: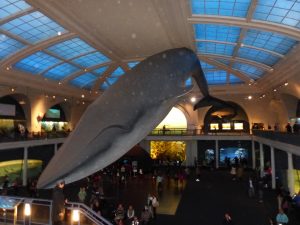 Most of the displays were set up in quite a modern way but a lot of the older stuff reminded us very much of the Natural Museum in Aarhus, Denmark – back in the 80s: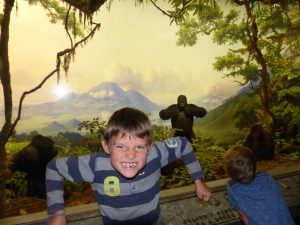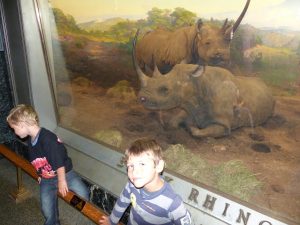 After that we went straight to the airport after picking up our bags. We did not sleep much on the way home but Noah and Vitus coped surprisingly well and even managed to enjoy the train ride from Copenhagen to Aarhus.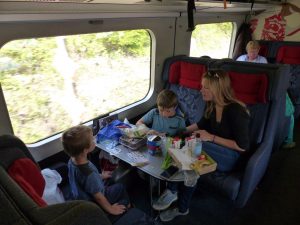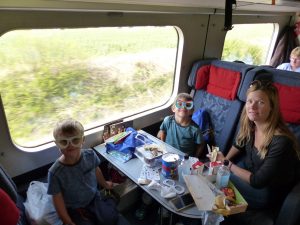 In Aarhus we were welcomed home by our family – great to be back!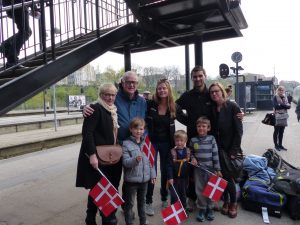 So that is it! 6,5 month and 102 blog-posts later we are back in Denmark. But hang on, we plan to write a few more follow up posts reflecting on the overall trip as well as more tips and tricks should you want to do it too. Right now we are happy to be back but maybe we will take another trip in the future. There is still so much we have not seen.
Comments