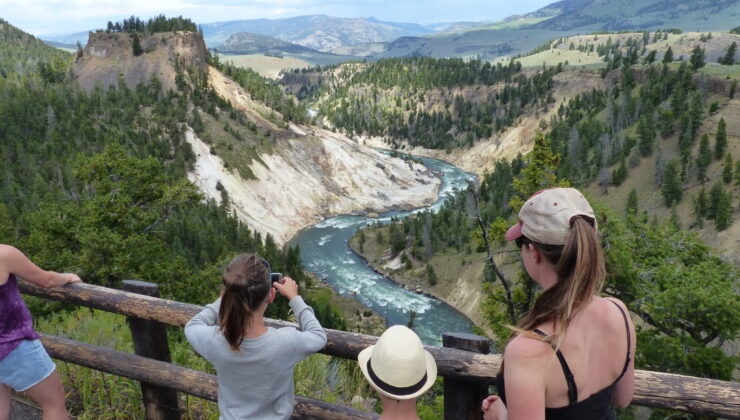 On our third day in Yellowstone, we wanted to somewhere where we were likely to spot some interesting wildlife. So we took a long drive, almost two hours, to Roosevelt Lodge in the northern part of Yellowstone. On the way we saw Bison again and a Blackbear, almost hidden in the forest.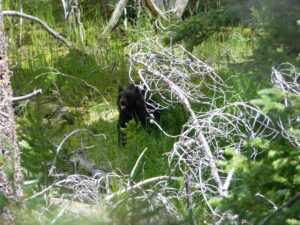 We also stopped for a beautiful look down the Yellowstone Grand Canyon.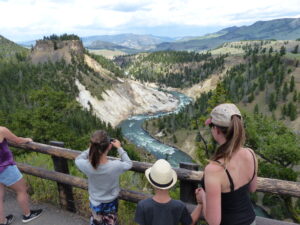 From Roosevelt Lodge we did the Lost Lake Loop Trail/Hike, which was nice and pretty, but there was lots of biting flies so we couldn't really stand still and enjoy the view for long.
We stopped to see the petrified tree – there used to be 3, but people in the past have chipped pieces off the trees for souvenirs so that only one it still standing, too bad.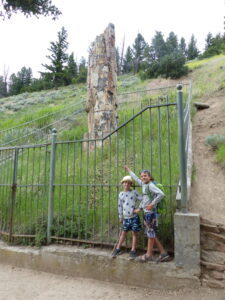 One the way from Roosevelt lodge to Mammoth hotsprings, our "Gypsy Guide" recommended us to take a short D-tour on a gravel road to look for wildlife. So we called it a Safari drive and enjoyed the bumpy road. We saw a large bird, probably a kind of heron, and an elk – and just missed a black bear and her two cubs that someone else had just spotted.
At Mammoth we saw a large heard of Elk grazing in the middle of town. A lucky punch as they were all gone 15 minutes later.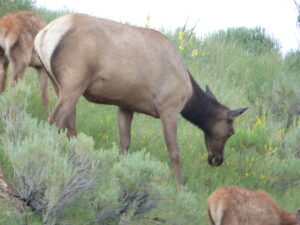 It suddenly started to rain, so we only did a quick run to see some of the impressive hotsprings. We had actually planned to cook dinner somewhere in the park, but since it was now raining quite a lot we chose to have dinner at local Grill- burgers once again and the kids were thrilled. Afterwards the skies had cleared, and we took a longer walk around Mammoth – it was less crowded at 8 pm and we were happy to get to see this spectacular place more in depth.
On the long drive back to West Yellowstone, we suddenly ran into a bear jam – someone had spotted a Grizzly right next to the road and we saw it close up looking for bugs under tree logs and grazing (we had bearspray within easy reach, and when it got closer, we watched it from the car) – a fantastic experience and the best view of a bear so far.
Though we had decided to go straight home as we were already late because of the Grizzly encounter this beautiful lake deserved a 30 second stop.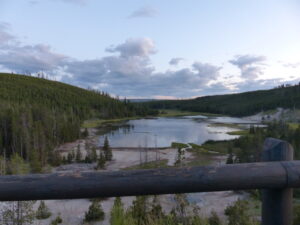 We got back at 22.30 and went straight to bed for a long and cold night's sleep (6 degrees so we all slept in ALL the clothes we had – in Line's case that meant 4 layers plus a sleeping bag rated for sub-zero temperatures)!
Comments