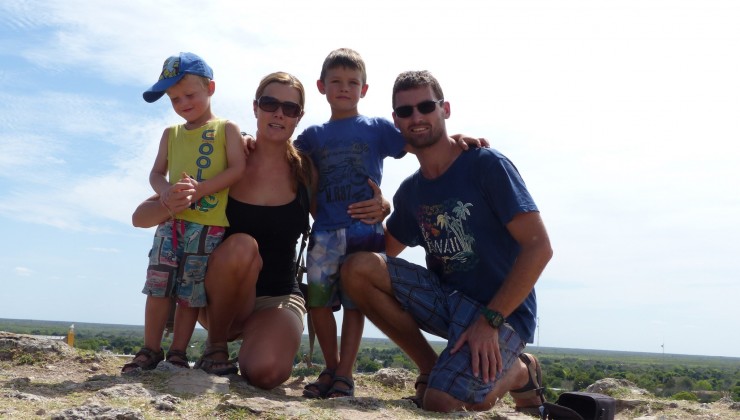 We had great time in Merida – a perfect hub for exploring the Northwestern part of Yucatan. Like Valladolid Merida is the real Mexico with lots of local food and charm. Only the center is a bit touristy but even there you see 10 Mexicans for every visitor. This is what we did in and around Merida:
Chichen Itza was expensive, touristy and crowded but still a great experience
Actually it was a stop on our way from Valladolid and it was everything we hoped and feared. Read more about our trip to one of the new 7 wonders of the world.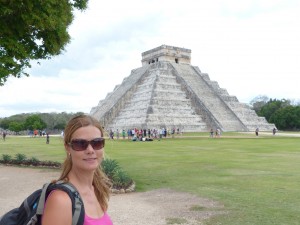 Cuzama Cenotes – Chelentun, Chacsinicche, Bolonchojol
One of our best Cenote experiences in Mexico – not only because of the Cenotes but getting there is half the fun. So much so that it also deserved a separate blog post.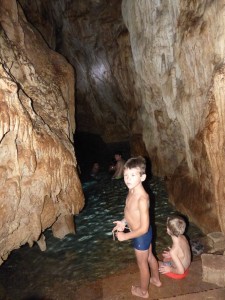 La Biciruta and Maya Museum
Sunday in Merida a large part of the City Center is car-free and you can enjoy the beautiful city on a bicycle without worrying about getting run down by the often speeding Mexican drivers. You can rent bikes at different location but if you require something a bit special (like a seat on the back) the one next to Santa Clare Park has the biggest selection. It is also twice as expensive as some of the others but at 20 pesos (7 DKK) per bike per hour it is still very affordable J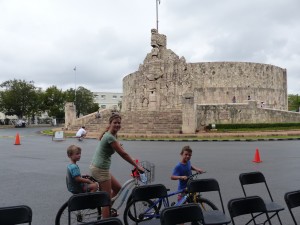 We really enjoyed this tour and after riding both in Merida and earlier in Coba – Noah seems to be right back in the game.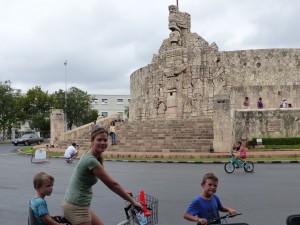 Some of the locals have made their bicycles into working pieces of art – this one was far from the most impressive one but too late did we think about taking a picture of them.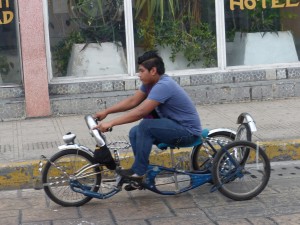 Sunday morning the whole town comes to life and nobody is too old to dance and have fun. We were particularly impressed by this older gentleman who looked at least 80.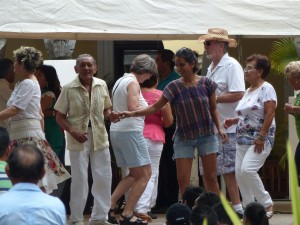 In the afternoon we went to the Gran Museo del Mundo Maya after reading great reviews on tripadvisor. Maybe we just weren't in the right mood but we all found it pretty dull and uninspiring. Not even the dinosaur section impressed much and it was much, much smaller than expected. On the good side there were good explanations in English and we did learn a lot about the Mayans but overall we really did not understand what the fuss was about 🙂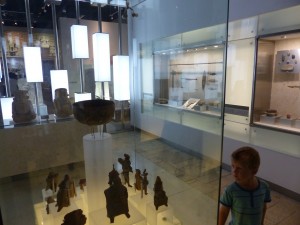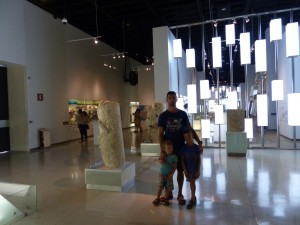 Great trip to Grutas de Calcehtok and Uxmal
A long day exploring caves deep underground and climbing pyramids ended up requiring yet another separate blog post.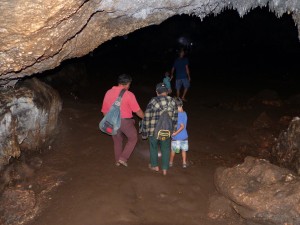 Visiting Izamal – the yellow city
Izamal is about an hour's drive from Merida. It is famous for its buildings, which are all painted yellow (at least in the town center and the part facing the street). It is also home to lots of Maya ruins which you find at pretty much every corner and one of the main attractions are the horse driven taxis.
We arrived in Izamal just before noon. Just after the buildings had turned Yellow we saw a sign on the right side of the road offering various forms of local dishes we did not understand. It looked nice however and since we had brought leftover pizza for the boys we could afford to take a chance and made a stop so the grownups could eat. It was absolutely delicious food and again the simple rule for eating out in Mexico held true "The cheaper the food the better the taste". We had no idea what we ordered but trusted the owners advice and got a huge bowl of soup and a big plate with chicken and various sides. At 105 pesos including two drinks it was hard not to leave with a big smile and a generous tip.
After finishing lunch for the grownups we drove to the biggest pyramid close to the town center, climbed up the first section and Noah and Vitus enjoyed pizza under the shade from a tree overlooking the city – really nice!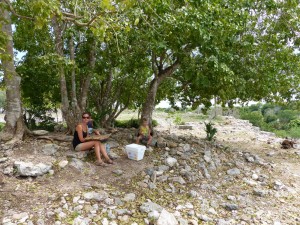 After that we climbed the pyramid to the top and enjoyed the views. We thought a guy was selling cold drinks when we got down and bought a coconut and pineapple – it turned out we had bought ice-cream instead but we did not complain as it was no getting extremely hot.
Horse taxis are the default tourist attraction and Line insisted that we should try that too. For 200 pesos they will drive you around for 1 hour and you have to go to the town square to pick one up. Of course she had to pick the one with the most pink decorations in all of Izamal.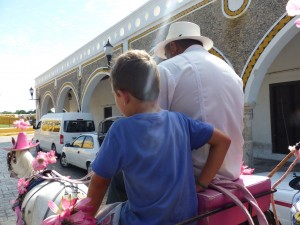 Some of the other horse carriages were actually not too bad with a light green or blue color scheme and maybe a single flower made of plastic. But not OURS! The horse was wearing a pink hat and pink flowers and decorations were placed in every possible crack and corner.
Noah declared that he thought mom had found the most beautiful one and Jesper was seriously considering taking 1 hour off and staying behind. We all went and had a fun hour driving around Izamal town.
There is a huge cathedral next to the town center with a big "lawn" in front. We spent about an hour there before heading back to Merida. Again you learn to appreciate spaces where the children can just run around without getting in to too much trouble.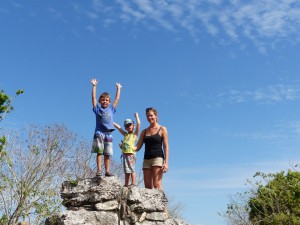 Progreso beach
We meant to spend our last day in Merida driving the 45 minutes North to Progreso and enjoying a day at the best. The next blog will explain why we ended up spending the entire morning and early afternoon on Skype trying to find a place to stay in Havana and as a result it was 4pm before we could finally cool down in the water.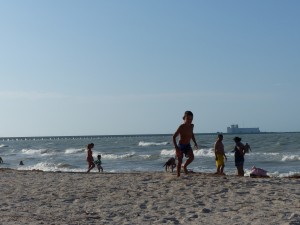 Progreso is not a beach like you will find them on the east coast of Yucatan. It is often quite windy and as a result you get waves and murky water. The current is also quite strong so you need to be careful but never the less we were just happy for a place to cool down and relax for 2 hours after a challenging day. Being Easter it was quite crowded and we had to drive a bit down the beach to find a parking space.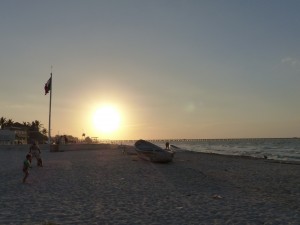 The beach is famous for having the longest pier in the world and it was indeed an impressive site. It is so long that you cannot see the end of it.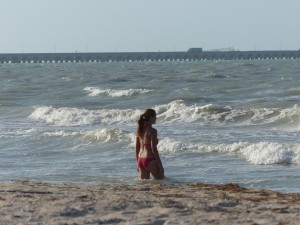 Comments