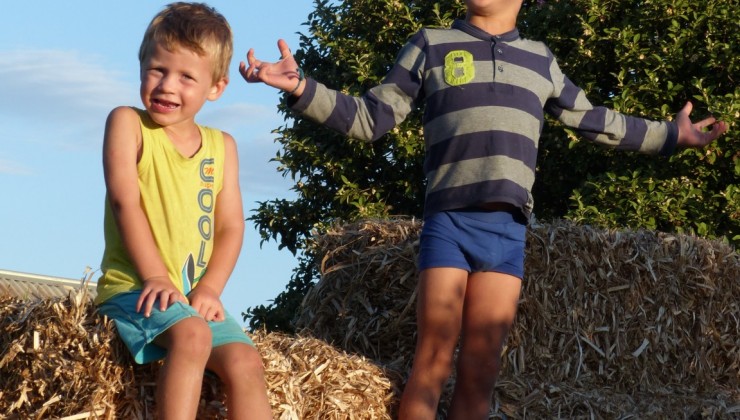 After 3 nights in Deep Creek we headed east to Victor Harbour. We had heard good things about it from other campers and thought it a good stop on our way to Coorong and Mt. Gambier (turned out it was quite a detour).
Victor Harbour is a nice town with great walks along the coast, good beaches, an old steam train and a horse driven tram that will take you to across the bridge to Granite Island.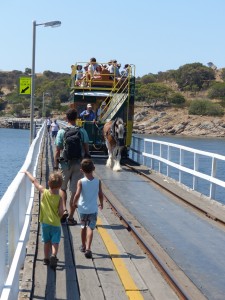 We stayed at Crab Tree farm (about 15 min. drive from Victor Harbour close to Goolwa) which is really just a small hobby farm where they have turned part of their backyard into a small caravan park. You can find it on WikiCamps. Though small everything is in perfect order, very clean and you even get to have a hot shower with a view over the fields (our hosts were Naturists but kept their clothes on while we stayed J ). Being a farm there were of course pigs, cats, dogs and cows that Noah and Vitus could familiarize themselves with and even a small playground.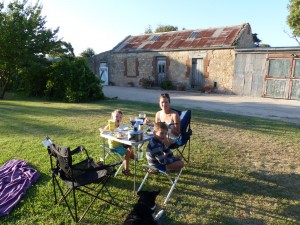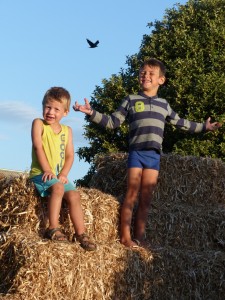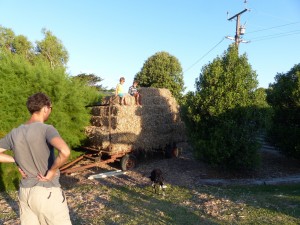 Crab tree farm was also the place we celebrated Line's birthday. Our hosts' daughter also had birthday that day and she insisted that they should bring back the leftover chocolate cake for us to enjoy. Even with Line's favourite chocolate, KitKat – mmmmm.
Originally we had planned to stay for two days but this was about the time we started to realize how little we had moved during our first week and that we needed to start to cover some ground should we not end up having to drive for many hours each day the lasts weeks. With only limited time we spent chose to hike around Granite Island and Visit the beach at Horseshoe Bay.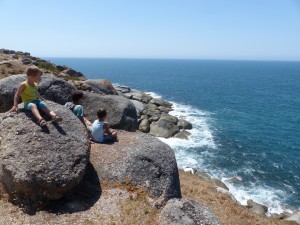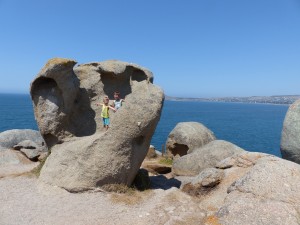 Besides it being a fantastic beach for swimming quite a few shipwrecks can be found there in very shallow waters. We were hoping to be able to snorkel and see them but unfortunately the waves were way too big and visibility close to zero. Great for body-boarding though but somehow we forgot to take any pictures there.
After a great couple of hours at the beach we headed towards Coorong national park. We had originally thought it a short drive from Victor Harbour but our hosts at CrabTree farm informed us that you could not trust the road shown by the GPS and that in fact you have to take a giant detour inland to get there (bad news but better than taking a two our drive only to have to return the same way because the road stops).
We reached the 42 Miles Campground in Coorong just as it was beginning to get dark and we had to drive very slowly since there were literally kangaroos and wallabies EVERYWHERE. We had promised the kids burritos and after a very late dinner we went to bed surrounded by at least 20 kangaroos, the sound of waves and the most fantastic clear night sky covered in about 10 times as many stars as you can see when you are closer to cities – Amazing. Next day we took a 30 minutes hike down to the beach, enjoyed the view of giant waves crashing against the shore before heading back to the campground to continue our journey.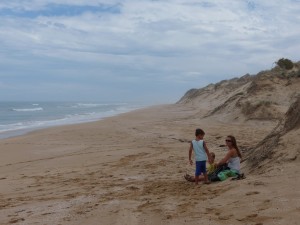 On the way back Noah seemed to feel inspired by the Naturists and he insisted on walking back but naked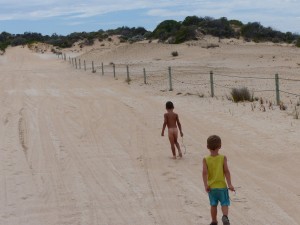 Comments