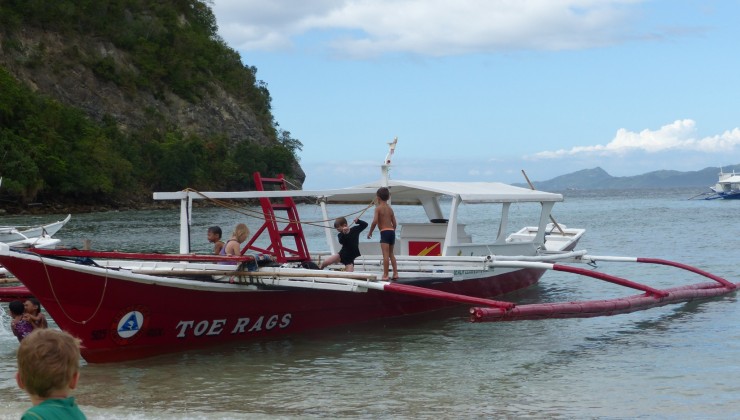 January 1st we got up late. Anne was a bit hung-over and nobody was in the mood to rush out the door. Our house-girl had the day off so Jesper made pancakes for everybody and at about 11 everybody was ready to go somewhere.
We took a tri-cycle to the pier and picked up our usual take-to-the-beach lunch from Dante. It is amazing how many people we are able to fit in a tri-cycle with a little practice. 6 is not a problem at all.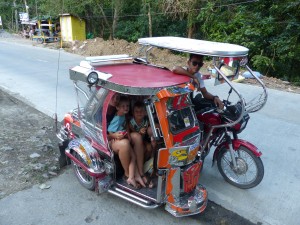 Being quite a windy day we went to Big La Laguna beach which is protected and good for both swimming and snorkeling. It was a bit cloudy but warm enough to be enjoyable and the boys had a blast. The reef there is actually quite spectacular. The part that is closest to the beach is a bit damaged from too many tourists but still alive, colorful and packed with fish in all shapes and sizes. If you dare to venture about 100 meters out the reef is in pristine condition and excellent for free-diving as well as the shelf extends down to about 18-20 meters.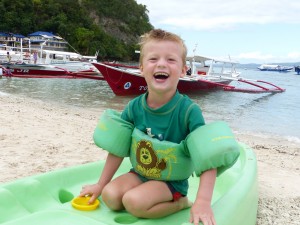 About 50 meters out a platform is tied up so you can take a little rest or just use it to jump from.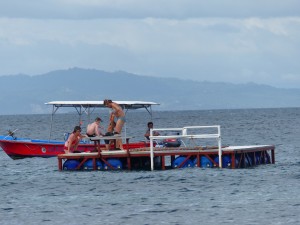 We found the place so nice that we ended up going there the day after as well as the winds were even stronger and most of the other beaches were either to windy or the waves too big. Another good thing was that a return trip with private boat is only 600 pesos for all of us. The cheapest place to go, which really does not make much sense, since some of the other beaches are much closer.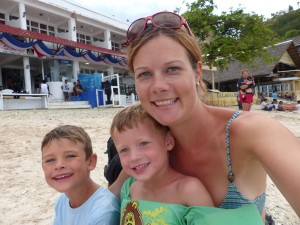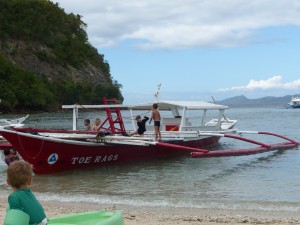 Alexander first time snorkeling in the Phillipines:
On the last day we went to a beach that we unfortunately cannot remember the name of. It is the closest to Muelle pier and has water on both sides. It looks really amazing but unfortunately it turned out to be neither good for swimming or snorkeling and there is a 50 pesos fee per adult since it is owned by a resort (whether that is actually true or the security-guard just needed some money after a busy Christmas and New Years we cannot say…)
Saying goodbye to Mindoro also meant saying goodbye to Myleen our housegirl and the comfort and relaxed atmosphere of Whitehouse. Truly a place we will miss, but adventures in Australia are waiting and Anne and Alexander are going home after a 2 day stopover and some Slum-tourism in Manila.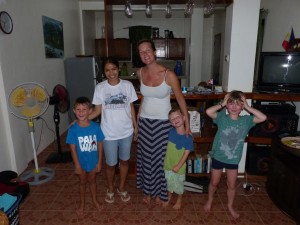 Comments