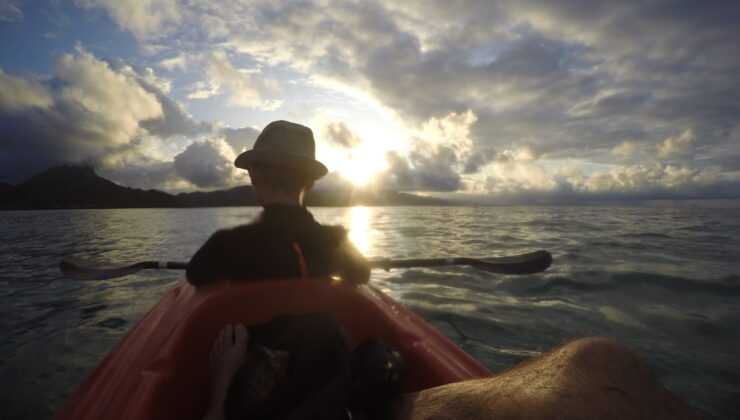 Saying goodbye to beautiful Maupiti it was time to board the plane for a short 25 min flight to the island of Raiatea. We would be staying in a bungalow close to the western tip of the island in a guesthouse called Raiatea Sur Mer. Right on the water, manta rays frequently stopping by, and a coral garden within reach in Kayak, and some of the highest ratings on booking.com – our expectations were high.
Gilles from Raiatea Sur Mer picked us up at the airport and after a quick stop to buy some groceries at the supermarket we drove the 40 minutes to guesthouse.
No mantas but a beautiful coral garden and kayak trip to the Motu
The following day Gilles took us, and a French couple staying in the other bungalow, for a manta and coral garden tour in his boat. Normally the mantas can be seen right next to the guesthouse but even cruising around in the boat looking for the tell-tale dark shadows we were not able to find them. Gilles explained that they move to different feeding grounds a few times a year and we might be facing one of those very rare occasions. Our missing manta luck seemed to continue.
The visit to the coral garden did, however, make up for it as it turned out to be even more beautiful than the one on Maupiti with lots of color and even a few baby and adult reef sharks adding to the beautiful scenery.
Normally the weather in French Polynesia is very dry in June but not so with 2022. Waking up the next day to heavy rainclouds and a bit of wind we took the chance to do some homeschooling with the boys. In the afternoon the sky cleared, the wind calmed down and we headed for the small Motu about 3 km. by kayak from the guesthouse. We did not really know what to expect but after about 40 minutes of kayaking we tied our kayaks at the Motu, donned our snorkeling gear and headed for the reef (part of the same reef we visited with Gilles but about 1 km. further "up"). After only 15 seconds we were greeted by a giant moray eel hiding in a coral (muræne) and it did not take long before baby and adult reef sharks appeared along with beautiful coral and an even bigger moray eel swimming right in front of us (first time we have seen one swimming). They are dangerous but as long as you keep a small distance and do not provoke them they are not known to be aggressive towards humans.
Pearl Farm Visit
Peal farms are a must see in French Polynesia. Many are visited as part of organized snorkeling tours around the islands, and it quickly becomes very touristy with another batch of tourists arriving every 20 minutes. If you want to escape the crowds (and get the best deals) the best thing to do is to stop by one of the smaller farms, and most of them will take you out to see how they graft the oysters, how pearls are harvested etc. Fortunately, Gilles pointed us to a small farm (Raiatea Pearl) just 7 km. down the road from the guesthouse run by two very enthusiastic young guys who had just started the farm 5 years earlier and currently had 150.000 growing oysters.
The tour is free but obviously they hope you will buy something from them at the end. Vitus bought a bracelet and Line selected two pearls and had them mounted in a set of earrings.
Visiting Marae Taputapuatea
The Marae Taputapuatea ruins are famous as this place used to be the center of Polynesia before Europeans arrived. It was called the "heart of the giant, mythical octopus Tumu-Ra'i-Fenua" which formed a map of the Polynesian Islands. It is amazing that they were able to travel in big canoes and navigate a territory stretching as far as Hawaii, Cook Islands, Fiji, Samoa, Tonga and Australia. The biggest chiefs of the oldest linage were situated here, and the chiefs of younger kingdoms would come and visit. The small Motu in the picture served a less pleasant purpose as the chief's illegitimate newborn children were placed here to die. Depending on the cloud cover above the Motu it was also believed to be a warning of either friends or foes approaching.
Picking up freediving again
Besides the mantas (which had gone elsewhere) there was not a lot to see snorkeling right off the beach at Raiatea Sur Mer. There was however a "wall" and just 30 meters out it quickly dropped from about 50 cm. of water to about 20 meters. That was a great chance for Jesper to take up freediving again and both Noah and Vitus did their best to learn how to equalize the pressure on the way down – not too successfully at first but after many attempts above and below water they slowly started to get the hang of it.
Raiatea Sur Mer
With only two bungalows Raiatea Sur Mer is not exactly a big place but everything is in perfect condition and our hosts Gilles and Henriette are beyond helpful. They placed cake, fruits, and various jams on our table each morning even though we did not have breakfast included, and picked up take-away for us from a restaurant nearby when we did not cook ourselves. It was also possible to use their old 4wd Hyundai Galloper for small extra fee.
All in all a great place to stay for a few days if you want to relax an experience Raiatea but being very small, quite far from everything and one kitchen to share with them and other guests we did also look forward to being closer to restaurants, supermarkets and  getting more of our own space at the end which is exactly what our next stop in Huahine should be able to offer.
Comments