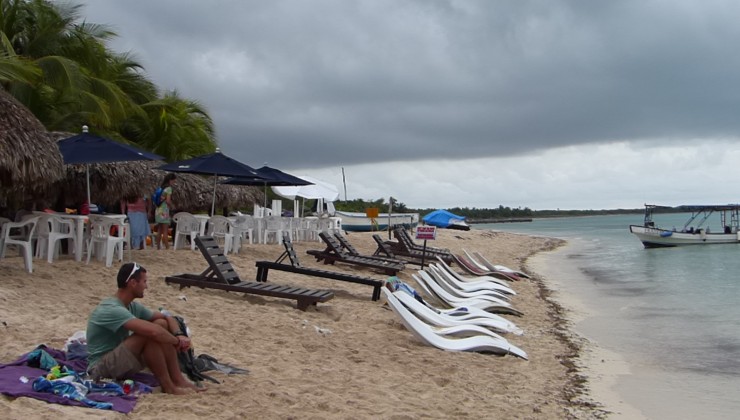 We arrived to Isla Cozumel on the car ferry, which was easy and cheaper than we thought, only 587 Mexican Pesos (33 USD / 224 DKK) oneway. The fare was impossible to tell from the sign so it was a very strange feeling handing over your visa card to a guy and not knowing if he would charge 400 or 1400 pesos. Luckily it was closer to the 400 🙂
We thought Cozumel would be pretty laid back, like Puerto Morelos, but it was obvious as we got off the ferry, that it is a busy cruise ship destination with lots af tourists, souvenir shops and tour operators. It felt like it could have been any busy tourist destination in the world with lots af hassle.
At the sidewalk by the sea in San Miguel we found a nice (but empty) fountain with a huge sculpture of divers and creatures of the sea. Noah and Vitus enjoyed walking around on its edges. Of course, as Noah was celebrating having walked all the way around three times he fell off and hurt his behind…
Luckily, our hotel "Hotel Casona Real", is situated a few blocks away from the busy streets and the area has a more local feel to it. The hotel itself is OK but we miss having an extra room, where we can hang out while the kids are sleeping. We have the room just behind the reception, though, so sometimes we sit in the couch out there and research on coming destinations or read a book. This seems to annoy the night portier a bit, though, as he normally uses the area to nap at night;-) But the staff is generally very friendly.
Palancar Beach, Cozumel
We went to Palancar beach to swim, as the water is calm there and the beach is sandy. Almost every beach in Cozumel has been turned into a "beach club" which means that you have to pay to get in or buy all your food and drinks there. Palancar beach is just a restaurant on the beach, as opposed to other places which have been made into a "fun-park" with pools, slides, animals, shows etc. Therefore we chose that place, as we just wanted a place to swim and are not fond of the beach club concept.
The facilities at Palancar are fine, you can sit in the restaurant or at tables on the beach and use the lounge chairs all you want, as long as you buy something during the day. We had lunch there, which was nice but of course overpriced compared to restaurants in town. But still fair enough for letting us use the facilities. The weather wasn't very good on the day we were there, but the kids still had a good time swimming and playing in the sand. It rained a couple of times during the day, but we just took our things and sat by a table. We had brought some pre-school books for Noah, so we spent the time practising spelling with him.
Playa Corona
We had read that Playa Corona had decent snorkeling, so we decided to give it a go. It is another beach that is owned by a restaurant, so again we bought lunch there. The food was not as good at it was at Palancar but even more expensive. There is a small lagoon just beside the tables, which is great for kids. Vitus and Noah had a great time playing in the warm water there. Snorkeling was not fantastic, there wasn't much coral reef, but we still saw some interesting fish and Line got to practice her diving. The sea was calm and with just a slight current and the visibility was great.
Do, however, remember that we are pretty spoiled in terms of snorkeling having spent a total of 3 months in destinations like Thailand, Phillipines, Vietnam and Hawaii. You might find snorkling excellent here but measuring Cozumel against destinations like El Nido, Palawan in the Phillipines there is just no comparison, non at all 🙂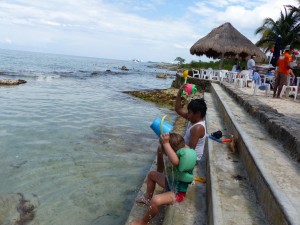 Suddenly a moray appeared in the small lagoon/billabong just beside Noah. He got a little spooked when we told him what it was, since Jesper has told vividly about how dangerous morays can be. But this one luckily could not eat more than half a pinky toe, max:-)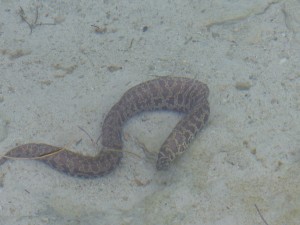 The weather was a lot better than the weather forecast had predicted, and we had 4-5 nice hours of sun at Playa Corona before the pouring  rain started again and we went back to the hotel.
We finally found our own little "beach"
On out last day in Cozumel we decided we couldn't take another beach club/restaurant. So went drove a little further than Corona beach. About 300 metres past Sky reef restaurant and bar we pulled into a very small parking lot. The beach was made up by coarse sand and dead coral, it was pretty littered but we had it all to ourselves! the kids played in small pockets free from seagrass and Jesper went snorkeling for 45 minutes. The snorkeling was just as good as at the beach clubs, but it was a bit more difficult to get from the beach to swimming depth because of the amount of dead coral and rocks and seagrass. Also you have to be careful not to get too far out, since speedboats are passing by in shallow water very often, and they are going fast. He saw some coral and schools of fish, but nothing extraordinary.
Vitus enjoyed having the freedom to play in the water without his clothes on, as no one else was around. Apparently he decided to make the beach his territory when he thought we weren't watching…
At the beach there was a beautiful dead tree that the kids enjoyed climbing. It would really look nice in our garden at home, but it will be a bit tricky (and costly) transporting it to Denmark…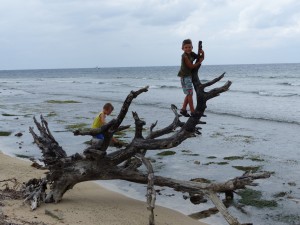 So what did we think about Cozumel?
In general we have not really hit the mark here. Cozumel is packed with resorts, beach clubs and hotels. Snorkeling is not nearly as good as expected and the weather has been downright lousy with lots of rain and very little sunshine. Tomorrow we will leave for Tulum which should prove much better – both in terms of activities and the weather taking a turn for the better. On the bright side we have been forced to relax during the rainy days, read a lot of books and sometimes just spend 3 hours at the hotel pool. Something we very rarely do as we have a tendency to go exploring as soon as we have been in the same place for 35 minutes…
Comments