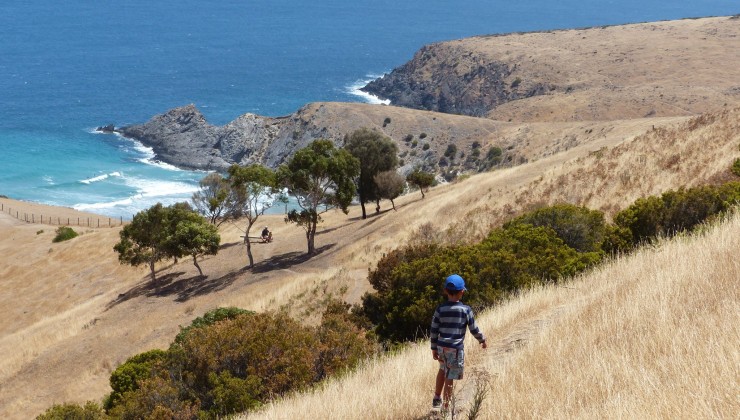 During our two first days in Australia we stayed in Adelaide to get the kids to a doctor, do some grocery shopping, buy a used power generator and just relax after the journey from the Philippines. We stayed at a holiday park by the sea, but as soon as we were ready we headed out of the city to start our Australia adventure.
Rapid Bay campground
We really enjoy bush camping and nature experiences and therefore we booked 3 nights at Stringy bark campground in Deep Creek Conservation Park, South Australia. But on the way we stayed one night at Rapid Bay campground by the sea, as Stringy Bark was all booked on the first night. Rapid Bay is a beautiful beach, which is quite isolated – no shops in the area and very few houses but there were lots of other campers.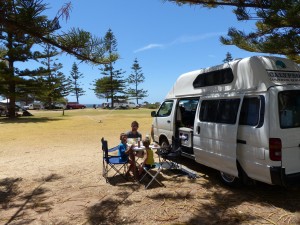 We found a nice shaded spot in a corner of the otherwise very open campground and felt lucky to have found such a top spot at the campsite, but shortly after it turned out that the neighbours, who returned during our lunch, were VERY loud and were obviously drinking way too much. Soon their offensive language got too much for us (especially since Noah understands so much English) and the daughters of one of the men warned us that the two men were VERY loud at night, so we moved to another spot at the other end of the campsite. Next to us was a very friendly Australian family with two boys and our boys were soon playing with them. Not sure that Noah and Vitus are especially talented cricked players but they definitely enjoyed trying.
At one end of the beach there is a long jetty where people are fishing. At the other end there are high cliffs and a large cave so we went to explore the cave. Unfortunately we forgot to bring a flashlight, so we didn't go very far inside, but it was still fun to climb inside. After that we climbed the cliffs outside the cave, which the kids really enjoyed.
But during our climb the wind picked up and sand started to fly all over the place, so we went back to the campsite to start cooking burritos for dinner. Jesper went for a swim before dinner while the rest of the family found the weather too cold for swimming (at least compared to south east Asia;-)). The next day we let the kids play with the neighbours before heading up to Deep Creek Conservation Park and Stringy Bark Campground.
Stringy Bark campground
Stringy Bark is a campground but with nice amenities like hot showers, flush toilets and a sink for doing dishes, at least when the water tank isn't empty (which is was for 2 of our 3 days there since somebody forgot to close one of the taps). After finding our spot and setting up we went for a loop walk around the camp and saw our first kangaroo on the way back.
When we got back we met our new neighbours (Justin and Sarah) who had just returned from their day-trip. They were super nice people with two kids, Skye (6) and Dylan (7). The kids instantly started playing together building a birdhouse in a tree and playing on a swing in the tree. Soon after it turned out that all of the kids had a shared interest which made Noah totally ecstatic: Ninjago!
So for a long time Noah, Skye and Dylan were playing with Noah's LEGO figures in our campervan – in English of course and Noah doing so well we almost shed a tear. Vitus and Skye enjoyed the homemade swing and Skye was quick to catch some Danish phrases and were soon repeating "Vi falder neeeed"(we are falling down) and "Syng så højt du kan"(sing as loud as you can) with a clear Aarhus accent.
On the second day we went on a long hike. The "Blowhole Beach – Cobbler Hill Marrano Creek Hike" which took us down a steep decent to Blowhole Beach, along the beautiful rocky coastline and finishing with a steep 2 hour ascent back up to Cobbler hill campground. It turned out to be a 4 hour trip categorized as a hard hike, but Noah managed to do it with only a bit of help. The ascent seemed to go on forever but everybody managed and in return we got spectacular views over the surrounding hills and the bay and great exercise.
After the hike we were very tired but Jesper hooked up our portable generator up and cooked popcorn in the microwave before we went back to the camp, which gave the kids new energy.
On our last day at Stringy Bark we were tired after the long walk of the previous day, so we only took a short walk in an old silver mining area, which was really interesting the "Talisker Silver Lead Mine Hike". But our legs were simply too tired to walk very far and it was getting really hot. So instead we went back to a nice shady picnic-area after about one hour and had lunch.
After lunch we drove back to Rapid Bay for a few hours of beach time and swimming. This time there was no wind and the beach was beautiful. As an extra bonus two dolphins dropped by and came within 50 meters of the beach.
Comments