Ria Lagartos biosphere reserve is home to lots of flamingoes, pelicans, other birds, and crocodiles. It is situated on the northern coast of the Yucatan peninsula around 2 hours' drive from Valladolid.
We drove to the coastal town of Rio Lagartos to find a boat to take us around the biosphere, and were approached (read: flagged down) by a local guide called Ramon on the main road in town. He spoke some English and would like to sell us a 2 hour boat tour from the pier.
He asked us to follow him on his bike to his base by the pier. As we got there, Jesper negotiated with him and managed to get us the tour for 850 Pesos (around 285 DKK or 42 USD) plus tips – brought down from 1200. Roughly half the price we had managed to find on blogs/internet sites about the place before we left – great!
We started sailing past a group of pelicans on the way to the flamingo spot.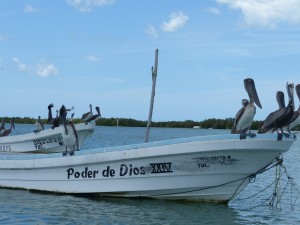 The flamingoes are feeding only on shrimp, and that is how they get their pink color. We estimate that there were around 200 flamingoes and we even saw some come flying to join the group.
It was a very beautiful sight and it was nice to finally see flamingoes close up, since we had so much trouble finding them in Larnaca, Cyprus in the beginning of our journey around the world .
After spending 20 minutes looking at the flamingoes, we continued down the river along mangrove trees and saw lots of birds. At one point Ramon suddenly stopped the boat and turned around. We thought, "What is he doing, are we heading back already"? – But it turned out he had seen a huge crocodile on the riverbank. Some of us (not to mention any names) found it a bit scary to be 2 metres from a large crocodile with two small lunch packs, but luckily the croc didn't seem very interested in us. When you get a tour much cheaper than expected you are always a bit nervous but Ramon from Flamingo Tours was great and while the other boats hurried up stream we stopped multiple times when he saw something interesting.
After seeing the crocodile we carried on to a very brown river with some white mud on the banks. Ramon asked us to jump in the water, and again we were a bit skeptical, because it did not look very inviting.
Jesper was the first one to get in the water and was amazed at what happened. The water was so salt that it was almost impossible to stand on the bottom, he was simply tilted onto his behind and was sitting in the water as he would have done in a lounge chair.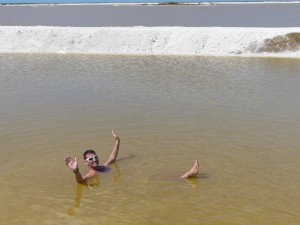 It would be possible to take a nap in that position without getting you head under water. The rest of the family joined and we had really good fun there. The only thing about the water that we had to be aware of were the crocodiles – no, we're kidding:-) It was to avoid getting water in your eyes. It being so salt means it hurts pretty bad to get in your eyes. It's not a picnic on wounds either – and don't be too rough with the toilet paper before heading out :-). Noah always splashes when he swims, so of course he got some water in his eyes and we had to pour some drinking water on them.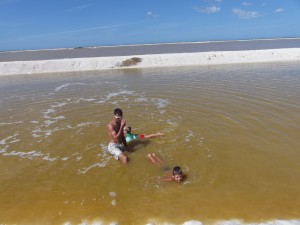 After the swimming it was time to play in the mud. Ramon got a bucket of it mixed with water and told us to cover our bodies with the mud – it is supposedly very good for the skin (and Line immediately saw the resemblance to the small pouches of mud that you can buy in Denmark for 2USD/ 15 DKK each).
As soon as we were all covered (Noah was not so happy about it at first) Vitus simply jumped into the water on his own, since he wanted to get the mud off. Unfortunately "we" (right, Jesper?) had taken his Puddlejumper (wings) off and he can't swim. So he was in the water going bottoms up a couple of time, and of course, screaming. So Line instantly jumped in the water and yanked him out. Luckily nothing happened, but he was very upset and had lots of saltwater in his eyes and mouth. So we poured a lot of fresh water on him, and after being comforted for a while (and reminded about going into the water alone) he was OK again and we enjoyed the rest of the tour, which included a swim in a fresh water "lake" – more like a fresh water hole.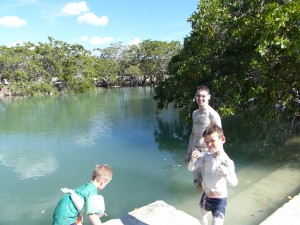 All in all well worth the 2 hour drive to Ria Lagartos.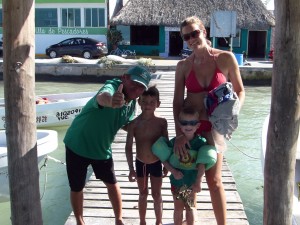 On the way to Ria Lagartos you get to see a lot of the real Mexico. We had lunch in a small café (very basic) in the town of Tizimil, where they mad really good small sandwiches with grilled pork (tortas de Asado) and Panuchos. We had 5 small sandwiches, 4 panuchos and two bottles of Agua de Jamaica ("rød saftevand" in Danish 🙂 ) for 69 Pesos (23 DKK). Since we could not get ourselves to ask for change on the 100 pesos bill for such a good lunch – the girl behind the counter gave us a big smile at the 45 % tip.
Comments