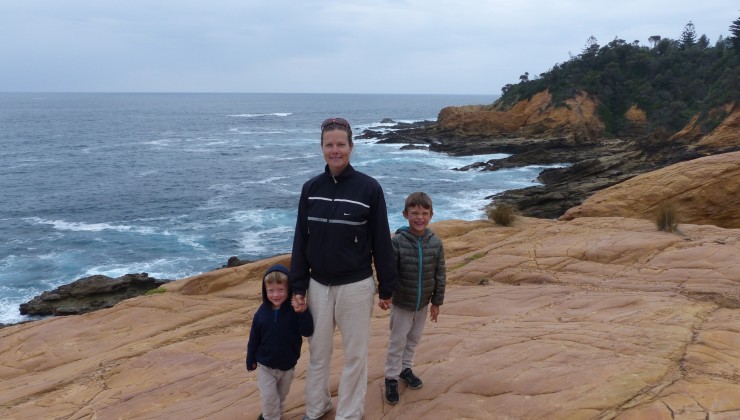 After a couple of good days in Merimbula we made our way North. We had not settled on where to stop so pretty much just followed Princess Highway with a few detours to view points on the way. We had lunch and went for a walk in Tathra.
The landmark is a Warf where many locals go fishing.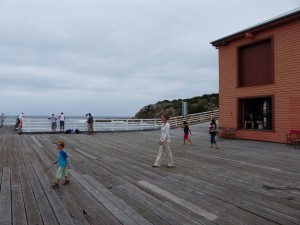 Right next to it is a rotary park where a very cute Wallaby came within a meter or two from us while we just sat there and admired it.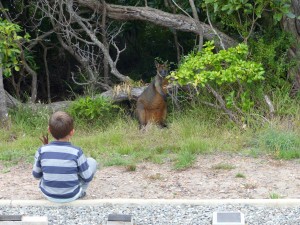 Driving a bit further we took a detour to Arragunu Campground. We ended up deciding not to camp there for the night since we wanted to get a bit further North and no other children seemed to be staying there. We had a great couple of hours there though trying to build the highest tower of rocks on the beach (and we did 🙂 )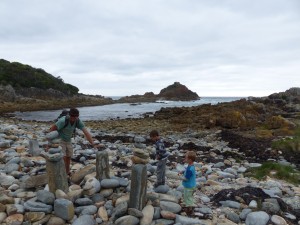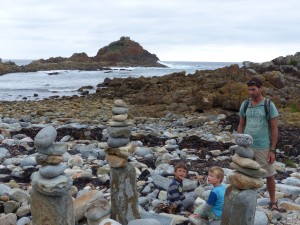 and Jesper and Noah even climbed a small mountain/rock.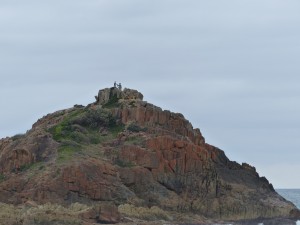 We ended up in a small town called Bermagui. It had started to rain but we found a covered picnic spot right at the harbour and had a nice dinner and which included some great Aussie steaks – delicious. After that we treated ourselves to ice cream before looking for a place to stay for the night.
We tend to stay less and less at actual caravan parks. Not only to save money but also because you can find some truly excellent spots to camp for the night. This time we found the best spot so far: A road that ended in a small parking lot right next to the river and only 1-2 km. away from the town center. We did not truly appreciate the beauty until the next day when we woke up to a fantastic view and much better weather.
Line and Jesper went for a morning swim while the Kids had some play-time in the van. Rays are abundant and we almost stepped on two while walking in the water. Two eagles and a huge pelican flew by and we all felt really great by the time we were ready to start the day.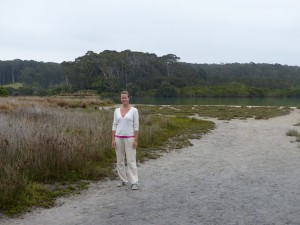 Breakfast with a view.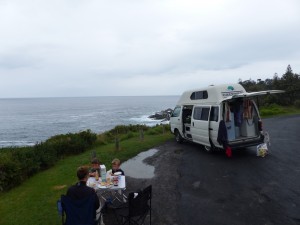 Besides great walks and views and swimming. Bermagui is famous for its Blue Pool – A semi-natural "swimming pool" in the rocks where the big waves keep the water clean. It used to be more of a whole but with some concrete it has been made into a big adult pool and a smaller children's pool. The adult pool is also a great place to snorkel as you can see many types of fish and other marine animals.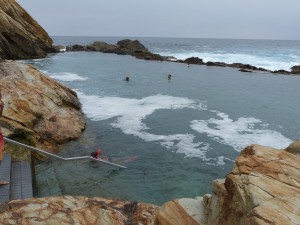 While the adult pool is kept clean and nice by a constant exchange of water from the waves and an abundance of fish,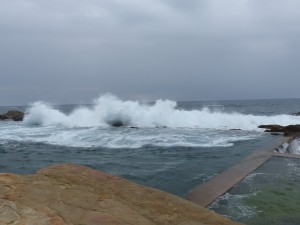 the children's pool is not as nice and does look a bit greenish. We ended up spending a couple of hours there before hitting the highway once again.
Next stop of the day was Kianga beach – a perfect beach for body boarding and finally water warm enough to stay in for more than a few minutes. Waves were kind of big though so we did not manage to convince neither Vitus or Noah to go for more than 2 minutes.
Jesper had lots of fun though and ended up staying in the water for close to 45 minutes along with the other kids.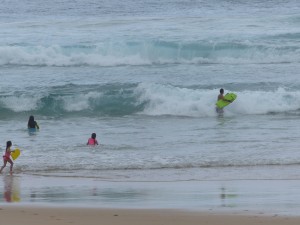 Line went for a run before we headed on to find a place to cook dinner and sleep. Again we found a really nice spot in the town of Delemy. Don't know if it is a million dollar view but it sure is nice to wake up to this scenery and the chance to take 5 steps to go for a morning swim.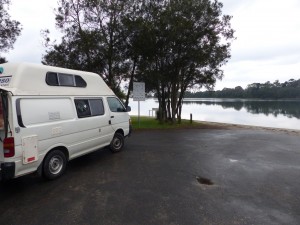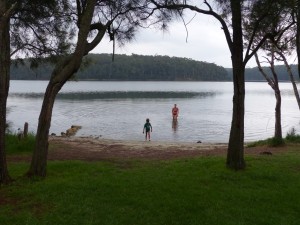 Comments