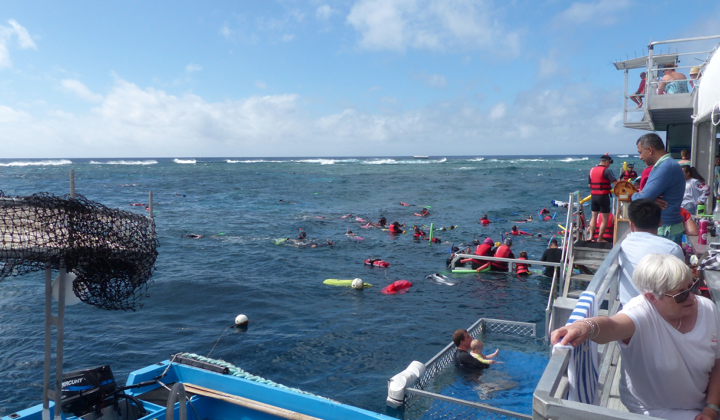 After having changed the date for our pre-booked Great Barrier Reef day tour for the second time because of unpredictable weather, we finally went. It was quite windy, around 10 ms and waves of 1,5 meters, and the boys got seasick pretty quickly, along with many others. It did help, though, when we went to the lower deck and stood outside by the railing all the rest of the way.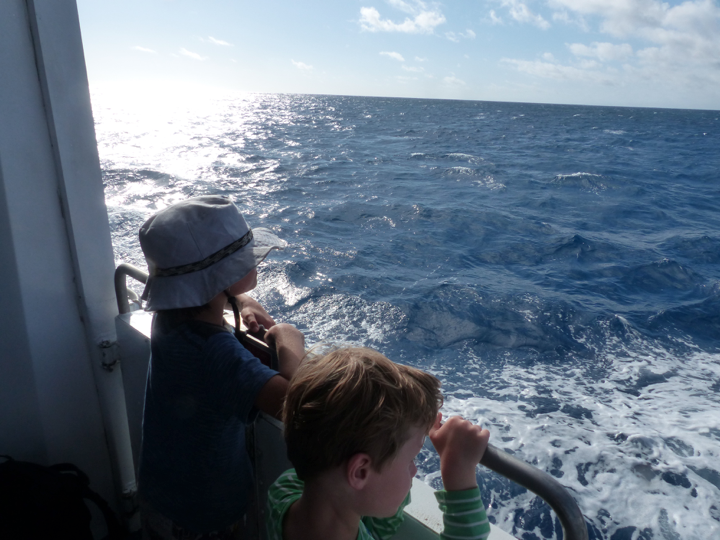 It took 1 ½ hours to get to our destination – the Reef Magic platform.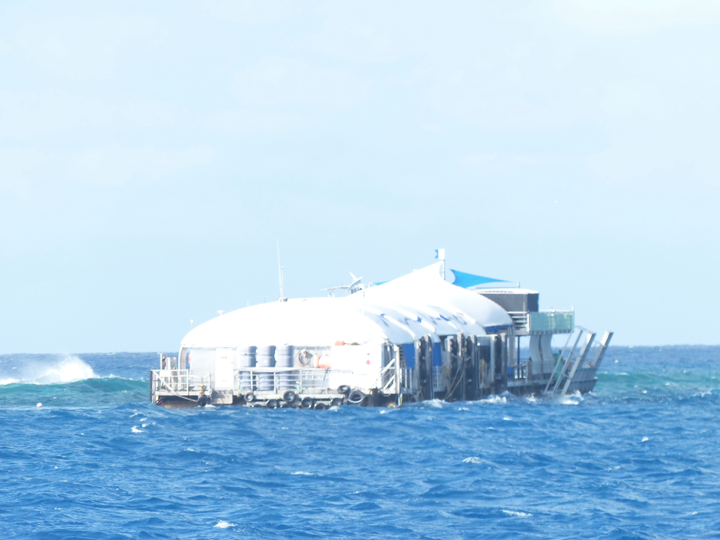 Here we had 5 hours to snorkel from the platform, have lunch buffet and go on tours.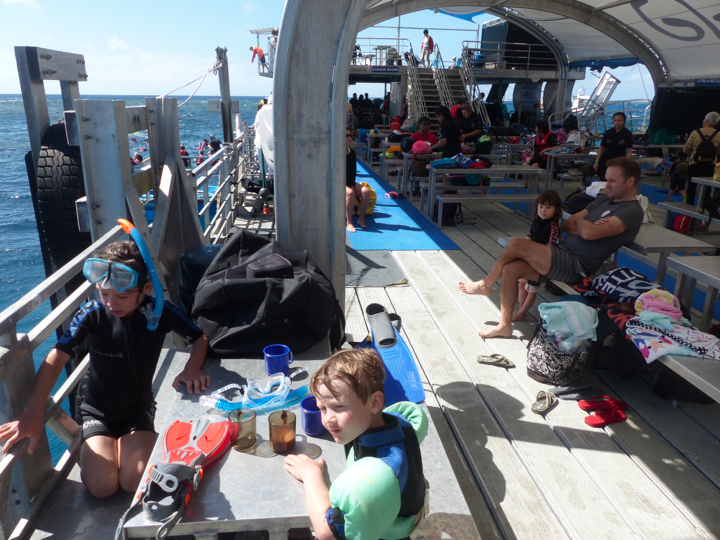 Glass bottom boat and semi-submersible were for free but due to the high seas we opted out. You could also buy additional activities if you wanted an extra experience:
Scenic flights in helicopter
Scuba-diving
Snuba
1 hour snorkeling safari on the outer reef with a marine biologist.
Jesper went for the snorkeling safari at the end of the day while Line stayed on the platform with the boys.
The inner reef had patches of colourful coral, but it was also obvious that the reef was suffering due to the amount of people coming there everyday, some of which simply don't understand that you cannot step on the coral, as it then dies and bleaches. Once again we couldn't help but playing the reef police….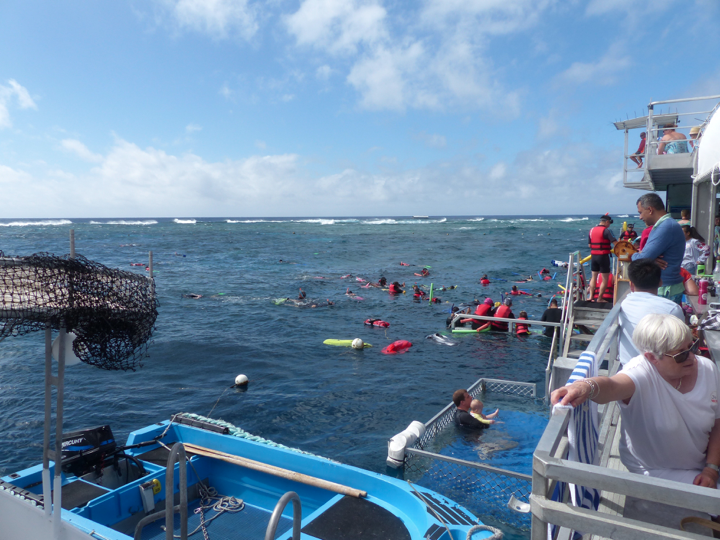 It is always easy to spot Vitus – just look for the green Puddle Jumper.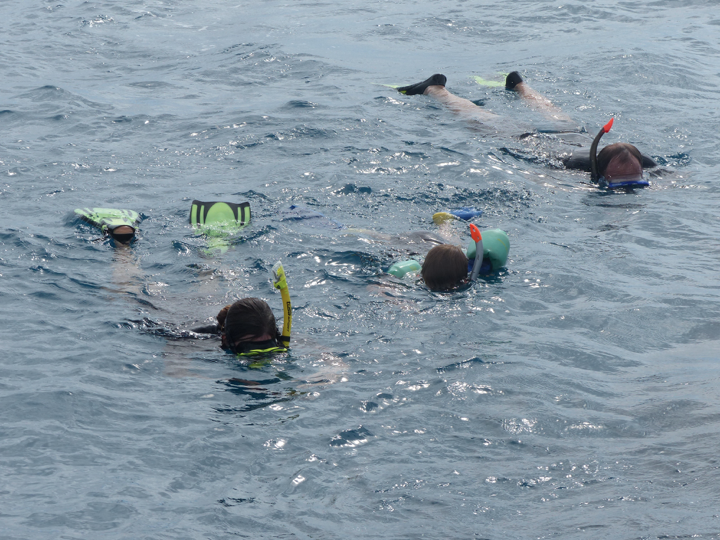 There is a large Maori Wrasse (fish) hanging around the platform called Wally – who was so accustomed to people that we could pet him, when we met him and the boys found him very interesting. Some people had a hard time giving Wally space and especially one girl insisted on "Photo Bombing" our videos of him 🙂
Vitus' snorkeling practice really paid off, and he loved snorkeling around and seeing all the different fish near the platform. Noah enjoyed it, too, but he gets cold very easily even though he was wearing a wetsuit (short) and takes hours to warm back up, so he only went for a 10 minute snorkeling tour, which he regretted when we were leaving. We tried to find him a full body wetsuit, so he can enjoy his snorkeling as much as he does in warmer water, but it's really hard to find for kids his age and body shape (wide shoulders slim thighs)
There was a bit too crowded with people around the platform, but besides that, it was a very nice snorkeling experience.
Jesper chose to go on one of the outer reef tours (cost 45 AUD extra) with a marine biologist, and it was by far his best snorkeling experience ever. Only downside was, that he was in the water for 1 hour, which, even with a shorty (wetsuit with short arms and legs) was much too cold. The whole group was visible shaking and blue by the end of the trip. Still, the marine life at the outer reef was exactly as you see on National Geographic.
Lots of sharks inhabit the outer reef and Jesper could count 8 underneath him at one time. Getting good shots is hard and you need more than a GoPro when the weather is not perfect and you get deeper down.
One of the smaller sharks was nice enough to get up close for a nice video.
The boys did better on the way back and Vitus fell asleep on the floor. When we came back we parked next to Cairns Esplanade to cook dinner while the kids played on the playground (we later found that just 5 min. down the road was the much bigger "Muddy's Playground" with BBQ facilities). A beautiful way to end the day.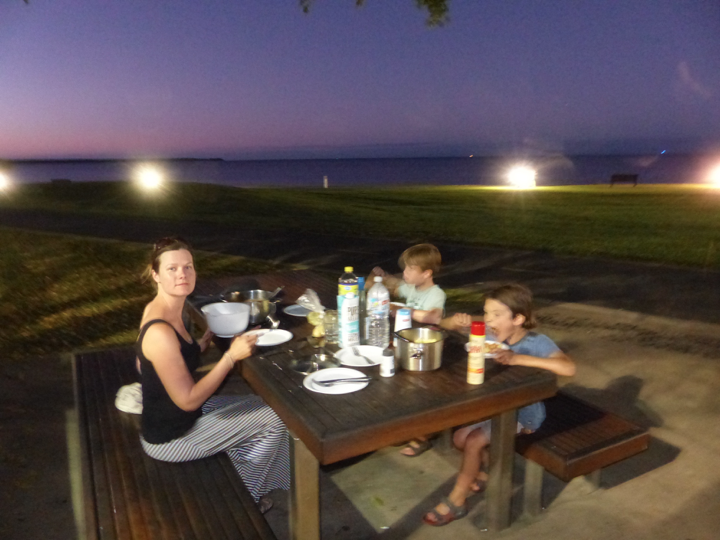 After dinner we drove about 10 min. south to renegade camp at the industrial harbour. Not the most charming place but close by and with toilet facilities (and a "No Camping" sign but as with the other places it is not enforced)
Comments