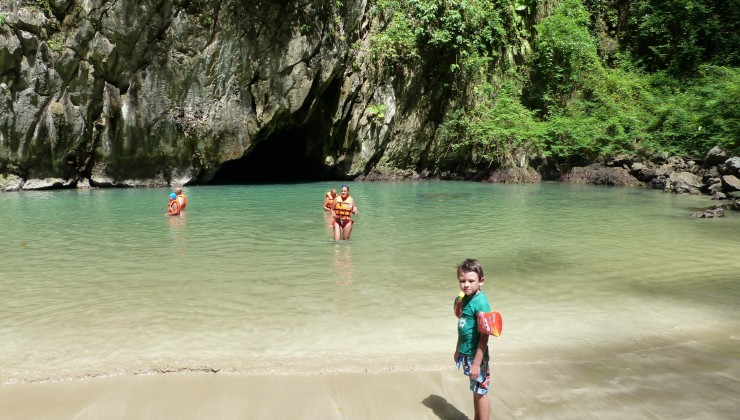 4 Islands snorkeling tour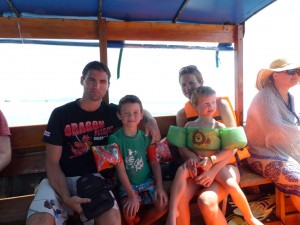 We bought the 4 islands tour at Rainbow travel at the main road of Klong Dao Beach, Koh Lanta paying only 1700 Baht for the 4 of us. We were picked up the next morning at 8.10 by a songthaew to get to our longtail boat at the old town. Noah got to sit in the front seat to avoid motion sickness (win-win for the driver and us). For the rest of us the drive was not very pleasant, as you cannot see ahead from the back of a songthaew and the roads were winding and the driver was not doing much to drive smoothly and carefully.
First stop on the 4 islands tour was "Bat island", but as our longtail boat apparently had motor problems and was overtaken by all other boats, all the guide did was slow down a bit, point at the island saying "Koh Ma – bat island" a couple of times and then continue on. We couldn't believe that that counted as island no 1, as we have seen the island and all its bats when Noah was 1,5 years and had been looking forward to shoving him the bats again. Anyway, we laughed at it and headed on for stop no 2: the emerald cave at Koh Maa.
Jesper and Noah were the only ones from our family to go, as the waves were quite high and Line is not into swimming through small caves (especially with a 3-year old).
We were lucky to get there in between the large tourist boats, so there was nobody but our group at the cave or the hidden beach for about 10 minutes until the next crowd arrived and it can get totally crowded there. The cave was completely dark to swim through, as the guide's flashlight was very narrow and never lighted up more than a 15 cm wide piece of rock, but it was an exciting experience for both Noah and Jesper.
Next stop was Ko Kradan at a nice powdery white sand beach, where we had lunch and had half an hour to snorkel afterwards. For us, this was not nearly enough time, as it takes some time to help two children get ready to snorkel. We did manage to see some fish, and it was nice to be able to snorkel directly from the beach instead of off the boat in deep water. Sadly we didn't remember to take any photos, as Jesper had just jumped into the water with his phone and all of our money at the previous site = one dead smartphone and a lot of wet Thai Baht and Dollars… he was not a happy camper;-)
The final stop, Ko Ngai, proved to be the best for us, even though both kids had fallen asleep in the boat from Ko Kradan. Vitus refused to snorkel and only swam, but the rest of us went snorkeling and it was really nice. There is a big reef there on quite shallow waters, which makes it possible to snorkel from the beach, and we saw lots of colorfull fish and different kinds of coral (not colorfull, but alive) there. We liked Ko Ngai so much that we went back there two days later – more about this in another blog post:-)
All in all, the tour seemed a bit rushed for us, which the slow boat didn't make any better. And the guide hardly spoke any English, so we were not well informed about the islands and the day's program. But the lunch and fresh fruit was nice, and we saw lots of fish.
Comments