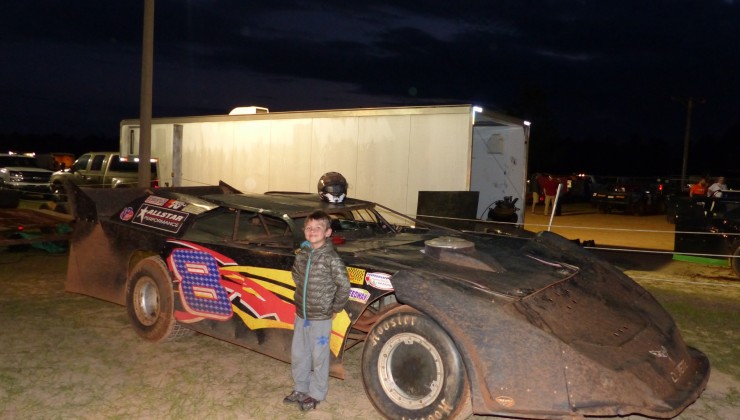 We had hoped to find some sort of motor race during our stay in the states, as our boys a very much into cars and just about anything can be made into a racing competition for them (which almost always ends up with the losing part, i.e. Vitus, crying). The closest event that could fit out travel route was the Southern Raceway around Milton in the northwestern part of Florida. Therefore we drove almost a whole day from Tampa to Milton to stay at the KOA RV park / campground, which had good reviews, to spend Saturday night watching dirt track race featuring several different car classes.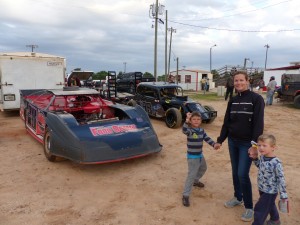 When we got to the raceway Saturday evening around 6 'o clock, the parking lot was just as we expected and hoped for: full of pick up trucks, men with long beards and country music. Jesper and Line both paid 25 dollars for entry plus pit passes, meaning we were allowed to go and look at the cars between the races.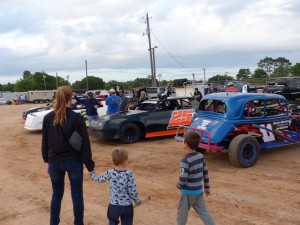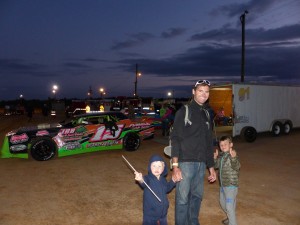 Inside we found a good spot to sit and went to buy hot dogs, which the kids had been looking very much forward to. The only thing missing was beer, which we thought would be a part of such an event. But it makes really good sense to choose not to sell or allow beer, since everybody drives there – and on the main road near the raceway, we saw 6 crosses at the same spot, marking people having lost their lives on the road.
As we had loaded up on no less than 9 hotdogs and a bag of French fries for the 4 of us, we were ready to watch the race.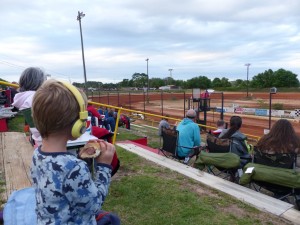 The boys instantly started cheering for the cars, naming them after the characters from the Disney Cars movies. Noah waited to see which car was in the lead until he decided which one he was cheering for – and mysteriously his car won almost every race;-)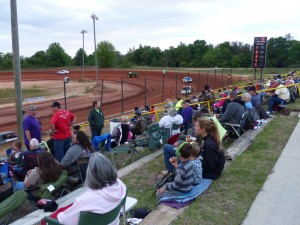 In the pit we could get right up and close to the many different models. Most consisted of a huge engine, a steel frame and thin metal plates. Most had taken quite a beating but still looked very cool and it was fun seeing everything up close. Especially a car with batman stickers and the change of tires caught the boys' attention as they have been playing pit-stop with their toy cars several hundred times.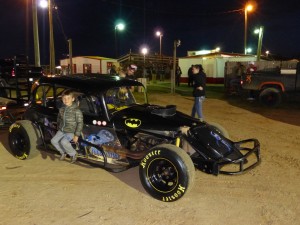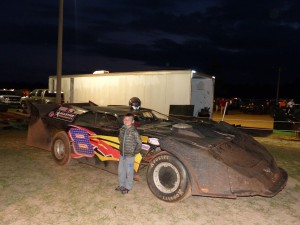 Actually the bat-man car ended up winning its "feature race" – much to the delight of Noah who for once had selected a favourite before the race started.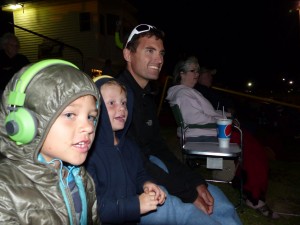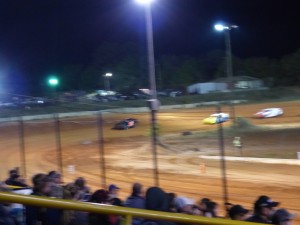 The whole evening was a great success for us. Everything was as we had hoped for: real rednecks (funny but true:-)), country music, a real funny Hillbilly race commentator, national anthem, a prayer to keep everybody safe, very nice people and friendly atmosphere and surprisingly exciting races.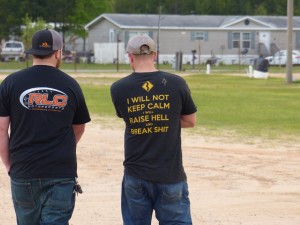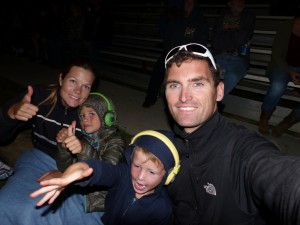 Vitus showing his country- dance moves during a break.
We went home at 11 PM as Vitus was very tired after a great but long night at the Southern Raceway. It was also at the end of the race of the most prestigious cars, which were driving very fast, causing the sand to fly high into the air and hit our eyes. It was a very exciting race, though, and the cars kept crashing into each other causing a lot of them to exit the race. But with kids, you have to consider them first, even though for us it meant not seeing who won the race in the end:-).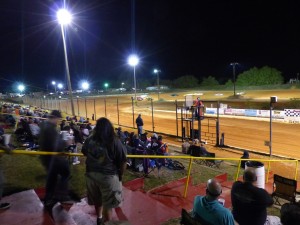 Camping at KOA in Milton and new camping gear – again
We stayed at the KOA RV park / campground for 3 nights, just taking it easy during the days. The kids enjoyed the pool, playground and played their first round of mini golf with Jesper.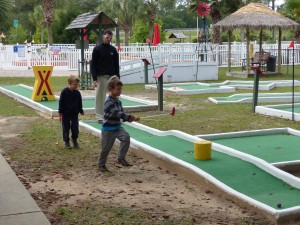 The nights were very cold, around 14 degrees Celsius, so we practically slept in all the clothes we could wear. The last night there, we had to buy Line a sleeping bag, instead of just a thick blanket, as she was freezing to the degree that she was unable to sleep at night (and felt the need to wake up Jesper and tell him of her misery).
As we left Milton, we stopped by a Walmart to return our tent, as it had several flaws. The zipper did not work properly so the main entrance could not be fully closed, two of the poles were seriously bent out of shape and a small amount of water had leaked through one of the windows during a nightly thunderstorm. Fortunately it was no problem at all to get the money back, and we ended up buying a bigger tent that feels almost like a ballroom inside (20 feet (6 meter) x 10 feet (3 meter)). That, together with Line's sleeping bag and more blankets for the boys, makes our camping experience so much better.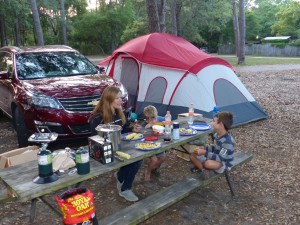 Comments