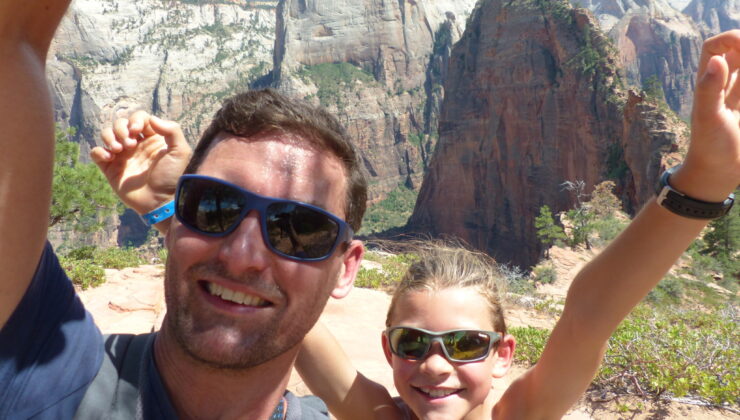 To avoid too much driving in one day we decided to do a stopover in Salt Lake City on the way from Grand Teton to Bryce National Park. A quick search for restaurants near our hotel in SLC surprisingly suggested .357 burgers as a good place with excellent reviews. The burgers were "build it yourself" and definitely good. But the most memorable part of the experience was that a Gun Range was part of the concept, but then again what is a burger bar if you cannot go and shoot anything from WWII machine guns to huge handguns after enjoying your meal 🙂
If you look closely at the picture you can see the guns in the background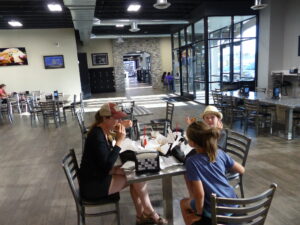 The next day we visited Temple Square in central SLC. If you were doubting the Mormon influence in UTAH you would not after a visit here. A bit over the top for us, but in a state where 67% of people are dedicated to the church of "Jesus Christ Latter Day Saints" it should not come as a big surprise.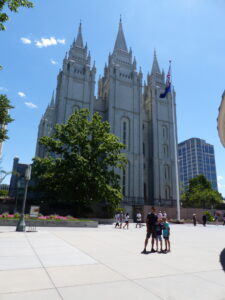 The boys were happy however as it turned out that Temple Square was packed with Pokemons.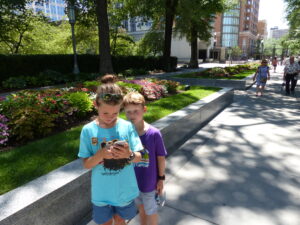 After that we drove out to see the Salt Lake. Some reviews on Trip Advisor had suggested that it was not worth the drive and that there would be a bad smell and lots of insects but we went anyway.
We parked about 1,5 mile from the State Park Marina and walked out across the muddy/salty ground to get to the actual water. Hundreds of skeletons of dead birds were half buried in the mud and as we got further out the smell and amount of insects got worse and worse. Only Jesper, Noah and Vitus made it to the actual water and were welcomed by millions of small biting flies. Running back they followed in huge clouds and you could move neither legs nor arms without hitting hundreds of them.
A few even made it into the car and we spent the next few miles of driving trying to rid ourselves of the last ones.
The next day we drove to Bryce where we were going to camp at the KOA Kampground. A nice but small campground with basic but clean facilities, but situated 20 minutes from the National park much further down the valley.
Visiting Bryce was great and the Hoodoos were impressive to watch from all angles. There are a number of hikes to explore and we did the extended Navaho Loop through Queens Gardens which takes you through some of the most famous parts from Sunset to Sunrise point.
We also went by view points like Bryce Point and Inspiration Point for some great photos.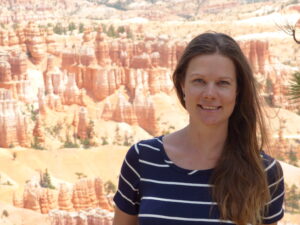 Though the Hoodoos and the landscape in general are amazing there is a limit to the variety and though beautiful you cannot appreciate Hoodoo number 300 in the same way. Though we really liked Bryce we did find that half a day would have been enough to explore the park.
Noah and Vitus also insisted on getting yet another Junior Ranger Badge. Compared to Grand Teton this did however require much more effort, but they made it in the end after about 2 hours of going through the exercises in the booklet.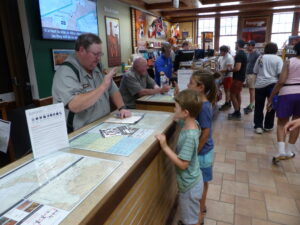 On the way to Zion the next day we did the short hike to Mossy Cave which is right next to the valley road and not inside the park. Many cars were parked there so we assumed it would be worth the 15 minutes hike. Maybe we are spoilt but let's just say that the cave did not exactly impress us (more of a pretty average overhang than an actual cave).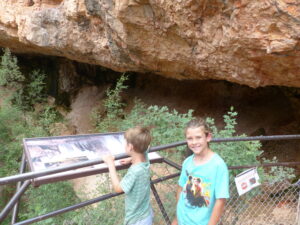 The hike there however was quite beautiful.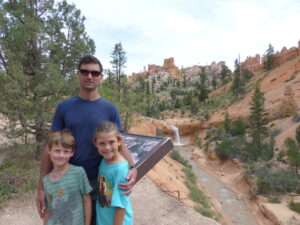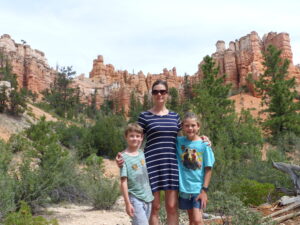 As we drove by a Rock Shop with dinosaurs on display the boys demanded that we do a quick stop to look at the goods. That became a longer stop than expected and we ended up buying both Megalodon Teeth, crystals, a piece of a petrified tree and kryptonite (don't you try anything with us Superman!)
In Zion we stayed at the Zion Ponderosa Ranch Resort in a Glamping Tent. Though the actual resort was a bit smaller than expected we liked it and besides the visits to Zion national park we enjoyed Tennis, Miniature Golf and the pool.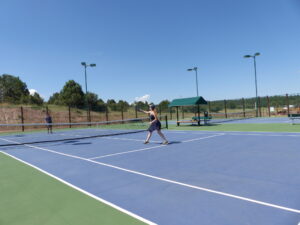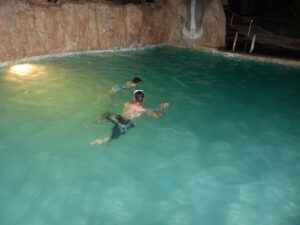 If you do decide to stay there note that it is on the "wrong" side of the park and actually a 45 minute drive from the visitors center and the shuttle busses that will take you into the most popular parts of the park (in summer private vehicles are not allowed there).
On our first day in Zion we did three hikes. The Weeping Rock, The Emerald Pool and the Narrows. Our conclusion was that unless you are really interested in Geology you can safely bypass Weeping Rock and Emerald Pool.
Weeping Rock: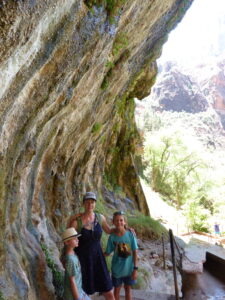 "Emerald" Pool: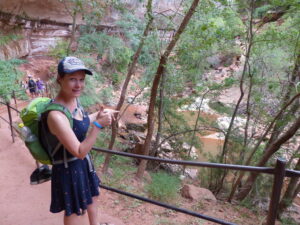 The Narrows is however definitely worth a visit. After a 20 minutes forgettable walk you get to the actual Narrows which is basically a river. So be prepared to get your shoes wet and enjoy the very special experience of walking up a river with giant cliff walls right next to you.
As there is nowhere to go you need to check the weather forecast first! Flash floods do happen and can be very dangerous. You can walk as far as you want (it is about 20 kilometers) and though we only did about 1 km but it was still a very nice and fun experience.
The next day we split up. Line and Vitus opted to stay at the resort and enjoy the pool and miniature golf while Noah and Jesper wanted to do the short Canyon overlook hike and the longer hike to Scouts Overlook.
Canyon Overlook was a short but great hike ending with a drop-off of several hundred meters. If you only want to do one short hike in Zion this is definitely the one. On the way you get to walk right on the cliff side too and though it is perfectly safe you probably should not do it if you are very afraid of heights which is the main reason Line chose to stay back at the camp with Vitus. It was rated a 1 hour hike but only took about 40 minutes + lunch.
The rock Noah is sitting on can actually be seen on top of the "Arc" in this picture. A pretty decent drop-off 🙂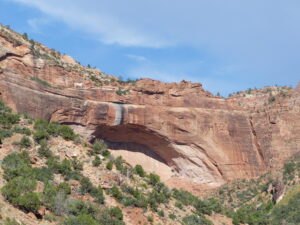 The hike to Scouts Lookout is more famously known as Angels Landing. But as Line had forbidden Noah to do the last steep part (named because it is so steep and narrow that only an Angel can land there) Scouts Lookout was as far as Noah and Jesper were allowed to go. Rated as a 4 hour return hike Noah and Jesper started out with plenty of water and snacks. The hike up to the lookout is about 4 kilometers with 900 meter elevation gain and should have taken about 2 hours. Noah however set a furious pace and to the surprise of the many young people and adults he passed on the way he did it in 38 minutes with Jesper having a hard time keeping up.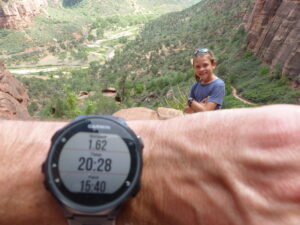 As a more accessible summit could be seen over the lookout he insisted that they continue and naming the place "Boeg's Lookout" he did 4 kilometers and a 1000 meter elevation gain in 46 minutes. Pretty good for a boy that just turned 9.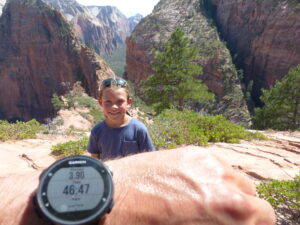 Angels Landing can be seen in the background from "Boeg's Lookout":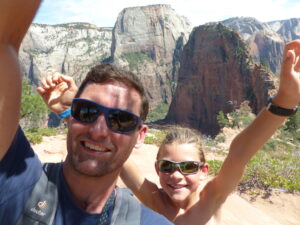 After a number of pictures (including one with Noah pouting because he is not allowed to do Angels Landing) they continued down and did the entire return trip in just over 1,5 hours.
Scouts Lookout is at the very top of the mountain: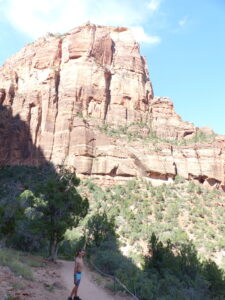 Time to cool off in the river and a great way to end the Zion adventure which Noah concluded had been the best hike of his life.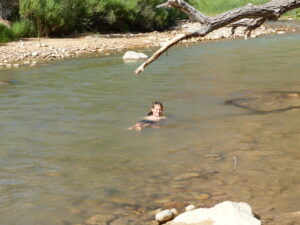 Driving out of the park we finally saw a heard of Big Horned Sheep:
Comments