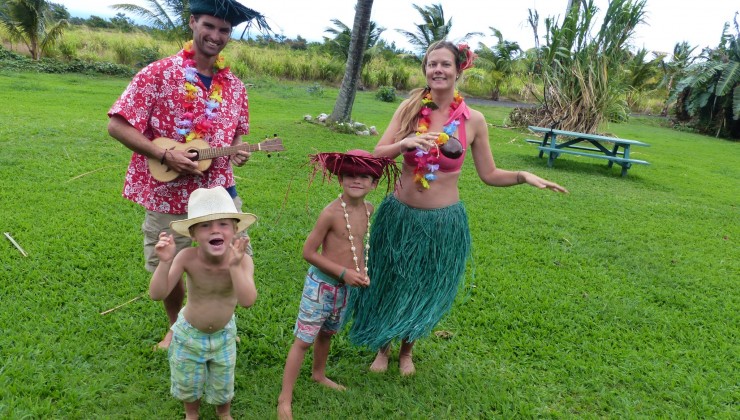 Maui is a very diverse island. The landscape changes constantly from lush jungle to desert, from meadows to mountains. And the weather changes just as quickly.
In Maui we stayed in Haiku at Bamboo Heaven Bed and Breakfast (found on Airbnb), which was a great experience. The room was nice, clean, and functional, and we were able to cook there, since there was a hotplate and a barbecue.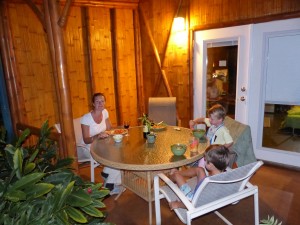 Our host, Janice, was fantastic – she was helpful, attentive and she invited us to help her cut down a banana tree in the garden and open coconuts.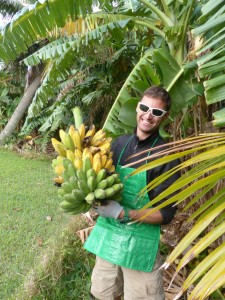 Especially Noah found this very exciting. She also gave us a lot of good advice regarding what to see and where to go on the island and though others claim to make the "Best Banana Bread on Maui" – Janice's is actually much better.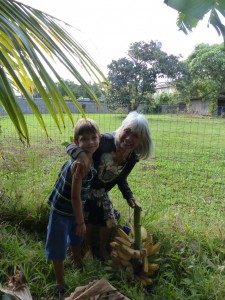 We invited her over for dinner one of the evenings and we had a lovely time with her and got to know a lot about her and what life is like on Maui.
Janice is also a very devout Christian and though we are not religious ourselves it was a fun experience meeting somebody with such a different take on the world. To us it would be a scary though that a God would have a say in everything we do, but it seemed to give her great comfort and faith in both the past present and the future. A different way of dealing with whatever life throws at you. We failed to mention that we are not married to not upset her – so if you are reading this Janice we hope you forgive us :-). Who knows, it might be fixed sometime in the future.
We even got to dress up Hawaiian style and dance to the song "We are going to the hukilau". Well actually we were not even asked – Janice showed up on our last day (at least what we thought would be our last) with clothes, hats, guitar and everything and said "we are going to dance and do a photoshoot". You would have a hard time beating her to the title of the most engaged AirBnB host out there 🙂 We will let others judge how good we look in those pictures:
Comments