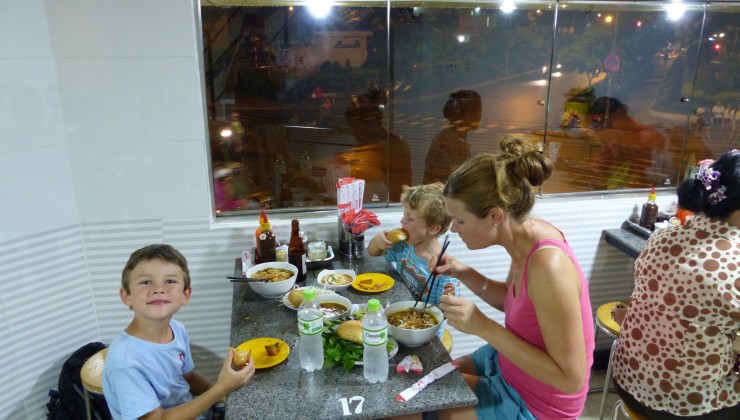 After a couple of hours' rest at the hotel we chose to still go on the street food tour with Saigon free walking tours as we needed to eat anyway. But we told our male guide that we needed to do a short version (2 hours instead of 4) since the kids were so tired. Normally you go by scooter on these tours, but as we had booked ahead we had arranged to go by taxi because we didn't want to take the kids along on a scooter. And we were really happy we did so – the traffic in Saigon is insane. There are 10 million people living in Saigon – that's almost twice as many people as in all of Denmark, and there are 6 million scooters!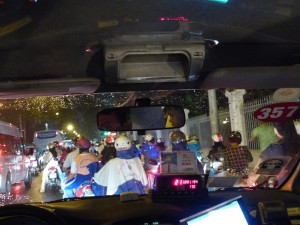 The first stop was at a noodle restaurant that had only 8 dishes (all noodle dishes) at the menu. The restaurant was very basic but man were we surprised as we tasted the noodles! it was simply fantastic. Jesper had band noodles with chicken and Line had the same but with pork and quail eggs. The kids only tasted the noodles, it took 3 weeks to get them used to thai food and now it was something new again and they weren't up for it..
After the noodle restaurant we drove to the walking street of Saigon where all the fancy hotels are, including the world's first 6 star hotel. Near the walking street, at the The Municipal Theatre of Ho Chi Minh City, also known as Saigon Opera House, we tasted the famous Vietnamese milk tea at a street stall. Line had it with mint and Jesper with strawberry. It was cool, sweet and really tasty.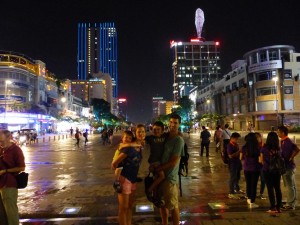 The last stop after walking along the walking street for a while, was a visit to a restaurant that served only coconut ice cream. It was served inside a small coconut along with a tiny bit of blue or orange sticky rice, peanut, corn and some thinly sliced pumpkin. It was so good that Line had to order a second round.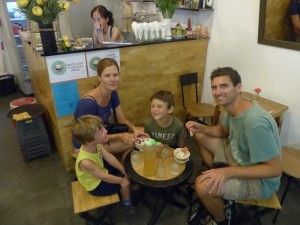 This tour we would also highly recommend as you get to taste some things that you wouldn't normally try unless you have really done your research. The normal 4 hour tour would also take you to taste some more Vietnamese snacks, but since we couldn't do the whole tour, we skipped those. Our guide was friendly, but much harder to understand than the girls at the Saigon free walking tours City tour. Generally, the Vietnamese are not good at English and we have had a hard time sometimes just asking the simplest questions. But people are friendly and we have managed to communicate some through hand gestures:-)
Comments