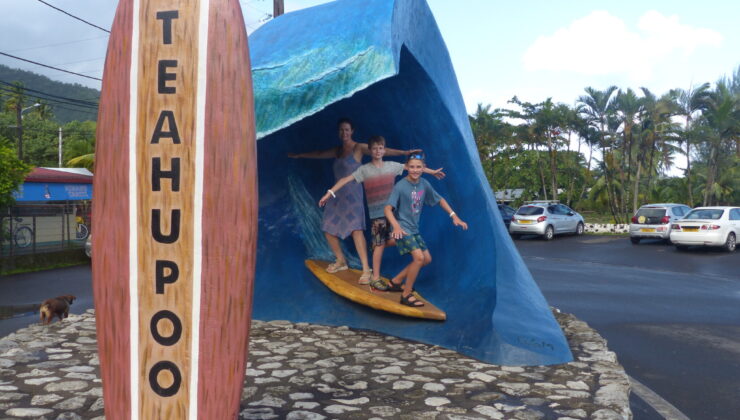 Visiting Moorea, Maupiti, Raiatea, Huahine, Bora Bora and Rangiroa you would expect the most beautiful reefs to be found on the islands in French Polynesia. Having seen some of the most beautiful Coral we have ever seen we did not expect much from our last 3 days on Tahiti (we has not planned to stay more days on Tahiti but we could not get an earlier flight to Fiji). Arriving at ManoMano lodge in the southern part of Tahiti Nui we did not expect anything out of the ordinary, but we were in for a positive surprise.
Astonishing variety of healthy coral – just off the beach
Just 20 meters out we already started to notice the incredible variety of coral and color of the reef. At lower tide you do need to navigate carefully to avoid touching the coral and it is not a good place for beginners (both for your own sake but more importantly to protect the reef), but with a little patience you can navigate all the way to the outer reef barrier and in terms of coral we would guess that very few places in the world can compare. As it is an inner reef you won't see any big sharks and huge shoals of barracuda, but we saw both adult and baby reef sharks as well as a turtle (if you want to see more turtles you need to get closer to the pass entrance of the reef than we did, but be very careful not to get caught in a strong outgoing current)
Teahupoo on Tahiti Iti
Teahupoo is known as one of the heaviest waves on earth and a hotspot for surfers. The wave peaks when there are big southwestern swells. Unfortunately, that was not the case when we visited but we still chose to drive down there to see the area and watch from the beach (had there been a perfect wave we would have gone with a boat to get closer, but due to the less than perfect condition we did not find it worth the money).
Belvédère de Taravao Viewpoint on Tahiti Iti
After visiting Teahupoo we drove to the Taravao viewpoint on Tahiti Iti. The viewpoint was nice, and some heavy rainclouds just made the scenery look all the more dramatic. The most surprising thing was however that in just a few kilometers the landscape had changed from tropical rainforest to grass and meadows you would expect to belong somewhere in Europe. Unfortunately, we only had 5 minutes at the viewpoint before some heavy rains kicked in.
Hike at the Water Gardens of Vaipahi (Taravao)
On the first glance the Water Gardens of Vaipahi might look like a quick roadside stop. Looking at the map next to the entrance you will however discover that there are both a long and short hiking trail on the mountains behind. We opted for the longer route and added the river track at the end making it a total of 7-8 km. with nice views and landscape changing from pine forest to lush tropical rainforest along the route. Expect the riverside trail to be quite muddy and wear sturdy shoes or sandals.
Canoe race
On our last day on Tahiti we drove south to visit Maui Beach (Plage Maui) as it had been our first really great snorkeling experience in French Polynesia. We however not get far before a huge number of cars and people next to the water attracted our attention. It turned out to be a big canoe race which is part of the yearly festival on all the Islands. We decided to stay and watch and grab some lunch before heading north to return our rental car.
Long walk to town and football with the locals
Our redeye flight to Auckland (transit to Fiji) did not depart until 3.20 am. and since we had to return the rental car by 15.30, we had quite a few hours to kill. We ended up walking the 6.5 km. from the Airport to Papeete to burn some energy before the long flight, watch the sunset from the park and have dinner at one of the Roulottes. When we got to the park some local boys were playing football and Noah and Vitus went to ask if they could play (they were dying to play football again). They had a fun time playing until the sun went down and it became too dark.
Comments