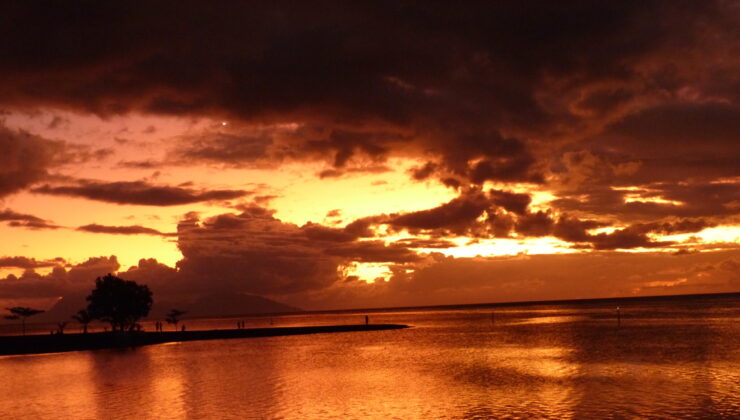 Unfortunately Jesper had brought a serious cold with him from San Francisco so we had to take it easy for the first days in Tahiti. Ready to head out one thing did however quickly become clear – in Tahiti you need a car if you want to explore the island. Though buses exist there are no schedules and you basically need to be a local to guess the actual routes. Therefore we ended up renting the smallest car we have ever driven, a Renault KWID – great on milage but not so great on space, built quality, safety, features and getting up steeper hills. After returning the first car we got (fan and AC not working) we did however learn to slam the doors with enough force to make them close and with a bit of practice and driving in very low gears to get us up the steeper hills. This was despite the fact that the car was brand new 🙂
Blow hole and waterfalls
From Papeete we drove clockwise around the Island guided by the classical tourist map. Our first stop was the "Arahoho Blowhole" which unfortunately must have required considerably larger waves to actually blow – it was more like a "tiny splash hole" 🙂 . We did however discover a funny feature on the way back as it turned out that right near the entrance the waves ran through a hole under the pathway blowing strong currents of air up through a small hole in the cliffside.
From the blow hole we drove just 100 meters before turning off to see the Faarumai Waterfalls just 1 km further down the road. They were surprisingly nice and resent rains made them even more impressive. We have however noticed that whenever we are able to drive right up to a great view point or waterfall we never get the same "wow" experience when compared to similar views after having hiked to get there.  There really is a difference between the feeling of having earned it and just walking 200 meters from your car.
Beaches and sunsets
Continuing south we crossed to Tahiti Iti (small Tahiti) to find "Plage Maui" (Maui Beach) which was supposed to be good for snorkeling. The reef is right next to the shore with only about 100 meters of sandy beach. Fortunately it was not too crowded and we easily found a place in the shade. To get to the interesting part of the reef you need to swim through a narrow channel with a very strong current. To get back in the same way you either need finns (and) or be a very, very strong swimmer. Even with finns and Jesper's help Vitus could not make it so Jesper and he had to drift back out and swim 200 meters further down the reef until they found an easier (but shallower) path through.
The reef itself was in great condition and we saw no indication of the bleaching which had had such a devastating effect on the reefs in both Thailand and Australia when we visited a few years ago. We also saw all the typical reef fish as well as a few turtles and 3 sharks – great signs of much more to come when we leave Tahiti and head for the islands.
We tried snorkeling on other beaches around Tahiti but this one was by far the nicest one both on and off the water with less crowds and much more to look at under water.
If you are a fan of pretty sunsets there is also no denying that French Polynesia is the place to go – do however remember to stay 15 to 20 minutes on the beach after the sun has set as that is when the true colors start to emerge.
Maraa Caves and a surprisingly great hike
Another place on our tourist map was the Maraa Caves. Let's be frank. Unless you have never seen a cave before you are not going to be impressed. Actually, we found them so un-impressive that we totally forgot to take a picture. Adding to the not so great experience was a group of young local people with a boombox who seemed to be having a small techno party during normal school hours.
We almost left the place after just 10 minutes but heading back we saw a few concrete stairs going uphill. 5 meters later they were replaced by a rope leading up a very steep trail which we decided to follow. It went on and on with ropes installed at the steepest places. Rarely have we climbed so high in such a short distance. After about 30-40 minutes we reached the top sweating and panting and boy was the view worth the effort. A small platform had been built to enjoy the view and even a swing for the kids to enjoy (and take some impressive pictures).
Roulottes and fresh fish
There are plenty of restaurants in Papeete but our Airbnb host suggested we tried the Roulottes (food trucks) down at the harbor instead (they are found everywhere). They offer full menues and you can get anything from fish to steak, chicken, soup and crêpes. We tried a couple of different vendors (4-5 are gathered in the same place) and only experienced fresh food and great taste at fair prices (expect about 1500 CFP, 12 Euros, 14 dollars for a main dish)
When not eating at the roulottes we bought fresh fish to cook in our apartment and it is safe to say that we have never tasted better Tuna in our entire lives (fish is the only thing that is cheap in French Polynesia and we only paid about 1500 CFP per kilo).
Comments